POKER
'Heads up' high
National poker championship play draws to a close Sunday
Other than the all-in bet, there's nothing more exciting in No Limit Texas Hold 'Em than a heads-up showdown.
Now in its second season, NBC's National Heads-Up Poker Championship assembles 64 of the best poker players from around the country, pitting them against each other in different brackets and airing the matches on television.
National Heads-Up Poker Championship
On TV: 7 a.m. Sunday on NBC (repeats will air at 2 p.m. Fridays on CNBC through June 23)

Players: Shawn "Sheiky" Sheikhan takes on Ted Forrest, and Huck Seed takes on Chris Ferguson
One of the players who participated in both seasons of the program is Daniel Negreanu, whose syndicated poker column, "Card Shark," runs in the Star-Bulletin on Sundays.
Although he didn't make it to the finals this year, he describes the event as one of the best ideas to come along in the world of televised poker.
"It makes for really exciting TV, and I've always been a huge bracket fan," he said earlier this week via telephone from his home in Las Vegas. "Plus, it's a really skillful form of poker."
Negreanu, who was eliminated in the second round last year, made it to the quarterfinals in 2006 before losing to Shawn Sheikhan. Other big names involved this year include 2005 champion Phil Hellmuth, Johnny Chan, Chris "Jesus" Ferguson, Erick Lindgren and Huck Seed. Legends such as Doyle Brunson and T.J. Cloutier also participated, as did Hollywood celebrities James Woods and Jennifer Tilly.
Unlike traditional tournament-style play, players don't have to worry about incorporating different strategies simultaneously as they face off against as many as eight players in any one hand. Heads-up poker allows for more focused play, as there is only one other person you have to beat in any given hand.
"It becomes more of a chess match, in that it's not how you play, but how you perceive how your opponent plays and figuring out a strategy to beat that one particular player," Negreanu said. "The style you play against one person might be totally different from the way you play the next guy."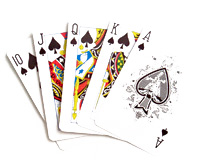 THAT'S EXACTLY what Negreanu's plan of attack was in March, when NBC filmed the 2006 championship in Vegas at Ceasar's Palace. He had a different strategy for each player he faced, including Sheikhan.
Unfortunately, it didn't pay off.
"I was heavily favored in that particular matchup," he said. "The match went really well early, and I built up a nice lead. He got frustrated and made a play that was very amateurish, but was fortunate in the hand and he ended up winning that pot. Then, the blinds got to a point where they were really high, and basically I kept looking at deuce-three offsuit every hand" (translation: The two cards he was dealt were a two and three in suits that didn't match).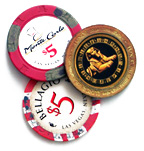 Although he didn't make it to the championship match, Negreanu was happy with his performance. Like millions of other viewers around the country, he's kept watching how things play out, even though he was at the casino himself when the event was held.
"I don't know about everybody else, but I can say for myself that sure, I TiVo a lot of the stuff to rewatch it," he said. "I look to pick up information from my opponents, and at the same time I like to see what I'm giving away."
Not surprisingly, Negreanu admits that he likes to take physical cues and manipulate them while at the poker table. He'll watch a show to see how he behaves during a specific situation, then flip the script during his next tournament.
"The key is really understanding how your opponents perceive you," he said. "I continually mix it up, change the way I play back and forth. That way it keeps people on their toes."