---
FAST FACTS HAWAII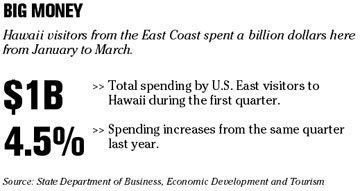 ---
[HAWAII INC.]
PROMOTIONS
»
Nishihama & Kishida CPAs Inc.
has promoted six employees to audit seniors.
John Paul Bautista
,
Alina Cheng
,
Jessica Clarke
,
Shari Lau
,
Ivan Takushi
and
Jenny Yeung
previously served as audit staff.
» Atlantis Adventures has promoted SueAnn Wells to sales and marketing coordinator. She will be responsible for providing day-to-day support for the company's marketing and promotional programs for tours on Oahu, Maui and the Big Island. She joined the company in 2005. The company also has appointed Tadao Tanaka advertising coordinator. He will be responsible for developing promotional materials in support of Atlantis' marketing and sales efforts. He previously served as bilingual guest service agent for the company's Navatek Cruises.
» Bank of Hawaii has promoted the following five executives to vice president: Wanda L.M. Ching has been promoted to vice president and institutional retirement plan services senior trust officer; Therese M. Dickerson has been promoted to vice president and human resources manager; Kelton T. Kato has been promoted to vice president of the commercial credit underwriting and analysis department; Irene E.B. Kwan has been promoted to audit services division vice president; and Phyllis A. Thomsen has been promoted to vice president and trust operations section manager.
HAWAII
Hawaiian offers miles for charity
Hawaiian Airlines
is allowing HawaiianMiles frequent flier members to earn miles for a favored charity without giving up their miles.
The program, HawaiianMiles Charities, enables participants to designate a charity to which Hawaiian automatically will donate 10 percent of all miles earned. No miles are deducted from members' personal accounts.
The eight nonprofit organizations supported by HawaiianMiles Charities are the American Red Cross, Big Brothers Big Sisters of Honolulu, Blood Bank of Hawaii, Friends of Hokule'a and Hawai'iloa, Hawaii Public Radio, HUGS (Help, Understanding & Group Support), National Kidney Foundation of Hawaii and Visitor Aloha Society of Hawaii.
Members also can donate miles from their personal accounts to a participating HawaiianMiles charity.
Enrollment is free and can be done online at www.hawaiianairlines.com.
BNP's profit increases 17% on acquisitions
BNP Paribas SA
, owner of Honolulu's First Hawaiian Bank, said first-quarter profit rose 17 percent after revenue from investment banking increased and U.S. acquisitions lifted earnings from consumer lending abroad.
While BNP Paribas benefited from rising stock markets that boosted trading and underwriting revenue, the company's earnings growth trailed rivals Societe Generale SA and Credit Agricole SA. Costs gained after the $1.3 billion acquisition of Omaha, Nebraska-based Commercial Federal Corp. last year.
NATION
Dell will no longer use Intel exclusively
Dell Inc.
, the world's largest personal-computer maker, accelerated a plan to cut $3 billion in costs and said it will use processors from
Advanced Micro Devices Inc.
for the first time, dealing a blow to
Intel Corp.
The decision to use Advanced Micro ends a 22-year exclusive agreement with Intel, the world's largest semiconductor maker, and will help Dell bolster profitability, which has flagged in the face of stiffer competition from Hewlett-Packard Co.
Dell Chief Executive Kevin Rollins, who reported an 18 percent decline in first-quarter profit yesterday, described the decisions as "bold moves" that responded to increased competition. The company is investing $100 million to improve customer service, and said it will stop forecasting results.
Mesaba cannot reject labor pacts
MINNEAPOLIS » A bankruptcy judge refused yesterday to allow
Mesaba Airlines
to reject its contracts with union workers.
Pilots, flight attendants and mechanics at the feeder carrier for Northwest Airlines Corp. had threatened to strike if Mesaba was allowed to impose its terms on them.
"Clearly, the parties can -- and should -- continue efforts toward a consensual resolution," Judge Gregory Kishel wrote in his order.
WORLD
Japan keeps key rate near zero
The Bank of Japan kept its key interest rate near zero as it awaits more evidence the world's second-largest economy can withstand higher borrowing costs.
The decision by Governor Toshihiko Fukui and his eight board colleagues, who have signaled since March they're preparing to increase rates, was unanimous, the bank said in Tokyo today.
Fukui this week doused speculation rates may rise immediately after the central bank finishes cutting excess funds it makes available to lenders, a prelude to raising borrowing costs. A government report today showed growth slowed in the first quarter, reducing the chance for the central bank to raise rates next month.
China regulator orders 20% tax on home sales
China's tax regulator ordered local governments to impose a 20 percent capital-gains tax on sales of second-hand homes, responding to a cabinet directive to rein in surging property prices.
The tax applies to all sales unless the property was bought more than five years ago and is the seller's sole residence, the State Administration of Taxation said on its Web site yesterday. The levy is included in China's 1994 Personal Income Tax Law, according to the statement, though hasn't been enforced.
China's State Council said last week it will restrict land for expensive housing and boost loans for low-cost homes, part of a six-point plan aimed at cooling the real estate market. The government is concerned that surging prices may fuel social unrest and raise the risk of a collapse.