| | |
| --- | --- |
| | Newswatch |
---
MASTER OF CEREMONY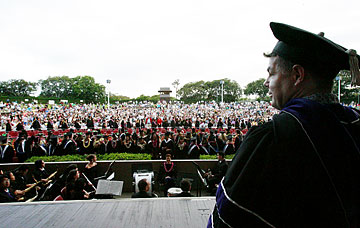 Book details early struggle of Japanese schools here
Noriko Asato will debut a new book that explores the history of Japanese language schools in Hawaii on Saturday, May 27, at 10 a.m. at the Japanese Cultural Center of Hawaii's Gallery Theater.
"Teaching Mikadoism: The Attack on Japanese Language Schools in Hawaii, California, and Washington 1919-1927" delves into the struggle to keep Japanese language schools open after World War I, when the territory of Hawaii tried to close the schools.
"I don't think many people understand how big of a role the schools played for the issei (first generation), in terms of their becoming American and claiming rights to educate their offspring," said Asato, an associate professor of Japanese at the University of Nebraska-Lincoln. For more information, call 945-7633 or e-mail info@jcch.com.
Setting Muslim record straight
A nationally known Muslim scholar will discuss misunderstandings and controversies about Islam in a lecture tomorrow at the UH-Manoa Campus Center ballroom.
The free 6 p.m. talk sponsored by the Muslim Association of Hawaii will present author and professor Ahmad Sakr, who has represented the Islamic viewpoint on national television and radio news programs and at conferences and seminars. Sakr is director of the Islamic Education Center in Walnut, Calif.
TSA airport screener pleads guilty to theft
A security screener who acknowledged taking $16,000 from a checked bag he screened at Molokai Airport pleaded guilty yesterday in federal court.
Michael Gomes,* 32, who was the only Transportation Security Administration officer on duty at the time of the Feb. 5 incident, admitted to the theft and surrendered $13,500 to Maui County police, officials said.
Gomes was scheduled to be sentenced Sept. 14 by Chief U.S. District Judge Helen Gillmor.
He could receive the maximum penalty of 10 years in prison and a $250,000 fine, U.S. Attorney Edward Kubo said.
In a separate case, two security screeners at Honolulu Airport are to be sentenced July 17 after pleading guilty in March to stealing tens of thousands of dollars' worth of yen from the luggage of Japanese tourists.
Christopher J. Cadorna, 25, and Benny S. Arcano, 27, agreed to cooperate with the government's investigation after admitting they belonged to a group of TSA screeners who stole at least $20,000 from international travelers, prosecutors said.
Services set in Kansas for slain isle Marine
LIBERAL, Kan. » A Hawaii-based Marine killed in Iraq was remembered yesterday for his faith and devotion to his adopted country.
"He told me that in his own way he had a relationship with God, and God had him there for a reason," said Thomas Marin, brother of Lance Cpl. Jose Marin Jr.
Jose Marin, 22, of Kansas was killed Sunday in fighting in Al Anbar province, the Marines said. Lance Cpl. Hatak Yuka Keyu Yearby, 21, of Overbrook, Okla., was also killed.
Both were assigned to the 3rd Battalion, 3rd Marine Regiment, Marine Corps Base Hawaii at Kaneohe Bay.
Funeral services for Marin were set for Sunday in Liberal, where he grew up. He was born in Ciudad Juarez, Mexico, and moved to the small southwestern Kansas town of Kismet after emigrating to the United States in 1991. His family later moved to Liberal, and he became a U.S. citizen.
He enlisted in the Marines in 2003, shortly after graduating from Liberal High School.
---
TAKING NOTICE
PAAC SCHOLARSHIPS
Twenty students from Hawaii's public and charter high schools were awarded scholarships for the Pacific and Asian Affairs Council's 2006 Summer Study Tour to Japan.
The program is funded by a grant from the Freeman Foundation.
The students, from schools on Oahu, Kauai and the Big Island, will leave June 19 for a 17-day tour with stops in Tokyo, Kyoto, Hiroshima, Fukuoka and Okinawa. They will be chaperoned by Brady Louis, who teaches Japanese language at Pearl City High School.
Students on the tour are Corey Amano, Jennifer Kuang and David Togami of Roosevelt High School; Yolie Feliz-Bordonada and Aleishea Yamaoka, Kauai High School; Ariana Forgerson and Daesha Johnson, Kahuku High School; Zachary Fueston and Maribell Pabalan, Nanakuli High School; Dorothy Fukushima, Pahoa High School; Logan Hosey, Kalaheo High School; Brenda Imada and Brandon Oshiro, Honokaa High School; Carli Ing, Leland Lariosa, Taryn Takebayashi and Alisa Urabe, Education Lab School; Akela Kuwahara, Hilo High School; Kimberly Rivera, Pearl City High School; and Natasha Wolf, Leilehua High School.
Recipients were selected based on interest in Japan and international affairs, financial need, academic achievement, character and involvement in PAAC's high school program.
A one-week orientation from June 11-16 will provide students with an introduction to Japan's history, culture and language.
---
"Taking Notice" also runs on Tuesdays and Saturdays.
| | |
| --- | --- |
| | Police, Fire, Courts |
---
Crippled fishing vessel heads to Kona
A disabled fishing vessel should reach Kona sometime today after being towed in by the Coast Guard cutter Kiska, the Coast Guard said in a news release.
The 65-foot Ulheelani with seven crew members on board reported engine trouble about 150 miles south of the Big Island.
The owner attempted to make commercial towing arrangements but was unsuccessful, the Coast Guard said.
LEEWARD OAHU
Traces of 'ice' found in shooting victim's body
The Honolulu Medical Examiner's Office confirmed the presence of crystal methamphetamine and marijuana in the man killed by police gunfire Saturday.
Tracy Kaikealoha Henry Peters, 47, had traces of both drugs in a preliminary urine screen test, according to medical examiner's officials. Autopsy results also show that Peters died of two gunshot wounds, one to his head and another to his abdomen.
Peters was shot at least twice at about 8:15 p.m. Saturday on Kaukama Road in Maili after pointing two handguns at police officers. The standoff began earlier that evening after police responded to a report of a man shooting a shotgun into the air.
Police said Peters had 27 convictions including a homicide in 1977. The officer involved in the shooting was placed on administrative leave, which is standard procedure.
Police make arrest after double beating
Police arrested a 30-year-old man after he allegedly beat another man twice Tuesday.
The first assault took place just after midnight in Waianae when the suspect allegedly forced the victim, 42, into a vehicle, drove him around, assaulted him for several hours and then let him go, police said.
The victim did not report the first incident, police said. At about 9:15 p.m. the suspect spotted the victim again in the Waianae area and assaulted him a second time, police said.
That is when the victim went to the Waianae Police Station and reported both incidents, police said. The suspect was later arrested for investigation of kidnapping, first- and second-degree terroristic threatening and third-degree assault.
NEIGHBOR ISLANDS
Kaiwiki man allegedly fires gun in argument
Big Island police charged a Hilo man with attempted murder in connection with a shooting in Kaiwiki early Monday.
Shawn Urubio, 34, of Kaiwiki Road was charged with second-degree attempted murder, ownership of a prohibited firearm and use of a firearm in the commission of a felony.
Police said Urubio pulled out a gun during an argument with another man, pointed it at the man and fired. The other man was not injured.
Police are still looking for witnesses to the shooting and ask anyone with information to call Detective Gregory Esteban at 961-2384, the police nonemergency number at 935-3311 or CrimeStoppers at 961-8300 in Hilo or 329-8181 in Kona.
Urubio was being held in lieu of $100,000 bail.
WINDWARD OAHU
Man, 35, charged in boy's sex assault
Police charged a 35-year-old man who allegedly molested a 13-year-old boy in Waimanalo last weekend.
Eric A. McElroy was arrested Monday and charged Tuesday with one count of third-degree sexual assault.*
Police said the incident took place between Saturday and Sunday night at a beach park.
McElroy was being held in lieu of $20,000 bail.
HONOLULU
Man allegedly tries to deposit fake checks
Police arrested a 22-year-old man who allegedly tried to deposit 10 fake traveler's checks into his account yesterday.
The man walked into the American Savings Bank at 1099 Alakea St. at about 9:30 a.m. to deposit the checks, police said. The bank teller recognized that the checks were photocopies of real traveler's checks, police said. The bank manager confirmed the checks were counterfeit and called police.
The man was arrested for investigation of 10 counts of second-degree forgery and then released pending an investigation.
Police arrest man after attack on wife
A witness summoned police to arrest a 25-year-old man who was allegedly beating his estranged wife Tuesday night at Wal-Mart on Keeaumoku Street, police said.
Police said the woman was assaulted by her estranged husband, 25, at her father's home in Kapahulu at about 8 p.m. Police said the suspect forced the woman and their 4-month-old boy to leave with him.
The woman briefly escaped when they stopped at Wal-Mart to buy food for the child but was caught by the suspect, who beat her, police said.
The man was arrested for investigation of kidnapping, two counts of abuse and endangering the welfare of a minor.
Police say sheet metal was weapon of choice
Police arrested a 35-year-old man who allegedly hit another man with a piece of corrugated sheet metal early yesterday.
Police said the suspect and victim, also 35, were fighting at about 2:30 a.m. at Kewalo Basin when the suspect picked up the sheet metal and hit the victim in the forehead. The blow caused a cut to the right side of the victim's forehead, according to police.
The suspect was later arrested for investigation of second-degree assault.
CORRECTION
Friday, May 19, 2006
» Eric A. McElroy, 35, was charged with third-degree sexual assault for allegedly molesting a 13-year-old boy in Waimanalo last weekend. A "Police/Fire" item in yesterday's morning edition incorrectly said he was also charged with first-degree sexual assault for allegedly raping the boy.