| | |
| --- | --- |
| | Newswatch |
---
FLOOD ASSISTANCE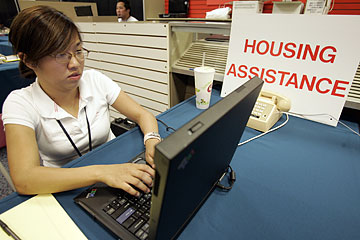 Lantern ceremony set for May 29
The public is invited to the eighth annual Lantern-Floating Event on Magic Island at Ala Moana Beach Park at 6 p.m. May 29.
Na Lei Aloha Foundation and Shinnyo-En Hawaii are sponsoring the event.
Jake Shimabukuro, Nalani Olds and Kanilau will provide entertainment before the ceremony. Beginning at 4 p.m., the Royal Hawaiian Band, Island Youth by Palama Settlement, Himig Indak Filipino and Ryukyukoku Matsuri Daiko Hawaii will also perform.
Fourteen canoes will be converted into seven catamarans to transport the lanterns out to sea. Volunteers will also release lanterns from shore, raising the total to 1,150.
Prayers will be offered to the spirits of the war dead and loved ones, according to Na Lei Aloha's release.
Admission for the event and parking at the Hawai'i Convention Center will be free.
For more information, contact Na Lei Aloha at 1953 S. Beretania St., call 942-1848 or go to www.lanternfloatinghawaii.com.
Habitat invites applicants
Habitat for Humanity in Leeward Oahu will hold an application meeting from 10 a.m. to noon June 17 at the Waianae Library for anyone interested in helping to build their own home.
Habitat is a grass-roots, ecumenical Christian housing ministry that works with people to build homes for sale at no interest or profit to those in need.
The homes are built from funding obtained through grants, monetary donations, donated materials and labor.
Selected families are encouraged to help build their homes and help others later.
Priority will be given to larger families living in substandard housing who are unable to obtain conventional financing, according to a Habitat press release.
The vision of Habitat for Humanity International is to eliminate poverty housing and homelessness.
For more information on how to become a volunteer or offer help, contact Leeward Oahu Habitat for Humanity at 696-7882.
Likelike to close 6 hours Friday
Likelike Highway will be closed in both directions from the H-3 freeway onramp to Valley View Drive from 9 a.m. to 3 p.m. Friday so Hawaiian Electric Co. can remove a safety structure put up for transmission line replacement work over the Wilson Tunnel. The company finished the 46-kilovolt transmission line replacement yesterday. Traffic message boards will alert motorists, and special-duty police officers will assist with traffic control.
Program offers SAT test-taking secrets
A free program entitled "101 Test Secrets: Demystifying the SAT" will be held at Kalihi-Palama Public Library at 3:30 p.m. tomorrow in the auditorium.
The one-hour presentation is geared for high school students. Parents are also invited. It will be conducted by Kaplan Test Preparation, a subsidiary of the Washington Post.
Registration is required as seating is limited. For more information or to register, call 832-3466 or visit the library at 1325 Kalihi St.
Foundation to show whale documentary
Pacific Whale Foundation on Maui will show the documentary film "Oasis of the Pacific" at 7 p.m. Thursday.
The 58-minute film on the underwater world of Hawaii will be screened at the Ocean Science Discovery Center on Route 30 in Maalaea. For more information, call 249-8811.
TAKING NOTICE
» Hawaii Meals on Wheels Inc. has received $4,079 from the Harry & Jeanette Weinberg Foundation Inc. to deliver hot meals to needy homebound seniors.
» The Tai Up Yang Fund of the Hawaii Community Foundation awarded a three-year, $30,000 grant to the American Cancer Society to support education programs. The first installment of $10,000 has been allocated.
» Nanakuli Housing Corp. has received $2,500 from the First Hawaiian Bank Foundation to enhance its base yard, a center for recycled construction materials for low-income families and nonprofit organizations.
» The Theodore A. Vierra Fund of the Hawaii Community Foundation gave a $10,000 grant to the American Cancer Society's quality-of-life programs. The gift is the first half of a two-year, $20,000 pledge. The grant is to help cancer patients over age 50.
» Punahou students in Jordan Kandell's English class were successful in getting the Harry and Jeanette Weinberg Foundation to provide a $5,000 gift to the American Cancer Society. The students got people to donate their hair, exceeding 10 inches, to "Locks of Love," a national organization that provides hair to children with long-term medical problems.
Their community service met the requirements of the Weinberg's "Educating the Heart" program for high school students.
» The American Cancer Society West Hawaii office has received donations from the following organizations: the Four Seasons Resort Hualalai, $77,909 from proceeds from the annual Terry Fox Run; Hawaii Hotel Industry Foundation, $2,500 to the Active for Life program to encourage people to eat healthy, manage their weight and exercise; World Triathlon Corp., $1,500 to support quality-of-life programs; Hawaii Community Foundation's West Hawaii Fund, $2,000 to support the Active for Life program.
» Walkers in the 15th Annual Starbucks AIDS Walk for Life on April 23 raised $105,000 for Life Foundation, the oldest and largest AIDS organization in Hawaii.
» American Savings Bank collected more than 31 tons of food and raised $58,000 in donations for the 2005 annual fall food drive for the Hawaii Island Food Bank.
---
"Taking Notice" runs on Tuesdays, Thursdays and Saturdays. Please send items to City Desk, Star-Bulletin, 500 Ala Moana, Suite 7-210, Honolulu, HI 96813.
| | |
| --- | --- |
| | Police, Fire, Courts |
---
NEIGHBOR ISLANDS
Firefighters find woman's body inside burning car
LIHUE » Kauai police are investigating the death of a woman whose body was found in a burning vehicle yesterday in Hanapepe Valley.
At about 11 a.m. yesterday, firefighters responded to a vehicle fire and found the body of the woman, whom they would not identify until next of kin had been notified.
Anyone with information about the incident is asked to call Detective Marvin Rivera, 241-1687, Detective Sam Sheldon, 241-1688, or CrimeStoppers at 241-1887.
Neighbor snaps photos of suspect in burglary
A South Kohala man took pictures of a suspected burglar who allegedly set off his neighbor's home security system Sunday.
Big Island police said the alarm at the home on Lihipali Road was triggered at 1:08 p.m. When officers arrived a neighbor said he saw a man enter the home through the back and set off the alarm.
The neighbor said he saw the suspect leave through the front door and run from the house, heading east on Lihipali.
Police said the neighbor took multiple photos of the suspect, described as a young man with a medium complexion and short, dark curly hair. In the photos the suspect is seen wearing a light blue polo shirt with white horizontal lines, dark blue surf shorts with a light-colored pattern on the left leg and white tennis shoes.
Anyone with information is asked to call officer Victor McLellan at 887-3080, the police nonemergency number at 935-3311 or CrimeStoppers at 961-8300.
Rescuers save man swept into ocean waves
Big Island fire rescue crews recovered a 26-year-old man Sunday who was swept into the ocean by a flash flood.
The man had been swimming in Kolekole Stream near Kolekole Beach Park at about 9:30 p.m. when the water level rose suddenly and swept him into the ocean waves at the mount of the stream, according to a news release.
The man climbed onto some rocks opposite from where he entered the stream and waited for help. Rescue crews rappelled down a cliff and pulled him to safety, the release said. He was taken to Hilo Medical Center for treatment.
LEEWARD OAHU
Mo-ped driver allegedly is attacked on street
Police arrested one of two men who allegedly attacked another man on a mo-ped Sunday.
The victim, 32, said he was stopped at an intersection in Leeward Oahu at about 1:40 p.m. when two men approached and assaulted him, police said. The assailants took some of the man's belongings and fled, police said.
The man was treated for injures at the scene. Police later arrested a 42-year-old man for investigation of first-degree assault. There was no description of the second suspect.
NORTH SHORE
Patrol nets 2 arrests after vehicle thefts
Police arrested a 17-year-old boy and a 21-year-old man, both from Waipahu, yesterday morning for investigation of numerous offenses including auto theft after a patrol officer spotted an apparent car break-in on the North Shore.
The officer was on a routine patrol when he noticed the teen apparently trying to punch the door lock of a vehicle parked on the roadside across the street from Chun's Reef at about 11:10 a.m. He also noticed another car, later found to be stolen, parked next to it, police said.
When the officer was turning his car around to investigate, the car parked next to the apparent break-in sped off on Kamehameha Highway, smashing another vehicle in the process.
Sgt. Byron Martin of the Wahiawa Police Station said the officer got stuck in traffic, and "when he is finally able to wheel around, he sees the dust and the accident occurs."
Three occupants of the fleeing car got out and ran. A police helicopter assisted locating the three males, Martin said. Officers caught them after a short chase, police said.
Police discovered the car was stolen, police said.
The two were arrested on suspicion of auto theft, criminal property damage, reckless driving and driving without a license.
HONOLULU
Police search for pair after robbery attempt
Police are looking for two men who allegedly tried to rob two other men at gunpoint Sunday.
Police said the victims, 21 and 30 years old, were waiting at a bus stop in Honolulu at about 11:30 p.m. when they were approached by the suspects.
One of the suspects took out a handgun and demanded the victims' wallets, police said. When the victims refused, they were assaulted, police said.
Police said the victims ran away and reported the robbery to officers.
The suspect with the gun was described as 5 feet 7 inches tall, about 130 pounds, and was wearing a yellow T-shirt and dark shorts. The second suspect was described as a 6-foot-tall man, about 170 pounds, and was wearing a dark T-shirt and dark shorts.
Anyone with information is asked to call 911 or CrimeStoppers at 955-8300 or by dialing *CRIME on a cellular phone.