---
FAST FACTS HAWAII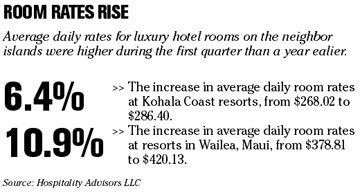 ---
AMD says new chips enable smaller, more stylish PCs
SAN FRANCISCO »
Advanced Micro Devices Inc.
,
Intel Corp.'
s biggest rival in personal computer microprocessors, plans to unveil chips today it says will lead to more power-efficient PCs that are smaller and more stylish.
The chips, which will go on sale later this month, come as AMD and Intel try to outdo each other in improving power-efficiency and adding other features to their products.
The latest AMD chips will come in two categories and span the Sunnyvale-based company's Athlon 64 X2, Athlon 64 and Sempron brands. A 65-watt chip will boost power efficiency by up to 37 percent when compared with AMD's standard 89-watt processors. A smaller, 35-watt model will more than double the performance per watt, AMD said.
"This is a big step forward and a big step forward without any performance compromises," said Nathan Brookwood, an analyst with the research firm Insight 64.
Yahoo redesigns its Web site
SAN FRANCISCO »
Yahoo Inc.
's Web site is unveiling a new look today as the Internet powerhouse strives to remain the world's most popular online destination and strengthen its advertising appeal.
The overhaul marks the first facelift to Yahoo's home page since September 2004.
The redesigned page, initially available in the United States at www.yahoo.com/preview, includes more interactive features that reduce the need to click through to other pages to review the weather, check e-mail, listen to music or monitor local traffic conditions.
Yahoo is making the upgrade as it battles for traffic with longtime rivals MSN, AOL and Google Inc. while also trying to fend off an intensifying threat posed by the rise of social networking sites such as MySpace.com.
Skype offers free calls to landlines
SAN JOSE, Calif. » Skype,
eBay Inc.
's Internet telephone subsidiary, has stopped charging users for dialing up people on traditional landline and mobile phones in the U.S. and Canada.
The Internet telephone service, which has always offered free PC-to-PC calls around the world, said yesterday it will offer its SkypeOut service for free until the end of the year. Previously, Skype users paid about 2 cents a minute for calls to landline and mobile telephones.
Users who make outgoing calls to and within countries outside the U.S. and Canada will continue to incur per-minute charges. The company also said it will continue to charge for traditional phone numbers that can be dialed from any phone to reach Skype users.
Krispy Kreme reaches tentative settlement
WINSTON-SALEM, N.C. »
Krispy Kreme Doughnuts Inc.
has reached a proposed $4.7 million settlement with workers who claimed they lost millions of dollars in retirement savings because company executives hid evidence of declining sales and profits, the company announced Monday.
The class-action lawsuit was filed in federal court in Greensboro, N.C., last year for workers who owned stock in the company's retirement or stock ownership plans after Jan. 1, 2003 -- around the time the company's sales began to decline.
Because the executives said nothing about the company's troubles, the suit claimed, workers who bought Krispy Kreme stock for their 401(k) accounts, or were paid stock in bonus plans, had no way of knowing what top executives knew: that the stock was a risky investment.
The executives should have sold the stock from the plans when the investment became "imprudent," the suit says.
Northwest and union agree to disagree
NEW YORK »
Northwest Airlines Corp.
and a union representing thousands of baggage handlers remained at loggerheads yesterday, the first day of hearings in a trial to determine whether the airline can void its agreements with the union.
The International Association of Machinists represents 5,600 baggage handlers and some other ground staff, and has threatened to strike if the bankruptcy judge allows Northwest to impose terms on the union.
Despite the testy relations, the two sides do agree on what separates them: pensions; severance payments; and higher compensation, either in wages or a lump-sum payment.