---
FAST FACTS HAWAII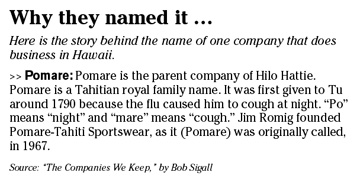 ---
HAWAII
Aloha Air posts loss of more than $1M
Aloha Airlines
, which emerged from bankruptcy in mid-February, had a net loss of just more than $1 million in the fourth quarter, according to preliminary numbers released today by the federal Bureau of Transportation Statistics.
The loss included extraordinary expenses due to the 13 1/2-month reorganization.
Aloha's revenue for the period was $99.3 million while its operating expenses came to $93.6 million, including fuel costs of $20.9 million.
The carrier's operating income was $5.7 million.
Aloha, which is privately owned by the Yucaipa Cos., Aloha Aviation Investment Group, Aloha Hawaii Investors LLC and GMAC, declined to provide any year-earlier comparisons, full-year results or first-quarter 2006 numbers.
David Banmiller, president and chief executive of Aloha, said earlier this year that new cost-saving measures will save Aloha $75 million a year and that the carrier's projected EBITDA, or earnings before interest, taxes, depreciation and amortization, was about $17 million in 2005. He projected the EBITDA to be $27 million this year.
NATION
Nashville tops list of places to live
It might be the world's capital, the city that never sleeps, but New York is not considered one of America's "smart places" to live, according to a finance magazine's review. Other major burgs such as Chicago, San Francisco, Miami, Los Angeles and Seattle likewise didn't make the cut for Kiplinger's Personal Finance.
The magazine ranked 50 U.S. cities in terms of housing prices, cost of living, economic vitality, education, health care, local arts and recreational facilities.
So which town gets top bragging rights in this unscientific assessment? Nashville, Tenn.
The Minneapolis-St. Paul metro area was No. 2, followed by Albuquerque, N.M., Atlanta and Austin, Texas, which rounded out the top five.
The rest of the top 10: Kansas City, Mo.; Asheville, N.C.; Ithaca, N.Y.; Pittsburgh; and Iowa City, Iowa. The full 50 list is in the magazine's June issue.
Survey confirms workers stressed
The numbers from a recent survey bear out exactly what each office worker knows: Work is stressing them out.
More than three-fourths of respondents said they feel job burnout, while more than 50 percent feel they're under a "great deal of stress."
Sixteen percent of respondents blame their colleagues for their office woes followed by unrealistic workload, tight deadlines, last minute projects and meddling bosses. The "Office Stress" study was conducted by CareerBuilder.com and included 2,500 online responses.
"High pressure work environments are taking their toll on workers' morale," said Rosemary Haefner, CareerBuilder.com's vice president of human resources. "This can be detrimental to both workers, whose health and career progress may suffer, and employers, who pick up the tab in higher insurance costs and lost productivity."