Streetlight wire thieves leave motorists on H-2 in the dark
Police believe the copper wiring is being sold for scrap
Thieves have blacked out a portion of the H-2 freeway by stealing about a mile of copper wiring from streetlights last month, apparently to sell as scrap, state officials say.
Wiring was removed from about 50 lights near the H-1/H-2 merge and near the Ka Uka Boulevard exit on the Mililani-bound side of the freeway, according to Department of Transportation officials.
An earlier theft of copper wiring in the same area in December cost the state about $50,000 to repair. Officials said they were not sure how much this latest theft would cost until they put the job out to bid.
"It's kind of disgusting that someone would jeopardize everyone's safety just to make a couple of extra bucks," transportation spokesman Scott Ishikawa said yesterday.
The theft was the second from public facilities revealed this week. On Wednesday, city parks officials said thieves have taken more than 100 chrome-plated brass toilet flush valves from 28 park restrooms in Central Oahu and the North Shore over the past three weeks.
Pearl City burglary and theft detectives are investigating the copper wire case and said the thefts are likely related to the pilfering of copper rain gutters, which has happened since the middle of last month.
Police said about five locations -- schools and businesses -- have been hit with gutter thefts in the Pearl City police district, which includes Red Hill, Waipahu and Village Park.
"We believe the copper thefts are tied in," said Lt. Derek Shimatsu, of the Pearl City Burglary/Theft Detail. "Obviously there's a buyer somewhere.
"You don't just walk up to a drug house and say you want to trade copper for drugs -- that doesn't fly."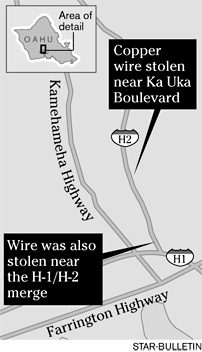 Like their counterparts in Pearl City, Wahiawa investigators probing the toilet flush valve case said their scrap metal scavengers are still unknown.
"We've checked with a lot of scrap metal buyers, nothing has come up yet," said Lt. Stanford Afong, of the Pearl City Burglary/Theft Detail.
Those who run scrap metal and recycling businesses said the copper wire and gutters would be hard to trace because they are so common. The chrome-plated brass industrial flush valves are another matter, however.
"The flushing valves are very recognizable," said Takeo Okuda, owner and operator of Okuda Metals Inc. in Kalihi. "Even if you take it apart, you can still tell what it is.
"They shouldn't have any trouble tracing those valves."
Okuda said anyone who sells him scrap has to provide some sort of identification, address and license plate number for their vehicle. In light of the recent thefts, however, he said he and other buyers will have to be more vigilant.
"We have to do as much as we can," he said. "We've been here for 54 years. ... Our reputation is everything."
Shimatsu said he did not believe the thefts of the brass valves and the copper thefts were related.
"Those after copper are after copper, and those after the brass are after the brass. That's what I believe," he said.
State officials said they believe the theft of the copper wiring is happening in the daytime while the lights are powered down. City officials believe the valve thefts take place at night when parks are closed.
---
Police ask if anyone has any information on either theft case to call 911 or CrimeStoppers at 955-8300, *CRIME on a cell phone.