---
FAST FACTS HAWAII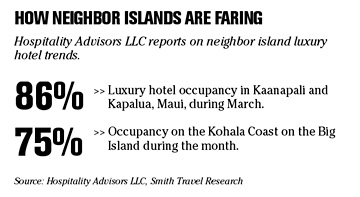 ---
HAWAII
United to add flights, fill 100 jobs in isles
Citing strong demand,
United Airlines
said yesterday it will add 21 more weekly flights to Hawaii this summer than it did last year.
The Chicago-based carrier also said it will fill 100 permanent jobs in Hawaii on Monday for the positions of customer service, ramp service and reservation sales and service representatives. United has 1,465 employees statewide.
Mike Navares, general manager-Hawaii for United, said most of the customer service positions will be in Kahului, Maui; Kona on the Big Island; and Lihue, Kauai. All of the reservation jobs and ramp positions will be in Honolulu.
United's additional flights, which will begin June 8 and conclude Aug. 26, will include new Saturday service from San Diego and Seattle, going head to head with Hawaiian Airlines, which just expanded service to both those cities.
United also will add three daily flights from Los Angeles with service to Lihue, Kona and Kahului.
United already flies five times a day from Los Angeles and San Francisco to Honolulu and four times a day from Los Angeles and San Francisco to Maui. United also has routes to Honolulu from Denver and Chicago, as well as flights from Tokyo and Osaka, Japan.
NATION
Trade deficit goes down
The U.S. trade deficit unexpectedly declined in March for a second straight month, something that hasn't happened in more than two years.
The improvement reflected record U.S. exports and a big drop in the country's foreign oil bill. A container ship from Korea was pictured at a loading dock Thursday at Seattle's Harbor Island as a tugboat rode past.
Ex-Tyco CEO must pay $21 million
NEW YORK » Former
Tyco
CEO L. Dennis Kozlowski agreed yesterday to pay $21.2 million to settle a New York state tax case related to his grand larceny conviction for looting the company.
The amount covers $3.2 million in sales taxes that Kozlowski owed on the purchase of $15 million worth of art, as well as $18 million he owes for state and city income taxes, said defense lawyer James DeVita and Assistant District Attorney Ann Donnelly.
The sales tax case, which began as a criminal prosecution, preceded the investigation into thefts from Tyco which resulted in the grand larceny convictions last June of Kozlowski and former Chief Financial Officer Mark H. Swartz.
More Microsoft oversight sought
WASHINGTON » Citing
Microsoft Corp.
's lapses under part of a landmark antitrust settlement, the Justice Department said yesterday it wants to extend by two years its oversight of some of the company's business practices until at least November 2009.
Microsoft already has agreed to the lengthier scrutiny by the department and 17 states, including California, under a proposal that still must be approved by a U.S. judge. The company has struggled with a key provision in the 2002 antitrust settlement requiring it to disclose to its competitors sensitive details about some of its software.
Government lawyers said they were prepared to extend oversight of Microsoft's business activities through 2012 if they deem it necessary. In court papers filed yesterday, they described Microsoft's efforts under parts of the settlement as "disappointing" and "not very encouraging," but they also said Microsoft's failures were neither willful nor systematic.
Bankruptcy changes hamper legal advice, lawyers say
NEW HAVEN, Conn. » Organizations representing thousands of attorneys are challenging the nation's tough new bankruptcy law, saying it illegally restricts the advice lawyers can give and makes it harder for clients to navigate the bankruptcy system.
A lawsuit filed in U.S. District Court in Hartford on Thursday claims that the law treats attorneys the same as unlicensed document preparers or credit counseling firms, which are required under the new law to give specific advice -- including not to go deeper into debt.
That illegally hampers the attorney-client relationship, the lawsuit argues, and might even prevent lawyers from recommending that clients hire them in the first place. Attorneys say legal advice isn't one-size-fits-all.
"Someone could be down and out but have access to a student loan to go to school for retraining," said attorney Barry S. Feigenbaum, who filed the suit. "We couldn't advise that client to take that student loan."
Car repairs, medical bills and court-ordered child support are listed in the lawsuit as examples of added debt that might keep clients working and out of jail.
Chip makers to pay $161M to settle price fixing
SAN FRANCISCO » Three makers of computer memory chips have agreed to pay a total of $161 million to settle a class-action lawsuit accusing them of conspiring to fix prices, according to lawyers in the case.
Hynix Semiconductor Inc. will pay $73 million to settle the action, which was filed on behalf of companies and individuals who bought dynamic random access memory chips, said Kenneth O'Rourke, an attorney representing the South Korean company.
Samsung Electronics Co., the largest maker of memory chips, agreed to pay $67 million, and Infineon Technologies AG of Germany will pay $20.8 million, said Guido Saveri, an attorney representing plaintiffs in the case.
WORLD
Analyst downgrades Toyota Motor
Toyota Motor Corp.
was downgraded by
Banc of America
, which said that the world's largest automaker by market value is facing growth constraints and would need to expand to meet the brokerage's sales and earnings forecasts.
"Toyota needs to add two to three plants a year to generate 7 percent topline growth, and we see signs that such massive absolute expansion is tough for even them," Banc of America analyst Ronald A. Tadross wrote in a note.