Don't call it healthy
Simplicity and freshness reign in flavorful meals that satisfy patrons at the exclusive Canyon Ranch spas
CHEF SCOTT Uehlein is charged with seeing to the good health of his resort diners, but watch how you label his food. "Don't call it healthy. America is not ready for 'healthy' cooking. It's the kiss of death; it's associated with no flavor. Healthy options are not well-received."
He doesn't use such health-food staples as seitan or tempeh -- "we're not about tofu and sprouts" -- and he does use butter and cream, in moderation. "We're trying to break out of that spa cuisine mold. We try not to be extreme but mainstream."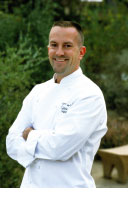 "America is not ready for 'healthy' cooking. It's the kiss of death; it's associated with no flavor. Healthy options are not well-received."
Scott Uehlein
Executive chef, Canyon Ranch resorts
Uehlein is corporate chef for Canyon Ranch, a health and wellness company that operates resorts in Tucson, Ariz., and Lenox, Mass., both offering live-in programs that focus on physical activity, medical consultations, every spa service imaginable and of course, cuisine.
Four- to seven-day stays at $700 to $1,000 per day per person mean each guest expects great food that will enhance health, according to Uehlein, who recently presented a demonstration for culinary students and professionals on the Big Island.
For seven years, Uehlein's challenge has been to execute the healthy food philosophy of Canyon Ranch -- that includes eight to 10 half-cup servings of fruits and vegetables each day, healthy fat and a caloric content of 1,600 to 1,800 calories per day.
"There are no restrictions on what we feed our guests," says Uehlein. "It's all about moderation, not deprivation."
OTHER RESORTS may offer "healthy" or "spa" dishes as a small portion of a menu, but at Canyon Ranch, breakfast, lunch and dinner are all designed to be part of the wellness philosophy.
Fruit bowls are placed throughout the property for snacking. Alcoholic beverages are not served.
Menus are developed in conjunction with staff dietitians who set the parameters. Entrees, for example, should cover starch, protein and vegetable in 450 calories, 15 grams of fat, 700 milligrams of sodium and 3 grams of fiber. Desserts are targeted at 150 calories and 7 grams of fat. Uehlein's job is to meet the marks, making meals attractive and tasty.
Every dish on the menu is analyzed, and calories, fat and fiber content are listed on the menu. Cooks at Canyon Ranch measure ingredients precisely rather than cook "by feel" -- there's no adding a sprinkling of salt here, a dab of butter or splash of cream there. Each dish must fit its nutritional profile each and every time it is prepared.
Uehlein also has to use "clean" food -- for the most part, unprocessed and raw. Foods processed with added chemicals, additives, stabilizers, gums or preservatives are not found in his pantry.
"Essentially, the food has to be local, organic and sustainable," said Uehlein. He and his staff search for wild or sustainably farmed seafood, hormone- and antibiotic-free beef, chicken, lamb and pork.
Sea salt, extra virgin olive oil and canola oil are basic to his cooking.
Butter and cream, often shunned on spa cuisine menus because of their high fat and calorie content, are among Uehlein's repertoire of ingredients. But not a lot.
"Where you save calories the most," notes Uehlein, "is in the portion size."
Edwin Goto, executive chef of the Mauna Lani Bay Hotel and Bungalows on the Kohala Coast said he found much to admire in the Canyon Ranch approach. He plans to take Uehlein's advice on one important point: "I am currently planning to switch out all of our fryer oil from partially hydrogenated canola oil to expeller-pressed soy bean oil, which contains no trans fats," Goto said.
FOUR OUNCES of protein and moderate portions of vegetables and starch comprise a Canyon Ranch entrée, usually filling an 11-inch dinner plate. "When we tried a 12-inch plate, people thought we were serving less food," Uehlein recalled.
Living within all these boundaries could be constraining for any chef. "It took some getting used to. It causes you to be on your game from a flavor standpoint."
Simplicity and freshness reign. "The most important thing is to balance sweet, sour, bitter and salty," said Uehlein. "All dishes have to have these four elements."
For sweet he might use marmalade, bitterness might come from a roasted red pepper or bitter greens.
He does like to spice things up and he is ever mindful of texture and color, contrasting soft foods with crunchy ones and using a wide array of ingredients.
Uehlein has put a few classic dishes on the Canyon Ranch menu. Macaroni and cheese, for example, made with real cheese and a savory white sauce. Pot roast served with a sauce made from the roasted vegetables.
"One thing I don't do is reinvent dishes," said Uehlein. "If I were to make a healthy beef Wellington and take out the foie gras and butter, it would be a shadow of the dish. With new dishes, the diner has no preconception of what it will taste like."
---
Spa dishes take lighter touch
This crab cake is as delectable as any crab cake, without a crunchy exterior.
Chef Scott Uehlein prefers not to coat his crab cakes in flour when frying because flour soaks up too much oil. Serve the crab cakes with sautéed or dressed greens and brown rice. The salsa would be a terrific accompaniment to grilled chicken or fish.
Crab Cakes with Sweet Cucumber Salsa
1 cup lump crab
1/4 cup diced red bell pepper
1/4 cup diced yellow bell pepper
1/2 cup minced red onion
2 tablespoons chopped scallions
2 tablespoons Dijon mustard
3/4 teaspoon Old Bay Seasoning
2 teaspoons Worcestershire sauce
2 tablespoons canola oil mayonnaise
1 egg yolk
3/4 cup panko (Japanese breadcrumbs)
Combine all ingredients and mix well. Refrigerate 2 hours.
Portion crab mixture into 1/4-cup patties.
Lightly coat a large sauté pan with olive oil. Sauté crab cakes until golden brown on each side. Serve 2 crab cakes with 2 tablespoons sweet cucumber salsa. Serves 6.
Approximate nutritional analysis, per serving: 135 calories, 6 g fat, 67 mg cholesterol, 408 mg sodium, 11 g carbohydrate, 8 g protein, 2 g fiber.
---
Sweet Cucumber Salsa
3/4 cup diced cucumbers
1/4 cup diced fresh chives
1 tablespoon diced red onion
1/3 cup diced roasted red bell peppers
1/4 cup orange marmalade
Pinch diced jalapeño pepper
1 tablespoon lime juice
Pinch salt
Combine all ingredients in a medium bowl and mix well.
---
BANANA, chocolate sauce and fresh fruit add up to a satisfying dessert that's good for you, too.
Banana Changa
1/2 teaspoon ground cinnamon
2 teaspoons sugar
4 sheets phyllo dough
2 fresh peeled bananas
4 tablespoons fat-free chocolate sauce
Canola oil spray
Preheat oven to 400 degrees. Lightly spray a small baking sheet with canola oil. Combine cinnamon and sugar.
Lay one sheet of phyllo dough on countertop. Spray lightly with canola oil. Sprinkle 1/2 teaspoon cinnamon sugar mixture evenly across dough. Place second sheet of phyllo evenly on top of first sheet. Spray lightly with canola oil and sprinkle with 1/2 teaspoon cinnamon sugar mixture.
Place one peeled banana in center of phyllo sheets and straighten the curve of the banana as much as possible. Wrap banana, folding in the sides. Repeat for second banana.
Place wrapped bananas, seam side down on prepared baking sheet. Spray exterior of changas lightly with canola oil spray and sprinkle remaining cinnamon sugar mixture over tops. Bake 8 to 10 minutes or until golden brown.
Cut each Banana Changa in half and serve drizzled with 1 tablespoon chocolate sauce. Garnish with fresh fruit, if desired. Serves 4.
Approximate nutritional analysis, per serving: 175 calories, 2 g fat, no cholesterol, 113 mg sodium, 39 g carbohydrate, 3 g protein, 4 g fiber.