---
FAST FACTS HAWAII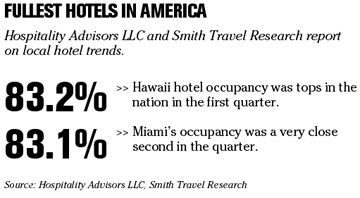 ---
HAWAII
After flood, Borders exits Kahala Mall
Following the freak flooding that ransacked Kahala Mall in late March, Borders Express has officially turned its space back over to the mall, terminating its lease early.
"It was about to terminate anyway," said Ron Yoda, general manager of Kahala Mall. Borders officials were offered an indefinite lease extension, but Yoda said the store "got so much damage" that without a permanent or long-term deal, the book seller decided not to reopen.
The store had six employees as of the March 31 flood. "We offered positions in nearby Borders and Waldenbooks stores to employees in good standing," said Holley Stein, a Borders spokeswoman based in Michigan.
Ironically, the former Borders space will house a temporary Small Business Administration disaster relief application center.
Kuilima picks new chef executive
The
Kuilima Resort Co.
, which has controversial development plans for the Turtle Bay Resort on Oahu's North Shore, soon will be under new leadership.
The company announced yesterday that Nicola Jones will succeed Hy Adelman as chief executive officer, a post he has held for the past five years.
Jones, who was most recently chief executive officer of San Francisco-based real estate company ECOR-SF Inc., has already moved to Oahu and will take over next month.
Adelman is moving to the mainland to be closer to a college-aged son, the company said.
[HAWAII INC.]
NEW JOBS
»
Barnhart Associates Real Estate Hawaii
has hired
David Edgar
as a realtor in the company's Lahaina office. He will be responsible for specializing in investment properties and timeshare resales. He previously worked for
Oihana Property Management and Sales Inc.
in Wailuku.
» The Kahala Hotel & Resort has hired Sharon Klaschka as sales director. She most recently served as the director of sales at the Fairmont Kea Lani on Maui.* She has over 23 years of Hawaii hotel experience.
» Alexander & Baldwin Inc.has appointed Paul K. Itocontroller. He will be responsible for accounting, internal controls and financial reporting for the company. He replaces Thomas A. Wellman, who is leaving to join another company.
» Summerlin Life & Health Insurance Co. has appointed two new vice presidents. Harris Nakamoto has been appointed vice president and general manager, Hawaii. Larry Hurst has been appointed vice president, government affairs.
NATION
State Farm sued over Katrina
GULFPORT, Miss. » A lawsuit filed yesterday by nearly 700 Gulf Coast homeowners accuses
State Farm Insurance Co.
of using a "one-size-fits-all" engineering report as the basis for refusing to cover damage to homes destroyed by Hurricane Katrina.
The suit alleges that the insurer denied many of the homeowners' claims without investigating whether Katrina's wind or water was responsible for damage to their homes.
Instead, the suit claims, an engineering firm hired by State Farm drafted a generic, "one-size-fits-all" report that concludes all damage to homes on Mississippi's Gulf Coast was caused by "storm surge" and not hurricane-force winds. State Farm's policies cover wind damage, but storm surge is considered flood water and is excluded from coverage.
Gold glitters at $701 an ounce
Prices for gold, platinum and other precious metals surged to new heights yesterday as investors weighed an assortment of worries over energy and Iran's nuclear program.
Gold futures, which have risen 36 percent so far this year, jumped 3.1 percent, to $701.50 a troy ounce, and platinum rose 3.4 percent, to $1,235.50 an ounce on the Comex division of the New York Mercantile Exchange.
Energy prices were also higher yesterday, with crude oil, which metals prices often track, rising 92 cents, or 1.3 percent, to $70.69 a barrel on the New York Mercantile Exchange.
US Air profit surprises investors
PHOENIX » Shares of
US Airways Group Inc.
surged more than 9 percent yesterday after the airline posted a first-quarter profit, surprising analysts who expected a loss for the quarter.
The Tempe-based airline reported quarterly earnings of $65 million, or 76 cents per share, compared with a loss of $174 million, or $6.58 per share, a year ago.
Citibank glitch botches 274,800 transactions
TOKYO » A computer problem at
Citibank
branches in Japan botched 274,800 bank transactions over the past week, the latest in a string of embarrassments for the largest U.S. financial house in the Japanese market.
The glitch affected transactions between May 2-8, and Citibank is working to fix the problem, the company said in a statement yesterday. In some cases, transactions were double-booked, while others were processed but not reflected in statements.
The problem affected yen savings accounts, U.S. dollar savings accounts, checking accounts, international loan cards and money advances.
Television boosts Walt Disney
Profit at media conglomerate Walt Disney Co. rose 19 percent in the second quarter on strong ratings at its ABC network and cable channels, and increased attendance at its theme parks.
The company, based in Burbank, Calif., also reported a drop in earnings from its film studio, which continues to struggle with lower DVD sales and modest box office success.
In other news ...
»
McDonald's
reported its largest monthly sales increase yesterday in more than a year, announcing a 6.2 percent rise in global same-store sales in April boosted by unusually strong business in Europe.
CORRECTION
Friday, May 12, 2006
» Sharon Klaschka, new sales director for the Kahala Hotel & Resort, most recently was director of sales at the Fairmont Kea Lani on Maui. A listing in the "Hawaii Inc." section on Page C2 Wednesday said incorrectly that her last job was senior sales manager at the Stouffer Wailea Beach Resort.