Wolfhounds learn desert survival skills
Isle troops train in California before deploying to Iraq
FORT IRWIN, Calif. » Training for house-to-house combat in what passes for the Iraqi city of Medina Jabal, a battalion of Schofield Barracks soldiers is cut to pieces during a seven-hour firefight.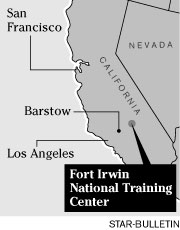 ROAD TO IRAQ
National Training Center
Location: Fort Irwin in Mojave Desert, Calif.
Where:150 miles northeast of Los Angeles
How big: The size of Rhode Island
Mission:Counterinsurgency training
25th Infantry Division
3rd Brigade Combat Team, commanded by Col. Patrick Stackpole
46th Sustainment Brigade, commanded by Col. Michael McBride
Multifunctional Aviation Brigade,commanded by Col. Thomas Ball
25th Division headquarters,commanded by Lt. Col. Patricia Frost
Total soldiers there: 5,000

Source: U.S. Army
The Wolfhounds from the 25th Infantry Division's 1st Battalion, 27th Infantry, suffered heavy "casualties" as they tried to gain control of one of 12 mock villages here in the Mojave Desert. By the time the battle had wound down, only nine of 29 squads were left standing.
"That's pretty typical," said 1st Lt. Anthony Asquith, one of 150 soldiers stationed in the Mojave Desert Army post helping soldiers of the 25th Infantry Division's 3rd Brigade Combat Team prepare for an Iraqi tour of duty beginning in July.
"The whole idea is to show these soldiers who is in control here," Asquith said. "It's normal for a unit to lose its first firefight."
For the past two weeks, the Tropic Lightning soldiers have been working in a 1,000-square-mile region south of Death Valley, living in forward operating bases as they would in Iraq, and facing daily homemade bomb attacks, suicide bombers and a Sunni-Shiite uprising.
Maj. John Clearwater, a special-forces soldier, said more than 50,000 soldiers bound for Iraq or Afghanistan train at what he described as the "Army's prime training center" in specialty counterinsurgency operations.
At least 75 percent of the Army's soldiers have trained at this barren, dusty and vast desert 150 miles northeast of Los Angeles.
The National Training Center builds its training scenario around combat brigades, averaging 3,500 to 4,000 soldiers.
The Army employs 1,600 soldiers and civilians, including 250 former Iraqi citizens whose job is to provide a realistic experience for the Tropic Lightning soldiers. They live in these mock villages, like Medina Jabal, during the exercise and shy away from talking with reporters or even having their pictures taken. None of the villagers are allowed to speak English.
"Some of these Iraqis still have family there and are fearful (of) retribution," an Army spokesman said.
To enhance reality, the Army hired Hollywood actors, stuntmen and special-effects specialists whose job is provide the "flash and bang" without a casualty.
About 10 three-week rotations have been held here annually since the counterinsurgency training began three years ago.
"This is critical for the survival of our soldiers," Clearwater said. "You learn the fundamental skills here."
During the Wolfhounds' first "high-intensity" firefight nearly two weeks ago, Asquith said, the intent of the training was "to draw the soldiers into a resort area and force them into a maze of containers, which are supposed to be small houses."
The "houses," actually shipping containers, are wedged together fronting a street less than 15 feet wide. Concertina wire was strung across the street in alleyways, causing tremendous confusion as the Wolfhounds tried to make their way through the maze, Asquith said.
It would be something like the soldiers would have to face in Fallujah or Ramadi, Asquith said.
Operations are run around the clock. All the action in the villages and inside the buildings are videotaped and used as a teaching tool as Tropic Lightning commanders move through the various training scenarios.
Sgt. Clarence Lewis, a member with the 1st Battalion, 21st Infantry, was chosen to serve as observer/controller or referee during the current Mojave Desert deployment.
It is his job to ensure the soldiers learn from their mistakes.
The Wolfhounds' first brush with Iraqi insurgents was intensive, said Lewis, who served in Iraq with the 1st Cavalry Division in March 2004.
"There were a lot of adrenaline pumping," Lewis said. "It was very realistic."
Command Sgt. Major David Yates, the highest enlisted soldier in the 2nd Battalion, said the "high-intensity" firefight was the first thing his soldiers did when they got in the operations area.
"It was good," said Yates, who served with the 3rd Brigade Combat Team in Afghanistan nearly two years ago.
Spc. Jason Bonney, who already has done combat tours in Iraq and Afghanistan during his five years in the Army, termed the training here "realistic."
However, Bonney, 23, acknowledged "there is always room for improvement."
Leaders of the 2nd Battalion also note that of the 760 soldiers assigned to the Wolfhounds, about half are young and green -- never having seen combat.
He has new soldiers in his platoon. "I tell them to train like it's the real deal and don't get caught with your pants down."
---
On Assignment
Star-Bulletin reporter Gregg Kakesako is on assignment in Fort Irwin, Calif., where 5,000 troops from Hawaii's 25th Infantry Division are training before July deployment to Iraq.