---
FAST FACTS HAWAII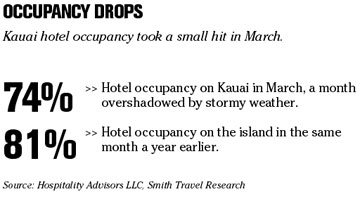 ---
HAWAII
Honsador buys Kauai lumber firm
Honsador Holding LLC, a major supplier of building materials in Hawaii, has acquired Aloha Lumber Co. of Kapaa, Kauai, solidifying Honsador's position as a dominant supplier on the Garden Isle.
Although terms of the deal were not disclosed, Honsador forecast its 2006 revenues would be $200 million as a result of the transaction. Honsador Holding's assets include Honsador Lumber, a wholesale building products distributor; Ariel Truss, a manufacturer of roof trusses; and Honolulu Wood Treating. In addition to existing and new operations on Kauai, the company has operations on Oahu, Maui and the Big Island.
Honsador also maintains a facility in Portland, Ore., that buys materials to ship to Hawaii. The company was acquired in 2004 byKey Principal Partners, a private equity firm with offices in Cleveland and San Francisco.
The deal comes just months after Aloha Lumber's father-and-son chief executive and president, Russ and Randy Boyer, were named small-business people of the year for Hawaii by the U.S. Small Business Administration.
Grove Farm hires executive
Major Kauai landowner
Grove Farm Co. Inc.
has named Myles S. Shibata president of its Grove Farm Land Corp. subsidiary.
The position was previously held by Warren Haruki, who will continue as president of the parent company. In Shibata's new position, which will start on Monday, he will report to Haruki.
Shibata is currently chief operating officer ofKawailoa Development LLP/TAK Hawaii Inc.,which does business as the Grand Hyatt Kauai Resort & Spa and the Poipu Bay Golf Course.
NATION
Newspaper circulation woes accelerate
A decline in U.S. newspaper circulation accelerated in the six months through March, led by the Los Angeles Times and San Francisco Chronicle. Newspaper shares rose as Web site readership increased.
Daily circulation for 770 U.S. newspapers fell 2.6 percent from a year earlier to 45.4 million, the Newspaper Association of America said in a statement yesterday, citing preliminary figures by the Audit Bureau of Circulations.
Circulation dropped at seven of the 10 largest dailies and at three of four papers overall. Newspaper Web sites had 8 percent more users in the first quarter, a separate survey showed, illustrating a shift in readers and advertisers from print to digital formats.
The decline in print circulation is greater than a 1.9 percent drop in the same period a year earlier, according to the newspaper association.
Playstation 3's price may be disadvantage
LOS ANGELES »
Sony
said yesterday that it planned to sell the base model of its Playstation 3 video game console for $499, a price that industry analysts said could put it at a competitive disadvantage to rival
Microsoft
and its Xbox 360.
Sony said that it also planned to sell a higher-priced model with a larger hard drive for $599.
The console will be released on Nov. 11 in Japan and Nov. 17 in United States and Europe, Sony executives said. It will cost about $536 in Japan and $636 in Europe.
The company also said for the first time that the hand-held controllers sold with the games would enable players to manipulate activity on their television screens. For example, players will be able tilt their hands to make an airplane move to the left or right or roll.
WORLD
Toyota exec quits amid lawsuit
TOKYO » The president and CEO of
Toyota Motor North America
, who was accused last week in a sexual harassment lawsuit, is leaving the post, the automaker said today.
In response, the world's No. 2 automaker chose its first American as president of the region's operations.
Hideaki Otaka, 65, who had been scheduled to leave his post in June, has voluntarily left earlier. He said his staying on went against the company's interests, but said he was innocent of the charges. Jim Press, now president of Toyota Motor Sales USA, Toyota's U.S. sales unit, will replace Otaka as president.
Otaka was accused in a $190 million sexual harassment lawsuit filed last week in New York. In that lawsuit, Sayaka Kobayashi accused him of harassing her when she worked as his personal assistant, making repeated unwanted sexual advances after she began working for him last summer.