Coast Guard ends search for boys lost off Kauai
Strong currents carry off a Kapaa student and a Colorado visitor
The Coast Guard suspended a search yesterday for two boys who were swept out to sea by strong currents off of Kauai's eastern shoreline.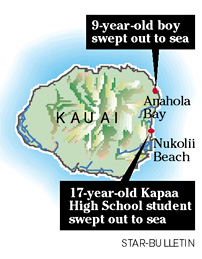 At about noon Saturday, a 9-year-old boy from Colorado and his 8-year-old brother ran into trouble while swimming at Nukolii Beach. Their mother, 32, grabbed her younger son but was unable to reach her older son.
A bystander helped both of them out, but she went back into the ocean to search for her 9-year-old son.
She was taken to Wilcox Memorial Hospital in critical condition after the same bystander brought her back to shore.
In an unrelated incident at about 12:45 p.m., a 17-year-old Kapaa High School student was swimming about 100 to 150 yards offshore of Nukolii Beach with another teenager when they started calling for help. A bystander got hold of one teen but lost his grip on the other when waves crashed over them.
The Coast Guard searched for the two boys using its HH-65 helicopter, auxiliary aircraft and 30-foot boat. The search continued throughout the night.
Coast Guard Petty Officer Jennifer Johnson said the search, which covered 96 square miles, was suspended at 10:45 a.m. yesterday.