CINQUE TERRE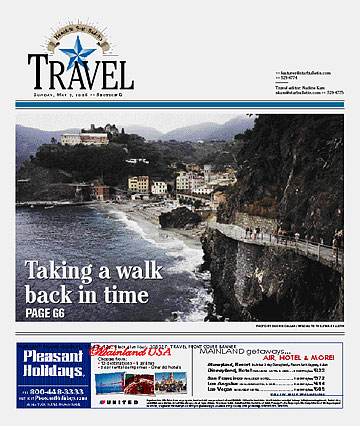 DENNIS CALLAN / SPECIAL TO THE STAR-BULLETIN
Taking a walk back in time
The Italian Riviera's medieval towns are best seen on foot
Another magical entry in your List of Places to Visit must be the five villages clinging to the steep Ligurian hills along the Mediterranean shores of northwest Italy: Cinque Terre.
Almost inaccessible and sheltered from the outside world for centuries, the villages flourish as time capsules in a perfect setting: along azure shores, surrounded by lush hills covered with grape vines, olives, cactus, citrus groves and wilderness. You can travel from one of these towns to the next on foot, by train or by boat but not by car; there are no direct roads connecting Cinque Terre, helping to preserve this unique place on the southern fringe of the Italian Riviera, 40 miles below Genoa. These villages can provide "all the pleasures of merely circulating," as poet Wallace Stevens would put it.
Hiking through the hills past vineyards with enchanting views is one of the great attractions, but even more enjoyable is simply strolling and relaxing in each village, soaking up the peaceful, Old World ambience. You really don't have to do any hiking to enjoy the towns because train and boat services are available, but walking is such a part of the complete experience that you should try at least a couple of the connecting routes. Intrepid hikers interested in larger adventures can continue for days along the many trails that lead further up the hills, detailed in maps and sketched out on the official Web site, www.cinqueterre.it.
Although isolated, Cinque Terre has been discovered by the enlightened horde and can get quite busy in season. There is a slight admission fee to what is now a national park. Visit between October and March to avoid the crowds, or brace yourself to share it with the summer bunch. Off-season travel is rewarding in a destination like this, which derives so much charm from its small size and quiet atmosphere. Only five miles from one end to the other, you could sweep through in one day, but better, stay a few nights for a trip that will linger in your heart for a lifetime.
From north to south, the "Five Lands" are Monterosso, Vernazza, Corniglia, Manarola and Riomaggiore, each about a mile apart with a total population of nearly 6,000. A 7-mile trail connecting them passes through terraced vineyards that offer wonderful views and is not overly strenuous for the typical traveler. The walk between towns averages a comfortable two hours. The entire trail could be covered in one long day, but it is best enjoyed in sections over several days. The easiest path is on the south end, connecting Riomaggiore to Manarola with a level, paved path that takes only 20 minutes. Called the "Via dell' Amore," this lovers' path is the only section on which you can walk side by side, holding hands.
Monterosso:
On the north end of the chain is largest of the five villages, Monterosso, which makes a good home base because it has 20 hotels, the only sandy beach, excellent restaurants, and marks the start of the hiking trail. It is also the only one in which long-distance trains stop, so it is easy to reach by rail service from throughout Europe. You arrive by train at Monterosso in the newer section built in the 1970s, then walk through a short tunnel into the Old Town.
Monterosso has a handful of historic sites, including a Cappucine convent and church, a medieval tower, castle ruins and World War II bunker, but you are here primarily here to admire the cluster of picturesque buildings, eat well and use the town as a springboard for visiting the region. Shoppers will be able to find the special souvenir or elusive outfit in little boutiques you would never find at home or on the main shopping circuits.
Monterosso's written history goes back 1,000 years, with legends extending to the Roman times and into prehistory. Fishing and farming were always the basic economic activities here, with tourism now providing the primary income. Grapes grown here go into producing good local white wines, available for purchase in the area only. Local produce, especially the fresh seafood, olives, fruits and pasta served with fresh basil pesto -- "pesto besto," they say -- go into restaurant meals.
Consider staying at Hotel Pasquale or Villa Steno (www.pasini.com). One of the owners, Matteo Pasini, explained why visitors so enjoy the region: "These towns are not so touristy like a standard touristy area because you can't drive easily through them. Driving from Monterosso to Vernazza would take one hour (requiring a long detour up and down the mountain), but just a few minutes by train, or one hour and a half by walking. So, difficult, but this difficulty is good for tourists that they can find a more relaxing place.
"Monterosso is a small town, a fishing town, now, thanks to you Americans, very famous."
Vernazza:
The next destination down the coast is Vernazza, which you could reach in five minutes by train, 10 by boat or 90 minutes walking. This is one of the nicer trails of the region and has a truly spectacular approach to Vernazza, so it would be a shame to come all the way here and not experience this walk. Save the train and boat rides for later.
The trail from Monterosso is easy to find, rising up behind the beach. Follow the path, climb the hill past the sign for Hotel Porto Roca, and keep going around the bend. There will be frequent glimpses of Vernazza in the distance, jutting out on its small peninsula, and as you get closer there will be one vantage that makes the entire journey worthwhile, as you stand on a ledge looking straight down into the pastel-colored village wrapped around its tiny harbor.
The downhill walk from here will have you sitting at a table by the sea enjoying your reward, a fabulous meal that tastes at least twice as good as it should, enhanced by your accomplishment and the picture-book setting.
Earlier, Pasini had explained, "Vernazza is a good place because it has remained like it was during the old, old period -- the ancient period. These villages all had a good past during the Republic of Genoa because they are situated in a strategic zone, like a guarded area. So Genoa protected the villages, keeping the pirates away."
Vernazza might be the most beautiful of all, set in a tiny valley on the edge of the sea, with colorful homes built one on top of the next and framed by a couple of churches and towers. It's a little bigger than Corniglia and Manarola, yet it is still so small that you could walk end to end in about 10 minutes. Take it slow and get into the local rhythm of hanging out. There's no rush here. Locals enjoy life as much as the visitors do, temporarily anyway.
There is so little level land here that kids use the beach as their soccer field, sometimes using the main pedestrian lane as well, so watch out for flying soccer balls as you walk through the streets.
A stone tower that was part of the medieval wall is the main landmark. The wall encircled the village to protect it from invaders arriving by sea. The tower is accessible by a staircase leading to a wonderful, panoramic view. As you snap away with your camera, remember no picture can equal the visceral thrill of the moment, so don't be too distracted from just looking.
Vernazza is a nautical place, like most of Cinque Terre. A stone jetty here forms a small harbor. There were no natural ports in the area, so residents had to build their own, resulting in a small shelter. Boats pull in just long enough to tie up and let people walk on and off the bouncy gangplank.
Depending on your schedule, it might be time to return to Monterosso for the evening, or head to Corniglia. The towns are so close together it is easy to get back and forth by train.
Corniglia:
The villages were all once situated on the hillside and not directly connected to the water for defensive reasons. Corniglia is the only one remaining up on the hill with no direct access to the water, so no boat service is available. Hiking from Vernazza takes about 90 minutes; it's five minutes by train to this, the smallest, most isolated and perhaps oldest of the five villages. Yes, more stairs await, but just a little bit of climbing will get you around.
Corniglia's main "street" is only a few feet wide, and it seems there are more locals than tourists out and about. The village's tiny main square measures only about 10 by 20 yards, big enough to hold some tables and host picnic lunches for intrepid hikers.
From this lofty perch you can see down the coast to the next destination, Manarola. Once again, you could hike to it or hop a shuttle from the Corniglia train station.
Manarola:
Here, you can walk through town to the beautiful, azure shores of the Mediterranean. Manarola spills down the hill to the waterfront, its houses packed together in the typical pattern of the region, with terraced hillsides for the grapes up above.
There's no beach, but there is a boat ramp carved into stone, and the most popular spot around it functions like a beach. The ramp leads to a cove with good swimming, protected by a stone jetty. It's not a sandy beach or Olympic-size pool, but it is sheltered and makes a great spot to gather, producing a mix of locals and some tourists.
There's no room to put the boats in the water, so they are stored up on dry land, on a ramp and along the main street as well. The villagers have covered the stream over, so you don't see it in the middle of town, thereby creating a pedestrian zone where local residents like to hang out, chat with their friends and people-watch. In the afternoons, most shops close by 1 p.m. for siesta and then reopen at 3 or 4 p.m. A number of cats seem to share the same laid-back attitude.
Some shops selling postcards will stay open, but otherwise, this marks a good time to have lunch. You could pick up picnic supplies or sit in one of the many terrace restaurants here. It's a small place, but there is a nice selection of pizzerias and takeout food or the ever-present pasta.
Riomaggiore:
The path from Manarola to Riomaggiore is the easiest, with a level, paved surface called "Lovers' Lane," taking just 20 minutes, with nice coastal views along the way. You could also take a 10-minute ferry ride with splendid views of the coastal cliffs and hills above.
Riomaggiore is the grand finale to a survey of Cinque Terre. Here, too, you will see that familiar pattern of houses stacked from cliffs to the water's edge, with the main pedestrian street rising up from a tiny cove. It's a surprising mix of urban high density in the midst of a tranquil rural setting. It is very quiet when you walk down the side streets, especially in the off-season.
Portovenere:
After leaving Cinque Terre, continue a few miles further south for a bonus. Portovenere is another cute seaside village you do not want to miss. The only practical way to get to Portovenere from Cinque Terre is by boat because there is no train service and hiking from Riomaggiore covers seven miles. The ferry arrives at a little harbor dotted with small craft and framed by a picturesque row of pastel-colored facades lining the waterfront.
Portovenere had been a fortress, as were all of these towns, but here, the fort remains up on the hill, along with a sizable medieval wall that comes down the slope, and attendant guard towers. Waterfront houses also functioned as part of the wall that encircled this fortified compound to protect its inhabitants from rampaging Saracens, pirates and various other invaders.
A small sandy beach in the town center brings daily catch to supply all the restaurants along the oceanfront promenade. People prefer to sunbathe on the rocks rather than the beach.
There is no need for strenuous hiking here, but certainly, a short walk through the village is enjoyable. Leaving the south end of the waterfront, you stride through a large stone gate in the wall of this medieval town and enter a small network of narrow, curved lanes that make you wonder what's around the bend, luring you deeper. We happened upon two young girls drawing ballpoint tattoos on each other and a dozen cats perched on two scooters waiting for their lunch to be served.
Oh, the food here! Seafood abounds in this harbor village, where you can pick from a row of restaurants overlooking the marina. You could also pick up takeout foods for picnicking at one of the scenic spots along the shore. Food shops feature a variety of locally grown olives, cheese, pizza, focaccia, breads, fruits and bottles of local wine found nowhere else.
A boat will take you back to Manarola, an hour away. On board, mingle with locals and other tourists, most of whom are Italians or Germans out for a day's hiking adventure. Interacting with these other tourists is part of the fun as you cruise past the villages you have just explored, providing a relaxing recap of your journey.
---
Dennis Callan
is president of the Hawaii Geographic Society, leading tours through Europe, Canada and the United States. His "World Traveler" TV series airs at 8:30 p.m. Saturdays on 'Olelo, channel 53, with companion stories appearing the first Sunday each month, explaining how to get the most out of the world's great places. His articles and some TV shows can be found at
www.tourvideos.com
, including 30 minutes about Cinque Terre.