| | |
| --- | --- |
| | Newswatch |
---
BALANCED MEALS
Postal workers rally to support an upcoming food drive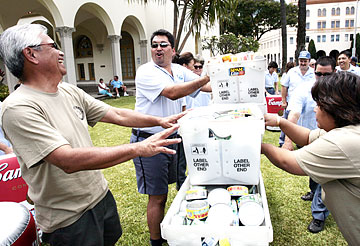 | | |
| --- | --- |
| | Police, Fire, Courts |
---
CENTRAL OAHU
Man held in robbery of Mililani credit union
Police arrested a man suspected of robbing the Hawaii USA Federal Credit Union in Mililani on April 29.
The suspect, 23, allegedly walked into the bank at 95-300 Kuahelani Ave. wearing a mask, pointed a gun at a teller and demanded money. However, police said the robbery was interrupted by a bank customer and the suspect fled the scene without any money.
Police learned of the suspect's identity through an anonymous tip and he was located and arrested yesterday for first degree robbery.
Bat threats allegedly follow car ramming
A 19-year-old man was arrested after allegedly ramming into another man's vehicle then threatening him with a bat last month.
The incident took place on April 14 at 4:30 p.m. in the Waipio Gentry area. Police said the suspect rammed into the 20-year-old victim's vehicle twice, then allegedly threatened him with the bat. The suspect was later identified via a photo lineup and turned himself in. He was released pending an investigation.
LEEWARD OAHU
Police chopper tracks suspects in stolen car
A police helicopter crew helped track two men in a stolen vehicle in Waianae Friday.
Patrol spotted the stolen vehicle the suspects were driving near 87-108 Farrington Highway at about 12:30 p.m. after being notified via police dispatch about the theft. The suspects fled but were followed by the police helicopter as they drove off and later abandoned the car then fled on foot. Police arrested both suspects -- ages 21 and 18 -- for auto theft.