DRAWN & QUARTERED
Isle superhero spoof rides into action
Kaimuki store cartoons by Jon Murakami evolve into a comic
He's a man, a real man, who cuts a fine figure in his guise as a crime fighter ...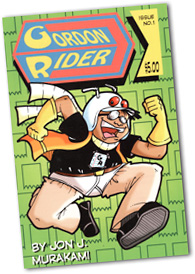 OK, maybe not. His insignia is a piece of paper taped to his chest. His disguise consists of a football helmet with straw antennae attached, and swimming goggles. His "powerful" hands are encased in rubber dishwashing gloves. And the costume is topped off with a toilet pay-pah scarf and a pair of bee-bah-dees worn outside, around his ample waist.
Omigosh, get out of the way of his Razor scooter! It's Gordon Rider!!
Jon Murakami always promised himself that, one day, he would finally do a comic book. The clever local artist, known for his line of humorous Local Kine greeting cards and the occasional children's book, has finally realized that dream, thanks to the help of his friends at a Kaimuki storefront. Murakami has come up with an action-packed spoof of 1970s TV Japanese superheroes his generation grew up watching.
The debut issue of "Gordon Rider" is available at Mechahawaii, the Japanese collectibles store that Murakami regularly frequents. It's there you can find the latest "misadventures of Kaimuki's unlikeliest superhero" drawn by Murakami on the store's erasable white board.
"Every time I draw, I take a photo of the board," he said. "The comic book is basically Season 1, Episodes 1 through 12, the first 12 cartoons I put up on the board. I've got enough photos now, going on to Season 5. This all started last year, and at that point of time, to have the comic book printed up locally was pretty expensive." But with the financial help of his owner-friends at Mechahawaii and Berry-Sweet Bath & Body, "Gordon Rider" the comic book became a reality.
Regular customer Gordon Chan was the inspiration for Gordon Rider, and, decked out in the inspired garb, he helped Murakami sell copies of "Gordon Rider" issue no. 1 at the Kawaii Kon anime/manga convention at the Ala Moana Hotel last month.
Out of an initial press run of 500 copies, Murakami sold a hundred of them at the convention -- not bad for a brand-new comic book.
"I have to get rid of 200-250 comic books in order to put out the next issue," Murakami said. "I've already got a couple of e-mails from people who like what they see, so there'll definitely be a No. 2."
MURAKAMI ADMITS that when he goes into the Kaimuki shop after working his day shift at Borders Ward Centre, he has no idea what Gordon Rider's next misadventure will be: "Whoever else is in there at that time will give me feedback on possible stories." Right now, Season 4 is ending with a cliffhanger that will see our intrepid heroes (Gordon Rider has been given a monkey sidekick) battling their evil doubles, complete with eye patches and goatees. Bwah ha ha!
With an affectionate jab at "Kamen Rider," "Kikaida" and the "Power Rangers," Murakami says a lot of the panel illustrations are "based on anime and manga, using zippy lines and creative angles. I'm not used to this kind of format. I'm usually a four-panel, comic strip kind of guy. It's been a little bit of a challenge, but the comic book has given me a lot more freedom to expand my drawings.
"It's been really fun," he said. "This is for anybody who grew up watching Japanese superheroes on TV and can see the humor in this parody. Gordon Rider is the worst superhero ever!"
(Copies of "Gordon Rider" are available at Mechahawaii, 1126 12th Ave., phone 737-8324. Its Web site is www.mechahawaii.com.)
In other related newss:
» The work of a couple of alternative cartoonists I've profiled in the past for this column, R. Kikuo Johnson and Jeffrey Brown, are featured in the latest issue of the quarterly MOME (Fantagraphics Books, $14.95). Johnson's graphic novella "Night Fisher," his fine coming-of-age story set on his original Maui island home, was justifiably placed on both Publisher's Weekly's and Time magazine's top 10 comic releases of 2005. Now residing in Brooklyn, N.Y., Johnson illustrates the lovelorn problems of one of its young habitués, "Cher Shimura." Done up in the newspaper comic strip form, the work shows Johnson's command of this short, gag-oriented format.
Speaking of broken hearts, Brown chips in with "How I Became a Cold-Blooded Murderer." The latest of Brown's failed relationships hits home with added impact after he accidentally kills a raccoon while driving home one night. Poor Jeffrey!
Brown also draws "Hollywood Money," about his cautious foray into the movie adaptation biz.
» Artist Pia Guerra and her fiance, Ian Boothby, will be signing their work at Gecko Books & Comics in Kaimuki from 1 to 4 p.m. next Sunday, Mother's Day. The Canadian couple is getting married here, but they're setting aside time for this special event. Guerra is the illustrator of the top-notch DC/Vertigo title "Y: The Last Man" (you can also check out her Web site at www.hellkitty.com), and Boothby writes for "The Simpsons" and "Powerpuff Girls" comic books. Additional "Y" and "Simpsons" trade paperbacks and comic books will be on sale for the signing, and Guerra is also doing a special book plate for the upcoming Vol. 7 trade, to be released the following week. For more information, call 732-1292.