IN WRITING
Award-winning words
The National League of American Pen Women has announced the winners of its 2006 Lorin Tarr Gill Writing Competition. The poetry winners are printed below; in addition, an honorable mention went to Sheila Gardiner for "Coming and Going." The prose awards:
FICTION
First:
Robert C. Taylor, "Migrations"
Second:
Rike Weiss, "Goodbye"
Third:
Brenda Kwon, "Translated Passages"
Honorable mention:
John Wythe White, "A Territorial Love Story"
NONFICTION
First: Rosemary Mild, "Tulips on Trial"
Second: Alice Anne Parker, "Dream Lover"
Third: Wendy Richmond Pollitt, "On Quitting Smoking"
Honorable mention: Joan A. Kelleher Gencarelli, "Peace"
---
FIRST PLACE
Bird
I want to hold it gentle,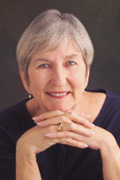 gentle in my hand,
a quivering brown bird
just now touched down
at my feet. My fingers
want to encompass it:
the light brush of feathers
on my skin, the eye
cocked at me from out
the flash of orange mask
over its cheeks, its red-brown beak
pecking between my fingers
as it tries to fly this cage --
the barred cell of my hand,
not the enormity of myself
in flesh and bone.
Oh to climb into its fluff of skin,
its hollow-boned buoyancy,
its fly-away, impassioned heart.
-- Norma W. Gorst © 2006
Norma W. Gorst
studied conservation and journalism at the University of Michigan, Ann Arbor. She wrote her first poem at age 11, her second at age 40. Her poems often contain metaphors derived from the natural world.
---
SECOND PLACE
Sorting Out ...
In memory of Colin A. Campbell
... again, dear sister, to let you know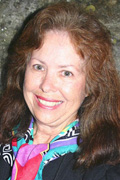 Who was I to mask surprise
when I learned most all of his clothes
were still at home?
They are a comfort! I understand.
If you could have seen
me on this end of the phone
wearing the flowered nylon overblouse,
one of Mother's relics, close to my heart --
and on New Year's Day!
It was for my friend that I asked
if you might have kept
those aloha shirts
he bought, alive with vintage Waikiki designs--
palms and plumerias,
hula maidens, "woody" wagons and longboards
posed and parked by seas of neon blue ...
second-hand shirts I remember him wearing
on vacation, unbuttoned, flapping open in the heat --
just as far as he could get in his mode of dress
from black robes, the stiff white collaring
of his priestly self. The islands called,
the idea of Tahiti freed him to play,
man child instead of Father on call,
for a measured time with you
his sweetheart.
I'm traveling far from where this started.
Fact is, my designer friend
sews purses not of "sow's ears"
but of retro prints, lines them, adds a snappy handle
creating sleek and useful objects
from gaudy give-aways
with her artist's eye.
Maybe those shirts could be transformed,
take on a whole new life -- what do you think?
You might have her send you back a special one,
pack it with precious things, carry it tightly tucked under arm.
Next to your heart.
-- Dawn Fraser Kawahara © 2006
Dawn Fraser Kawahara
is the author of the poetry collection "Behold Kaua'i, Modern Days -- Ancient Ways" and "Jackals' Wedding -- A Memoir of a Childhood in British India."
---
THIRD PLACE
In Memoriam: A Soldier
Shards of forgotten shrapnel,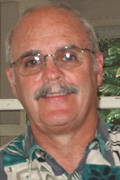 mysterious, surfacing
like memories, once buried,
resuscitated from the dead.
Slivers of metallic grief
tunneling to daylight
through rice paddy channels
circumventing the heart.
Fled, that careless grin,
all brash designs of hope,
a flare stubbed, a flame doused,
gone, a wink of smoke.
Under sucked-out and cringing
skies, taut fingers scratch
the secret bruised swelling,
like the bloom of a smile,
faint, a hidden turn
of the lips, a coy curtsy
of demure hotel singing
off shrill rickshaw streets.
Or like the flowering of a burn,
the stink of powdered skin,
scalded eyes, once downcast,
with a shy murmur of promise.
How can one greet the dead,
after years of sweaty days and
palsied sleep, drugged yet marred
by the thrust of bamboo dreams?
Time to twist tight the lid
to the soldier's darkened jar,
shards of mute regret,
left like ashes on the mantle.
-- Robert C. Taylor © 2006
After a career in public administration,
Robert C. Taylor
retired in Hawaii and spends his time writing short stories and poetry.