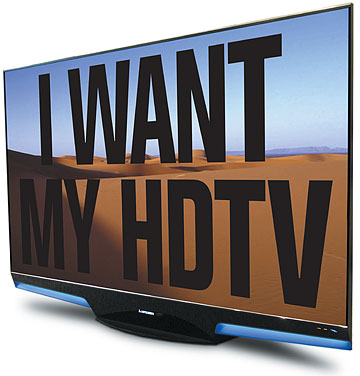 PHOTO ILLUSTRATION BY STAR-BULLETIN; PHOTO BY NEW YORK TIMES
Local TV stations are working on getting their HD signals more widely available, but in the meantime, viewers are left with few available programming choices
High-definition television sets are selling almost like hot cakes, but there's not that much to see once you get one home. Not in true high-definition format, anyway.
It is a source of frustration to Jim Bryan, a Honolulu-based independent screenwriter and producer.
"I can't be the only person in town with an HD television that's getting ripped off here," he said.
"The national networks have been there and they are delivering (HD programming) and locally we get all this nonsense."
Hawaii's four network affiliate TV stations are broadcasting their HD signals over the air -- and PBS Hawaii, on KHET-TV, is to initiate digital transmission and carriage of HD programming from PBS national this month.
Oceanic Time Warner Cable offers 13 HD programming choices, but only one of them, KITV, is a local network affiliate, which carries ABC programming.
KITV received the first digital television construction permit in the United States, for its facilities in Hilo. "It was CP 001," said Mike Rosenberg, president and general manager. The station has been broadcasting on a digital basis since January of 1998, he said. Its high-definition transmission of ABC programming came a couple years later.
DirecTV
, a direct broadcast satellite provider, also offers 13 programming choices, but none of them are local stations' HD signals.
That will change, as the company is expanding its high-definition programming in the markets it serves, "and we have publicly said that we will be in 75 percent (of U.S. markets) by the end of the year," said spokeswoman Jade Ekstedt. She did not have a timetable for Hawaii's inclusion.
DISH Network, the other DBS provider, does not currently offer HD programming in Hawaii, according to Mark Cicero, corporate communications manager.
When Bryan signed up for Oceanic's HD service more than a year ago, he was told "all the other stations are going to be jumping on real quick. Well, a year and a half later, it's kind of ridiculous."
"I've been paying for that since day one, and I feel cheated, I really do," he said.
Lion's share
HDTV viewers who subscribe to Oceanic, for instance, must pay for digital cable service and for an additional HD programming package each month. HD programming via satellite provider also costs more.
"What we do, as a cable company, if you're a digital cable customer and you buy a high-definition TV, we will give you an HD box at no extra charge. It is our contribution to the advancement of the technology," said Alan Pollock, vice president of marketing.
"We tell the broadcasters that as the cable operator, that is our responsibility, but what you need to do, is provide us the HD signal. Some do it and others don't because they don't want to incur the expense," he said.
Money is the sticking point for the broadcasters, who gave their signals to cable companies way back when, because of the allure of extending their signals to more viewers.
In a topographically challenging state like Hawaii, viewing an over-the-air signal with an antenna is hardly an easy proposition. It is one reason Hawaii has the highest cable penetration in the United States, according to John Fink, vice president and general manager of KHNL/KFVE-TV.
Check, please
Broadcasters note that cable companies pay a per-subscriber rate to carry channels such as ESPN, CNN and obscure channels that barely show up in the ratings. Consequently, some believe that cable and satellite companies should pay for the network and local programming that induces most of their subscribers to buy their service.
The cost-per subscriber fees that multichannel distribution companies pay to providers get passed along to subscribers, whether or not they ever watch Food Network, Nickelodeon or the underwater basket weaving channel.
Indiana-basedEmmis Communications Corp., which is trying to sell the last three stations in its television division, will not provide KGMB's HD signal to Oceanic without compensation.
"We want to make it available, as broadcasters," said Rick Blangiardi, senior vice president and general manager of KGMB. "But we want to cut a fair deal, in the open market, with the cable companies, given the cost it took for (broadcasters) to create this capability."
Ana-digi-HD
America's television stations are converting from analog broadcasting to digital under a federal mandate requiring all to be digital by Feb. 17, 2009. Analog TV signals will go away after that, recalled by the federal government that will reallocate that portion of the broadcast spectrum for other uses.
Digital TV conversion costs stations hundreds of thousands and in some cases, millions of dollars, Blangiardi said. The stations have complied, "and we do provide (cable and satellite companies) a digital signal enhancement. But they don't want to submit any money back to us."
The high-definition television format was not mandated by the FCC, said spokeswoman Rebecca Fisher. However, HD broadcasts would not be possible without the digital conversion.
Agreements between broadcasters and cable and satellite companies for digital and HD carriage "are private agreements, so we don't usually have the details to them unless there is a reason why we need to get involved," Fisher said.
What's on?
Viewer Bryan is an Oceanic subscriber whose HD programming preferences are on KITV and ESPN.
"Everything else they're offering, the other channels they have, are basically worthless -- travelogue things and old rehashed IMAX (productions). I mean, how many times can you watch a guy climb the same mountain?"
"I'd like to see the current programming on all the networks," he said.
Given the competition between local broadcasters for ratings and revenue, he can't understand how KITV's competitors "would allow KITV to just blow them out without trying to compete on that level," Bryan said.
Bryan was among the HDTV viewers who enjoyed the Olympics, "Law & Order" and "ER" in HD on NBC affiliate KHNL during the run of the Olympic Games. But when the games were pau, so was NBC's HD via Oceanic.
That was by special arrangement for the 17 days of the games, said John Fink, vice president and general manager of KHNL and KFVE.
Fink is in talks with Oceanic on a high-definition carriage agreement that will put KHNL on Oceanic Channel 938 and KFVE on 935.
NBC's high-def programming is passed through on KHNL's over-the-air HD signal, Fink said.
KHON is also in negotiations with Oceanic, DirecTV and DISH Network for carriage of its HD signal, according to Joe McNamara, president and general manager.
Kenny Elcock, director of engineering, said, "The infrastructure is ready. It's a matter of moving one cable from one part of the plant to the other part," he said.
True or upconverted
Everything HD viewers see is not hunky-dory. It is not all produced in true HD format. KITV's news and commercials, for instance, are "upconverted" from standard definition to high-definition via special broadcast equipment.
If a station does not have equipment that records network prime-time programming in its high-definition format for later playback during Hawaii's prime-time hours, the shows are recorded in standard definition and then "upconverted" to HD for broadcast, said Grant Morrow, director of engineering and information technology for KGMB.
It can cost from $5,000 to $20,000 for an upconverter, according to Steve Komori, vice president of content distribution at PBS Hawaii.
Standard definition provides a certain number of lines per picture, while "high-def almost triples to quadruples it," Komori said. High-def requires more bandwidth than standard definition.
"A lot of the material you'll see is regular, analog programming upconverted into the high-def format," he said.
"You can't make anything look better than what you already have, but it will make it such that when we do have a high-def program, we can seamlessly switch into and out of that."
Total HD coming
Outfitting television stations with all HD equipment so that local news, other shows and commercials are all produced in HD would be an astronomical proposition.
A single studio camera that can shoot in either analog or HD with the flip of a switch costs $300,000, said Joe McNamara, KHON president and general manager. He saw many HD developments at the recent National Association of Broadcasters convention. "If you want true HD in the studio, you're going to spend a couple of million dollars," he said. The station has spent that much for new station equipment "that gets us very close."
Broadcasters agree the marketplace will dictate the speed at which more HD offerings become available.
"The industry is really not ready for it yet," said Rodney Shimabukuro, director of engineering at KITV. "There are not that many sets available and if you really think about it, there's not that many channels you can get off the air here," he said.
Pricey pixels
Prices are coming down for consumers, but HDTV sets are not cheap.
One can buy a 23-inch widescreen liquid crystal display high-definition television starting at about $900 -- or pay as much as $10,000 for a top-of- the-line HDTV home theater projection system.
HDTVs with built-in tuners will pick up the over-the-air signals of local stations broadcasting in the high-def format. There is a difference between an HDTV set and an HD-Ready set, which requires either an HD cable box, satellite dish-related equipment or an HD tuner.
If one's HDTV set is hooked up to an HD cable box from Oceanic Time Warner Cable, the set cannot receive the over-the-air signals of KHON, KFVE, KGMB or KHNL, said KGMB's Morrow.
A separate HD tuner is required to receive over-the-air HD signals, at a cost of about $200.
An HD tuner only picks up locally transmitted HD programming. It will not pick up ESPN, HBO HD or Discovery HD Theater. Viewers must subscribe to cable or direct broadcast satellite services to receive those and other national channels.
"I think the first thing I would decide as a consumer is, am I going to get my HDTV from the cable company, or am I going to get it from the cable company and from the air, or an I going to get it just from the air. That very much determines how much programming you're going to have available to you," he said.
Worth it to watch?
John Fink, of KHNL and KFVE, describes HD sports as "stunning," while KITV's Mike Rosenberg says he watches programming on HDTV that he would normally not bother to view, such as nature programs, because of the high-quality picture.
Sporting events, such as the Super Bowl, are the primary drivers of digital TV purchases, according to a study by the Consumer Electronics Association, a national trade association.
Sales of digital TVs in November 2005 were the highest of any month last year, attributable to retailers stocking shelves for holiday and Super Bowl purchases, the study said. Total digital TV sales in 2005 reached 12,000 sets for $17 billion in revenue, a 60 percent increase over 2004.
High-definition televisions comprised 85 percent of the 2005 purchases.
Nearly 50 percent of those buying HDTVs cited sports programming as the main factor in their purchases.
"CEA forecasts HDTV will outsell analog sets by more than 89 percent in 2006," Gary Shapiro, president and chief executive of CEA, said in a January statement.
Local broadcast officials doubt there are very many HDTV households in the islands. One estimate puts the number at 5 percent nationally. Another estimates there are 12,000 HDTVs in Hawaii homes.
That has been part of the reason for the delay in local stations getting their HD signals to multichannel distributors such as Oceanic, DISH and DirecTV.
"There's not enough critical mass yet in distribution, but there is tremendous awareness of all these network sporting events and the other high-definition programming that networks do. It's not lost on people. They're aware of it and they're migrating" to HDTV, Blangiardi said.
A Clearer Picture
High-definition television programming available in Hawaii via cable and satellite services:
OCEANIC TIME WARNER
The 13 HD TV channels available on Oahu:
» Ch. 936, KITV HD
» Ch. 940, Discovery HD Theater
» Ch. 942, HD Net
» Ch. 944, HD Net Movies
» Ch. 946, iN Demand HD1
» Ch. 948, iN Demand HD2
» Ch. 950, HD PPV
» Ch. 952, ESPN HD
» Ch. 954, TNT HD
» Ch. 956, Universal HD
» Ch. 970, HBO HD
» Ch. 972, Showtime HD
» Ch. 977, HD On Demand
Source: Oceanic Time Warner Cable
DIRECTV INC.
HD programming available, beginning with the HD package for $9.99 per month. New DIRECTV customers get first three months of the package free. Here are the channels included:
» ESPN HD
» ESPN2 HD
» Discovery HD Theater
» HDNet
» HDNet Movies
» TNT in HD
» Universal HD
» Also includes special free preview HD events (Ch. 99).
Other programming not part of the package:
» HBO HD, part of the HBO Premium Package.
» High Definition Pay Per View
» Mega March Madness in HD (this is an exclusive NCAA basketball package)
» NBA Games in HD
» NFL Sunday Ticket HD Games (Sunday Ticket subscription also requires SuperFan)
» Showtime HDTV part of Showtime Premium Package
Source: DirecTV Inc.
DISH NETWORK
Does not currently provide high-definition programming to Hawaii, according to Corporate Communications Manager Mark Cicero.