| | |
| --- | --- |
| | Island Mele |
---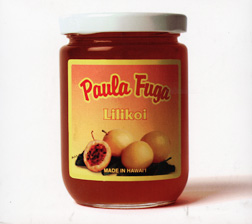 "Lilikoi"
Paula Fuga
(Pakipika Productions)
Is Fuga an innovative new talent on the local scene or just the latest beneficiary of well-orchestrated hype? That has been the question as the singer has emerged from the obscurity of the self-styled "maoli music" scene into mainstream consciousness this spring with press that, at times, sounds more like paid publicist work than collected press blurbs.
While it's much too soon to tell if Fuga will turn out to be the Genoa Keawe, Emma Veary or Melveen Leed of her generation, her debut album -- filled with originals and not one Jawaiian remake -- does establish her as a significant new artist.
Although Fuga looks to Jamaica for the rhythms that drive many of her arrangements, her seductive vocal style is reminiscent of mid-'80s pop star Sade rather than the imitation-Jamaican sound of local acts like Reality. Fuga challenges Hawaii's countless island music acts by combining reggae rhythms and Hawaiian lyrics, a welcome accomplishment indeed.
Fuga's pop selections should fit well on mainstream radio nationwide, with "Sweet Reverie" (which includes a string quartet) particularly promising as a national calling card. Her playing of the nose flute and ukulele adds a "roots music" touch to "Lilikoi."
---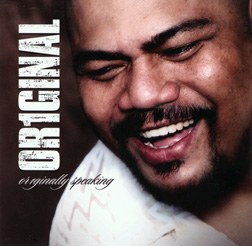 "Originally Speaking"
Original
(Tsalach Productions)
Or1ginal's claim to being an "original one" in Hawaii hip-hop is based on more than just the unconventional spelling of his name. First, he and his crew communicate without profanity or gangsta posing. Secondly, Or1ginal (born Al Mikaele) talks about family solidarity and his Christian faith rather than his sexual prowess or partying with strippers. Also give Or1ginal and his producers props for including sample credits, a level of professionalism rarely seen in local hip-hop.
Of equal importance, Or1ginal and his guests can flow, doing so in Samoan as well as English.
Unlike other local religious artists, Or1ginal keeps the preaching in moderation. The message is evident, but it never overwhelms the rhythms and the rhymes. No question about it, the man is making a worthy contribution to the local scene.
---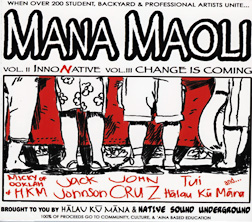 "Mana Maoli --
Vol. II: InnoNative,
Vol III: Change Is Coming"
Various artists
(Native Sound Underground)
The power of music to convey sociopolitical messages is harnessed by the Halau Ku Mana Public Charter School in this two-CD compilation. Although many local albums are barely more than artists' demos in terms of writing and production values, this project deliberately emphasizes live recordings of informal jam sessions. While many of them sound like anthropological field recordings or outtakes from someone's party, several name artists and individual members of well-known bands also contribute more polished material.
Some of the best work brings to mind what the Big Island Conspiracy was doing in the late 1990s, which was in turn reminiscent of David Peel & the Lower East Side circa 1969. So even though it's not a new idea, the album showcases people who would never have been heard otherwise.
A surprising number of these "mana maoli" performances reflect the influence of Afro-Caribbean rather than Hawaiian culture, but there are also untranslated Hawaiian chants, original songs in English, slam poets doing their thing in English and freestyle performances.
With all proceeds promised to the charter school, this is a perfect chance to hear what's happening beyond the fringes of the local music industry.
John Berger
, who has covered the local entertainment scene since 1972, writes reviews of recordings produced by Hawaii artists. See the Star-Bulletin's Today section on Fridays for the latest reviews. Reach John Berger at
jberger@starbulletin.com
.