The Bloomberg /
Star-Bulletin Index
---
Hawaiian Air rises
Hawaiian Holdings Inc.
, parent company of Hawaiian Airlines, topped the Bloom-berg Honolulu Star-Bulletin stock index this week.
Hawaiian's stock, which had been slipping until the airline announced Thursday it was expanding its mainland routes, closed the week up 12 percent at $4.10.
Hawaiian is up nearly 3 percent year to date. Over the last 12 months it is down more than 23 percent.
Behind Hawaiian in the index this week was Central Pacific Financial Corp., parent company of Central Pacific Bank, up more than 3 percent to close at $39.18.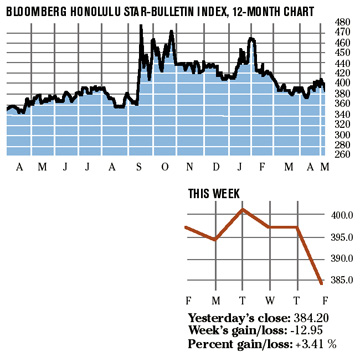 The Bloomberg / Star-Bulletin Index is a price-weighted index designed to measure the performance of Hawaii-based companies. The index was developed with a base value of 100 as of December 31, 1999. A chart of the index which shows the weekly performance of its members is published weekly in the Honolulu Star-Bulletin.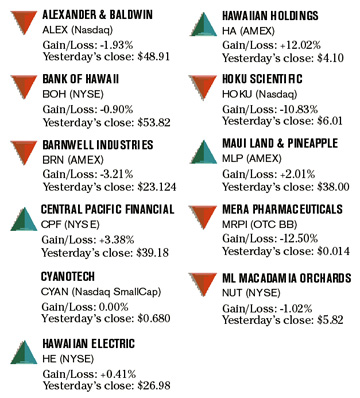 SOURCE: BLOOMBERG NEWS / STAR-BULLETIN GRAPHIC