---
FAST FACTS HAWAII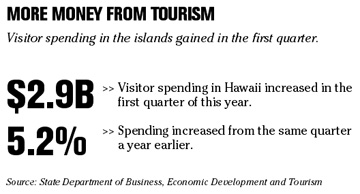 ---
HAWAII
Lockheed will open Oahu campus today
Lockheed Martin Corp.
, the biggest U.S. defense contractor, plans to officially open a new 31,000-square-foot campus today next to Honolulu Airport to help it expand in the state.
Lockheed said the facility, atop Phase II of the Airport Industrial Park, will allow it to centralize its different businesses in Hawaii. The new campus contains offices, high-tech labs and conference rooms.
Lockheed, based in Bethesda, Md., has previously maintained a large office in Kailua and smaller enterprises across Oahu, Maui and Kauai, mostly providing on-site program support to customers.
NATION
Wells Fargo is missing computer
A
Wells Fargo & Co.
computer containing confidential customer data has been reported missing and may have been stolen, the No. 5 U.S. bank said yesterday.
The computer, being transported by an unidentified global shipping company, contained names, addresses, Social Security numbers and mortgage loan account numbers for Wells Fargo's existing and prospective mortgage customers, the San Francisco-based bank said in a statement. Wells Fargo, which said it's notifying affected customers by mail, refused to disclose the number of accounts involved.
Warner Music swings to a loss
LOS ANGELES »
Warner Music Group Corp.
, home to Madonna, Green Day and other recording artists, posted a fiscal second-quarter loss yesterday as sales of recorded music rose but revenue from music publishing fell.
The New York-based company's results beat Wall Street's estimates, and its shares rose 66 cents, or 2.3 percent, to close at $29.40 on the New York Stock Exchange.
Warner's quarterly loss totaled $7 million, or 5 cents per share, versus a profit of $4 million a year ago.
Total revenue was $796 million, up 4 percent from $767 million in the year-ago quarter.
Pinnacle wins bid for owner of the Tropicana casinos
Aztar Corp.
, owner of the Tropicana casinos in Las Vegas and Atlantic City, amended its merger agreement with
Pinnacle Entertainment Corp.
and accepted its $1.9 billion offer. Aztar also let a competing bid expire.
Pinnacle increased its bid to $51 a share in cash and stock yesterday from $48. Columbia Sussex Corp.'s bid of $1.86 billion, or $50 a share, expired yesterday.
Pinnacle, Columbia, and Colony Capital LLC have been vying to win Aztar because it controls what Pinnacle Chief Executive Daniel Lee called "the last great site" for development on the Las Vegas Strip. The 34-acre property near the MGM Grand casino is at the busiest intersection in Las Vegas and would allow the winning bidder to build an attraction to lure gamblers to its other regional properties.
New auto ads aim to ease pressure on industry
WASHINGTON » Under increasing pressure to reduce the nation's dependence on foreign oil, the auto industry is kicking off a multimillion-dollar advertising campaign Monday to convince Congress and the public that it's doing its part -- and to lobby for better consumer access to alternative fuels.
The Alliance of Automotive Manufacturers -- a trade group that represents automakers including GM, Ford, DaimlerChrysler, Toyota, Mazda and BMW -- is starting a campaign to recast the industry's image amid attacks from environmentalists and some oil companies that have chided automakers for failing to significantly improve fuel economy amid the recent run-up in gas prices.
The campaign's Web site, www.discoveralternatives.com, is already operating. The ads will offer a detailed look at vehicles already on the road that aren't gas guzzlers. In one spot, green tread marks appear on an empty street with the slogan: "There goes another one."
Disney completes $8 billion purchase of Pixar
Walt Disney Co.
, the No. 2 U.S. media company, completed its $8.06 billion purchase of Pixar, bolstering its animation unit by gaining the creators of "Toy Story" and next month's "Cars."
Pixar Chief Executive Steven Jobs, 51, becomes Disney's largest shareholder and gets a board seat. President Ed Catmull will be president of the new Pixar and of Disney animation studios, and John Lasseter was named creative chief for animation, Burbank, Calif.-based Disney said yesterday.
WORLD
Australia dollar gains after surprise rate boost
Australia's dollar notched up a sixth weekly gain after an unexpected interest-rate increase on Wednesday buoyed demand for the nation's financial assets.
The currency yesterday reached a seven-month high after the central bank's quarter-percentage point addition to the cash-rate target to a five-year high of 5.75 percent. The local dollar pared its advance as traders cut bets on another move anytime soon after the bank suggested in a statement yesterday the increase was probably sufficient to contain inflation.
Australia's currency bought 77.22 U.S. cents in New York late yesterday from 75.95 cents a week ago. The currency reached 77.45 cents in the week, the highest since Sept. 12.