| | |
| --- | --- |
| | Newswatch |
---
Waikiki to see parade flybys, road closures
Waikiki residents can expect helicopters and F-15 flybys during a USO "Salute to Our Troops" parade tomorrow down Kalakaua Avenue at about 11 a.m.
A Hawaii National Guard CH-47 helicopter and an F-15 are expected to fly a pattern that will take the helicopters over Kalakaua Avenue, while the F-15 will fly offshore, according to a USO Hawaii news release.
The city plans to close the makai lane of Kalakaua Avenue between Ala Moana Boulevard and Olohana Street at 8 a.m. so the parade units can assemble before the parade.
At 9 a.m. Kalakaua will be closed, and traffic will be diverted to Kuhio Avenue until the parade ends at Kapiolani Park. A free concert will follow.
About 5,000 troops and veterans, along with military bands, the Old Guard Fife and Drum Corps and the Royal Hawaiian Band, are expected to participate in the parade.
Parking will be available at Kapiolani Community College, and shuttles will run every 15 minutes between 7 a.m. and 6 p.m. from the parking lot to Kapiolani Park.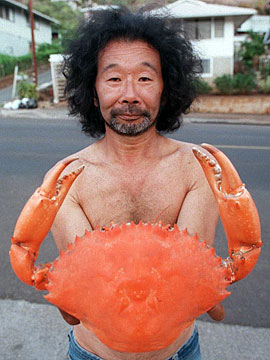 STAR-BULLETIN FILE / 1996
Palolo resident Larry Yanagihashi shows the Samoan crab he caught.
Ban on crab harvesting in isles
People are barred from taking female spiny lobsters, Kona crabs and Samoan crabs in Hawaii waters under a bill signed into law yesterday by Gov. Linda Lingle. The Senate Water, Land and Agriculture Committee noted that the number of lobsters and crabs has declined over the years, partially due to overharvesting. The measure won the support of the Department of Land and Natural Resources and the Conservation Council for Hawaii.
Funeral Tuesday for slain isle soldier
A funeral Mass for Army Staff Sgt. Metodio Amboni Bandonill, who was killed April 24 by a roadside bomb in Baghdad, will be said at 9:30 a.m. Tuesday at Co-Cathedral of St. Theresa, 712 N. School St.
Bandonill, 29, of Honolulu was a member of the 101st Airborne Division (Air Assault), Troop B, 1st Squadron, 7th Cavalry Regiment, 2nd Brigade Combat Team. He was born in Sison, Pangasinan, Philippines. He is survived by wife Charmaine; parents Virgilio and Virginia; brothers Domingo, Dionisio and Joseph; and sister Maria-Felomina.
On Tuesday, call at the church after 8:30 a.m. Burial will be at 11 a.m. at Hawaii State Veterans Cemetery in Kaneohe. Services will also be held at 6 p.m. Monday at Mililani Downtown Mortuary. Call after 5 p.m.
Senators not fazed by censure of Akaka Bill
Hawaii's senators say they are not deterred by a federal report that called the Akaka Bill discriminatory.
In a report released Wednesday and approved yesterday, the Washington-based U.S. Commission on Civil Rights said the measure that would set up a process for self-determination by native Hawaiians would "discriminate on the basis of race or national origin, and further subdivide the American people into discrete subgroups."
U.S. Sen. Daniel Akaka said yesterday in a news release that the commission had failed to give the bill a "fair and thorough review."
Akaka also said the report would not stop him from pursuing passage of the bill, first introduced in 2000.
"I believe that a majority of my colleagues will look at all the faces presented in making their decision," he said.
U.S. Sen. Daniel Inouye said in a news release that he remains committed to the bill.
What's inside your Star-Bulletin this weekend:
SATURDAY
HAWAII
It's graduation season
Graduation ceremonies for public and private high schools and universities start as early as next week. See a list of the ceremonies in tomorrow's Star-Bulletin.
SUNDAY
TODAY
Art to warm the heart
The artwork of students from King Intermediate School bring a bit of tropical sunshine to snowy Sapporo, Japan.
BUSINESS
Off the air
High-definition TVs are hot sellers, but there's not much programming available in Hawaii to take advantage of them.
Money misery
Lottery winners might be getting more than they bargain for when they hit the big one. About a third of those lucky ticket holders eventually declare bankruptcy.
| | |
| --- | --- |
| | Police, Fire, Courts |
---
CENTRAL OAHU
Masked Mililani bank robber sought
Police are asking for the public's help in identifying a masked man who robbed a teller at gunpoint Saturday at the Hawaii USA Federal Credit Union in Mililani.
Police said a masked man entered the credit union at 95-300 Kuahelani Ave. at about 1:55 p.m. Saturday.
The man allegedly pointed a black pistol at a teller and demanded money, police said.
He is described as between 5 feet 9 and 5 feet 11 inches tall, weighing between 180 and 200 pounds, tanned, wearing a black ski mask, a long-sleeved white T-shirt and long black pants.
The man fled in a dark green sedan, police said.
WINDWARD OAHU
Stepfather arrested in sex assault of teen
Police arrested a 33-year-old Kaneohe man at 12:40 p.m. yesterday for allegedly sexually assaulting his 15-year-old stepdaughter at their Kaneohe home.
Police said the man sexually assaulted the girl over a period of four years "under the guise of teaching the victim about sex."
Police released the man pending further investigation.
HONOLULU
16-year-old alleged to have made threats
Police arrested a 16-year-old Kaimuki High School student Wednesday after he allegedly threatened to kill school administrators and another student.
Police said the threat was made at about 9:15 a.m. Officers found the suspect about two miles from the school and arrested him for investigation of first-degree terroristic threatening. He was later released pending an investigation.
LEEWARD OAHU
Man arrested after chase in stolen car
Police arrested a 29-year-old man Wednesday who allegedly led officers on a chase through the Barbers Point area in a stolen car.
The man was spotted after police put out an all-points bulletin on the vehicle after it was reported stolen from a Waipahu man after 10 a.m. After a short pursuit, the man and a female passenger abandoned the vehicle and fled on foot.
Police later found the man and woman near 1999 White Plains St. and arrested the man for investigation of auto theft.
NEIGHBOR ISLANDS
Poles toppled by SUV close Hilo street
HILO » The driver of a sport utility vehicle arguing with her male passenger crossed Kanoelehua Avenue in Hilo at about 2 a.m. yesterday and hit a utility pole, toppling it onto a building, knocking down another pole and blocking the intersection of Kanoelehua and East Lanikaula Street with a tangle of wires, police said.
The SUV occupants suffered only minor injuries, and Kanoelehua was quickly cleared, but Lanikaula remained closed throughout the morning, police said.