---
FAST FACTS HAWAII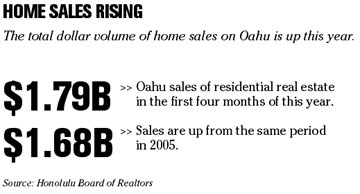 ---
HAWAII
Firm submits bid for trade center
Trade Center Development Corp.
of Fort Lauderdale, Fla., has submitted an offer to develop a $60 million international trade market in Honolulu in response to a request for proposals issued by the state.
Randy Avon, chief executive of Trade Center Development Corp., said the company envisions building a marketplace where "countries will be able to showcase goods under the umbrella of a free trade zone."
If selected, the company will partner on the project with Hawaiian Dredging Construction Co. and development firm KUD International on the project, Avon said. KUD and Hawaiian Dredging are both subsidiaries ofKajima USA Inc.
Today is the deadline for submitting bids to develop a World Trade Center in Honolulu, and it is far from clear what competition Trade Center Development Corp. will face. It is also not clear when the state will select a winning bid.
Dave Young, a spokesman for the Hawaii Department of Business, Economic Development & Tourism, declined to identify bidders or say how many parties have bid. The state has established no timetable for selecting a winning proposal, Young said.
Tesoro's refining margin slips
Tesoro Corp.
, which operates Hawaii's largest oil refinery, posted a 53.6 percent increase in first-quarter net income that was helped by a boost in crude output and yield from its local operation.
The San Antonio-based company said yesterday it had net income of $43 million, or 61 cents a share, compared with $28 million, or 40 cents a share, a year earlier. Revenue rose 22.3 percent to $3.9 billion from $3.2 billion.
At Tesoro's Campbell Industrial Park facility, the total number of barrels of refined products of gas, jet fuel, diesel fuel and heavy oils rose 3.5 percent to 88,000 daily barrels from 85,000. However, Tesoro's refining margin in Hawaii dropped to $3.23 a barrel from $4.04 a barrel.
NATION
Mortgages highest since June '02
WASHINGTON » Rates on 30-year mortgages climbed this week, hitting their highest point in nearly four years, a development that will be weighed by people thinking about buying a home or refinancing the one they own.
Freddie Mac, the mortgage company, reported yesterday that for the week ending May 4, rates on 30-year fixed-rate mortgages averaged 6.59 percent, up slightly from 6.58 percent last week.
This week's rate was the highest since the week ending June 20, 2002, when 30-year mortgage rates stood at 6.63 percent.
It marked the sixth week in a row that rates on 30-year mortgages went up. These rates have been rising as Wall Street investors have worried about inflation picking up.
"We expect that the mortgage rates will continue to trend upward over the coming year but that upward trend will be modest at best," said Frank Nothaft, Freddie Mac's chief economist.
Even so, higher rates will affect peoples' appetite to refinance their home mortgage, he said.
Politician says Google profits from porn
NEW YORK » A Long Island politician sued
Google Inc.
yesterday claiming the search engine leader is profiting from illegal child pornography.
Jeffrey Toback, a member of the Nassau County Legislature, said Google has paid links to Web sites containing pornography involving minors.
"This case is about a multi-billion dollar company that promotes and profits from child pornography," said the complaint filed in state Supreme Court in Mineola.
A Google spokesman denied the allegations and said the Mountain View, Calif.-based company takes numerous steps to prevent access to child pornography.
Asia steps toward regional currency
HYDERABAD, India » Finance ministers from China, Japan and South Korea announced tentative steps yesterday to coordinate their currencies in ways that could ultimately produce a common regional currency like the euro.
The ministers, speaking on the sidelines of the annual meeting of the Asian Development Bank here, said that they would work toward closer coordination of their foreign-exchange policies. They also pledged to enhance an existing framework to defend regional currencies against speculators and work toward the development of Asian bond markets.
South Korea, Japan and China will "immediately launch discussions on the road map for the system to coordinate foreign-exchange policy," the ministers said. "We agreed on further study of related issues, including the usefulness of regional currency units."
Although an Asian monetary union is a distant goal, the Asian Development Bank has been pushing the idea of an Asian currency unit over the past year. The unit's value would be set by an index of participating currencies.
The United States and Japan are the two largest shareholders in the bank, each with a 12.85 percent stake.