SK TELECOM OPEN
WIE STILL IN CONTENTION AFTER FIRST ROUND
The Punahou student shoots a 2-under against men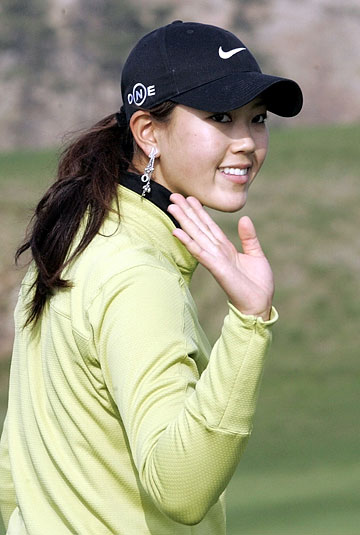 Wie opens at 2 under
The Honolulu 16-year-old is five strokes behind the leader at the event in South Korea
INCHEON, South Korea » Michelle Wie putted well today to shoot a first-round 2-under-par 70 at the SK Telecom Open and stay in contention for her first cut at a men's tournament.
The Hawaii-born teenager is five strokes off the lead in her eighth men's tournament after Australia's Adam Le Vesconte shot a 65. Malaysia's Iain Steel, Lee Sung-ho of South Korea and Australian Brad Kennedy were two strokes back at 67.
Wie had a good start after teeing off from the back nine in mild, early-morning conditions at the Sky 72 Golf Club by birdieing the 10th. She went on to make three more birdies, including two after the turn on the 1st and 2nd.
Wie blamed her approach shots for not going lower.
"I just got really bad lies, like on the 16th I had a really bad lie and on the par-5 18th," the 16-year-old said. "So it was just kind of bad luck on the chips, but I felt like I putted very well coming back."
Wie's two bogeys of the day were also unlucky.
After her tee shot on the par-4 17th nestled beside a rake -- which had to be removed -- Wie miscued her approach to send the ball rolling down a hill and into a water hazard.
Her penalty drop was placed on the slope and she deftly chipped to within 2 feet to salvage her first bogey.
Wie dropped into a bunker on the par-5 6th, then saw her 15-foot putt roll to the lip of the cup before it ran out of steam, drawing sighs from the 300-plus gallery of mostly Koreans.
Wie, who in March finished third at the Kraft Nabisco Championship, the first LPGA major of the year, has South Korean parents and has been adopted by Korean fans as their own.
If she makes the cut after tomorrow's second round, she will be the second woman to do so at a Korean tournament after LPGA star Se Ri Pak finished tied for 10th at the KPGA Tour's SBS Pro-Golf Championship in 2003.