| | |
| --- | --- |
| | Newswatch |
---
Honolulu cutter heading to Asia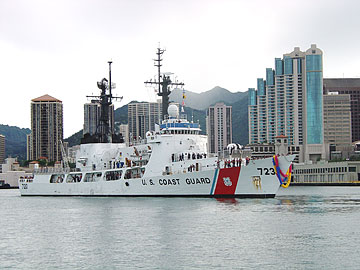 ---
TAKING NOTICE
Catholic Charities lauded for integrity
Catholic Charities Hawaii
has received the Torch Award from the Hawaii chapter of the Better Business Bureau. The award, presented in the large-nonprofit category of 100-plus employees, honors businesses that demonstrate exceedingly high ethical standards and exemplify excellence in business practices.
---
"Taking Notice" also runs on Tuesdays and Saturdays.
| | |
| --- | --- |
| | Police, Fire, Courts |
---
HONOLULU
Palolo man charged after police chase
Federal authorities charged a 29-year-old Palolo man last night who led police on a chase across East Honolulu on Tuesday after allegedly robbing a motorcyclist and a bank.
Fong Lu, also known as Phong Le, was charged on two counts of robbery, including robbery of the bank and stealing the motorcycle.
Lu allegedly used a fake gun to rob a motorcyclist of his motorcycle on McCully Street at 9:11 a.m. Tuesday. Twelve minutes later he allegedly used the same gun to rob the Hawaii National Bank at 841 Bishop St. Lu is being held without bail.
HPD looks into phone threats against judge
Honolulu police were looking for a 53-year-old man who allegedly threatened a state judge Tuesday.
The suspect allegedly called the local FBI office and made the threat at about noon. Federal agents notified state deputy sheriffs who then notified the judge. Police initiated a first-degree terroristic threatening case.
NEIGHBOR ISLANDS
Cliff plunge fatality ID'd as Chicago visitor
WAILUKU » The man who died after his rental car plunged off a 270-foot cliff on Maui has been identified as Christian Dunker of Chicago.
Dunker, 45, a chef, had been on a vacation on Maui since March 21, police Sgt. Barry Aoki said.
A tourist saw Dunker's rental car tumbling down the side of a cliff near a coastal road at Nakalele Point at 10:24 p.m. last Thursday.
Aoki said yesterday that investigators were waiting for an autopsy, including the results of blood and tissue tests.
LEEWARD OAHU
Man held in alleged sexual assault on girl
Police arrested a 24-year-old Waipahu man Tuesday for allegedly sexually assaulting a 13-year-old girl for about four months.
Police said the assaults happened from December to last month.
Police arrested the suspect for investigation of nine counts of first-degree sexual assault and five counts of third-degree sexual assault.
EAST OAHU
Training grenade startles woman in Niu
A Niu Valley woman got a scare while cleaning her house and found what she thought looked like a live grenade Tuesday.
The woman, 48, discovered the object in her attic at about 1:20 p.m. Police determined the object was a training device and not an explosive. The device was later turned over to military officials.