---
FAST FACTS HAWAII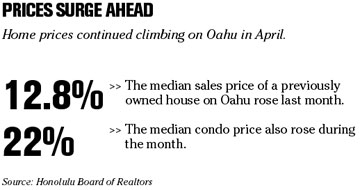 ---
NATION
Report slams drug makers for spinning
TRENTON, N.J. » Drug makers commonly exaggerate claims, promote unproven uses and underplay medicines' risks when marketing to doctors and customers, according to a report released yesterday by a national consumer advocacy group.
Doctors and consumers are inundated with false and misleading advertising on television, in print and through literature handed out by drug sales reps, and the Food and Drug Administration is ineffective at stopping the abuses, says the report, which was written by the New Jersey chapter of the Public Interest Research Group.
A trade group representing drug makers said the report relies on outdated and piecemeal data and misleads the public.
Clear Channel's profit doubles
DALLAS >>
Clear Channel Communications Inc.
, the nation's largest owner of radio stations, said yesterday that profit more than doubled in the first quarter, helped by higher ratings and advertising rates.
Company officials and some analysts said the results seemed to vindicate the company's decision last year to reduce the number of commercials and push advertisers to buy shorter spots - a strategy dubbed "less is more."
Clear Channel said it earned $96.8 million or 19 cents per share, compared with $47.9 million or 9 cents per share a year earlier.
Some of this year's profit came from selling radio assets and swapping billboard properties. Without those moves, the San Antonio-based company would have earned $73.4 million or 14 cents per share.
Wynn narrowed losses in quarter
Wynn Resorts Ltd.
, the casino company run by Stephen Wynn, said first-quarter losses narrowed as gamblers flocked to its $2.7 billion Las Vegas resort in its first year of operation.
The net loss was $11.4 million, or 12 cents a share, after losses of $29.9 million, or 30 cents, a year earlier. Revenue was $277.2 million, the Las Vegas-based company said yesterday in a statement, beating analysts' estimates of $273.5 million.
Earnings before interest, taxes, depreciation and amortization were $81.1 million at the Wynn Las Vegas as tourists visited the most expensive casino ever built. Wynn Resorts is also developing a $1.1 billion casino in Macau, the Chinese gambling resort, that will open in September.
Delphi union wants strike vote
DETROIT » The union representing the majority of hourly workers at
Delphi Corp.
yesterday asked its locals to take a strike authorization vote, further pressuring the auto parts supplier as it seeks wage cuts.
United Auto Workers Vice President Richard Shoemaker called for the vote in an e-mail to all Delphi local presidents, UAW spokesman Paul Krell said yesterday.
The e-mail says the locals should complete their voting by May 14, Krell said.
Advertiser accuses Yahoo of fraud
NEWARK, N.J. » A
Yahoo Inc.
advertiser has accused the Internet search engine of fraud, saying its ads have been appearing in spyware and "typosquatter" Web sites that take advantage of misspelled trademarks.
Crafts By Veronica, which makes fabric-covered photo albums, filed a lawsuit accusing Sunnyvale, Calif.-based Yahoo of breaching a contract by charging advertisers for pay-per-click ads shown improperly in "pernicious spyware programs" and on low-quality Web sites.
Hybrid sales jumped 139 percent in 2005
DETROIT » U.S. hybrid vehicle sales more than doubled last year, according to new data released today, but one analyst says it's difficult to predict where they'll go from here as gas prices fluctuate and new fuel-saving options such hit the market.
Registrations for new hybrids rose to 199,148 in 2005, a 139 percent increase from the year before, as more models came on the market, according toR.L. Polk & Co., a Southfield-based firm that collects automotive data.
Hybrids accounted for just more than 1 percent of all vehicles sold in the United States.
Cable drives 1Q profit up at Time Warner
NEW YORK »
Time Warner Inc.
reported a higher first-quarter profit yesterday, driven by strong results in cable TV and a gain from selling its book group.
Profit at the New York-based media conglomerate jumped nearly 60 percent to $1.46 billion, in the January-March period from $915 million, as revenues rose 1 percent to $10.46 billion.
But investors, disappointed by subscriber losses and reduced profits at AOL, sent the company's stock down 20 cents to $17.22.