---
FAST FACTS HAWAII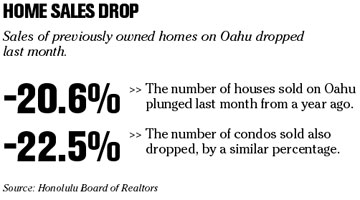 ---
HAWAII
HEI maintains dividend at 31 cents
Hawaiian Electric Industries Inc.
said yesterday it was maintaining its dividend at 31 cents a share for the 34th consecutive quarter.
The distribution will be payable June 14 to stockholders of record at the close of business on May 15. The ex-dividend date will be May 11, the first day the stock will be traded without the buyer being entitled to the upcoming payment.
HEI last raised its dividend in March 1998 when it was increased to a split-adjusted 31 cents from 30.5 cents. The annualized yield on the dividend at yesterday's price is 4.6 percent.
[HAWAII INC.]
NEW JOBS
» The Rehabilitation Hospital of the Pacific has appointed
Dr. Dennis K. Chong
senior vice president and chief medical executive. He most recently served in executive management positions at
CIGNA Healthcare
. He replaces
Dr. Thomas Au
, who has returned to private practice.
»Pacific Asia Design Group Inc.has hired Yvette S. Muta. She will be responsible for re-branding the Four Seasons Manele Bay Hotel and Lodge at Koele and interior design for the Palms at Manele luxury condominium. She has more than 15 years of design experience.
» The Kahala Hotel & Resort has hiredSharon Klaschkaas sales director. She most recently served as the Fairmont Kea Lani, Maui sales director. She has over 23 years of Hawaii hotel industry experience.
»M. Dyer & Sons has hiredJeanie M. Maneas outbound shipping coordinator. She will be responsible for managing all moves, including client and service provider coordination as well as documentation for shipments leaving Oahu. She previously worked for Metro One TelecommunicationsandUnited Parcel Service.
» The American Lung Association of Hawaii has appointedJean Evansas chief operating officer. She has more than 20 years management experience in nonprofit health, education and social service agencies. She previously worked for Alu Like.
PROMOTIONS
»
PBR Hawaii
has promoted
Alika Abrigo
to associate. He previously served as a planner. He joined the company in 1999 and has more than six years of experience specializing in community master plans, urban design plans and community based master plans for private developers and public agencies in Hawaii.
---
NATION
Firm predicts more Windows delays
SEATTLE » An influential analyst firm is predicting that the next version of
Microsoft Corp.
's Windows operating system will come out even later than Microsoft has already forecast.
Researchers at Gartner Inc. said in a report yesterday that they believe Windows Vista won't be broadly available until sometime between March and June 2007. Gartner is basing its projections on the progress the Redmond company has made in getting test versions of Vista out the door.
Microsoft said it disagrees with Gartner's views and is still on track to meet its revised released schedule.
Microsoft said in March that it would not release the consumer version of Windows Vista until January 2007, missing the holiday season and potentially dealing a blow to those who make and sell computers. The software maker has said, however, that it expects to release Windows Vista to big businesses in November.
Ford embarks on new marketing campaign
DEARBORN, Mich. >>
Ford Motor Co.
is unveiling what the No. 2 U.S. automaker says is a do-or-die marketing strategy during one of America's most-watched television shows in an effort to show consumers it has been reinvented.
The strategy, called "Bold Moves," features a new song by Grammy-winning singer Kelly Clarkson and commercials showing active people who value family time, leisure and the outdoors.
The first ad debuted during last night's episode of "American Idol," the ratings juggernaut that has attracted more than 28 million viewers to its most recent telecasts.
Ford won't say how much the heavily researched campaign will cost, but executives are candid about what's at stake -- the future of one of America's most storied companies.
"Obviously, you don't make a commitment like this ... until you are 100 percent confident that you've got the right goods, that you're true to your brand and you're representing your customer," said Mary Lou Quesnell, director of branding for Ford, Lincoln and Mercury.
Toyota accused of sex harassment
NEW YORK » A woman has filed a lawsuit accusing a high-ranking
Toyota
executive of sexually harassing her when she worked as his personal assistant.
In a complaint filed in New York, the woman said Toyota Motor North America's president and chief executive officer, Hideaki Otaka, made repeated unwanted sexual advances after she began working for him last summer. She said the conduct continued until winter, when she was involuntarily transferred out of the job.
The suit said Otaka manipulated her travel and work schedules so they were alone together, had her accompany him to social functions, and physically groped her at a Washington D.C. hotel and in Central Park.
The woman, Sayaka Kobayashi, said that when she reported the inappropriate conduct to Toyota officials, they urged her to work it out privately with her married boss.
Appeals court rejects pension suit
WASHINGTON » A federal appeals court yesterday ordered dismissal of a lawsuit that US Airways pilots filed against a federal agency in a fight over pension benefits, saying the claims must be pursued through administrative channels.
In a 3-0 ruling, the U.S. Court of Appeals for the District of Columbia Circuit sent the case back to a lower federal court with instructions to dismiss the pilots' suit against the Pension Benefit Guaranty Corp., the federal agency that backs private pension plans. Without ruling on the merits of the case, the appeals court said the November 2003 suit must be thrown out "because the pilots have not yet exhausted their administrative remedies."
The pilots, in the suit, contended that the pension agency had made errors in calculating the pension benefits due them under federal law afterUS Airways Group Inc., the nation's fifth-largest airline, filed its first bankruptcy in August 2002.
WORLD
European carrier reports bigger loss
EasyJet Plc
, Europe's second-biggest low-cost airline, said its first-half loss widened less than expected as the carrier cut expenses to counter rising fuel costs. The airline raised its full-year earnings forecast.