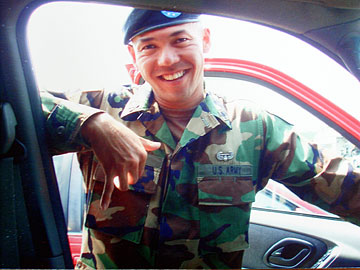 COURTESY OF SAKODA FAMILY
Sgt. Steve Sakoda
Slain Big Isle soldier was a peace advocate
The Waiakea grad hoped to fly copters in the Army Guard
HILO » Army Sgt. Steve Makoto Sakoda, 29, of Hilo, killed Saturday in Iraq by a roadside bomb, wanted to foster peaceful means of resolving conflicts, said Hilo writer and director Jeri Gertz.
In 2001, attending the University of Hawaii at Hilo, he played an abusive boyfriend in an anti-violence play written by Gertz.
"He was so good-hearted about it. He did it so he could show teens there was another way," Gertz said. "He really was interested in conflict resolution."
Friends said Sakoda was also strongly influenced by his father, Stephen, a sergeant in the Hawaii County Police Department who died of cancer in 2001 before his son graduated from college.
"He took his father's death very hard," said John Leite, a friend of the father who saw the son cry at the funeral.
Sakoda's mother, Keiko, died in 1996.
He completed eight years in the Marine Corps Reserve. Then, motivated by the attack on the World Trade Center in New York, Sakoda joined the National Guard in 2003, switching to the active Army in 2004, his wife, Michelle, wrote in a short biography.
"My short-term goals are to achieve the position of E5/sergeant, deploy to Iraq with my men, accomplish the mission and bring them home," Sakoda wrote in a 2005 application to be promoted to sergeant. "My long-term goals are to retire in the Army."
"Steve had always wanted to become 'Sgt. Sakoda,' just like his father," Michelle Sakoda wrote.
Sakoda could also be "intensely funny," said UH-Hilo drama professor Jackie Johnson.
Gertz remembered him during his college days wearing his hair in an enormous mass, sometimes dyed orange, sometimes dyed blue.
He was universally known as "Scrotie." Despite its anatomical sound, he assured Gertz, "It's not what you think." He never explained the meaning to her. In Iraq he was called "Sgt. Scrotie."
Johnson said he loved doing improvisational theater exercises, pretending, for example, to be an astronaut in an ice cream parlor.
Born Dec. 30, 1976, in Hilo, the younger of his parents' two children after his sister, Stella, Sakoda graduated from Waiakea High School in 1994 and joined the Marine Corps Reserve a few months later.
He graduated from UH-Hilo in 2002, met his wife-to-be, Michelle Vallente Castillo, the next year and married her in 2004.
At UH-Hilo, Sakoda had considered being a deejay or journalist, but he also liked the idea of flying helicopters, said Gertz.
In 2003 he transferred from Marine Reserve to the National Guard's 29th Brigade Combat Team and later went on active duty.
In the National Guard, he had wanted to fly in combat.
"It was all part of his plan and goals," said Staff Sgt. Ha Chi, who served in the same Hawaii Army National Guard platoon in 2003. "He decided to switch over to active duty and to learn more skills. He then planned to go to OCS (officer candidate school). Then he wanted come back and get back into his unit in Hilo."
Chi said Sakoda tried to get back into the 29th Brigade when it was activated in 2004, "but the Army wouldn't allow it."
Waiakea classmates, Chi and Sakoda served in the scout platoon, assigned to Headquarters & Headquarters Company, 2nd Battalion, 299th Infantry.
Chi saw Sakoda last summer when they accidentally bumped into each other at Logistical Support Area Anaconda in Iraq. "He came over to where all his old platoon soldiers were staying, and we all talked for a long time," Chi said.
"He still was on track. He had been promoted to sergeant. He sounded motivated, on track, talking about flying helicopters with the Hawaii Guard when he got through with Iraq. He wanted to come home and join up with us."
On Saturday, Sakoda, 29, was killed by a homemade bomb while serving the 1st Squadron, 75th Cavalry Regiment, 101st Airborne Division.
He was the second islander to be killed in Iraq within a week, and from the same division. Staff Sgt. Metodio Bandonill, 29, was killed April 24 in Baghdad when a homemade bomb exploded by his Humvee.
Thirty soldiers, two sailors, 50 Marines and one civilian with Hawaii ties have been killed in Iraq since the war started in March 19, 2003.
Fifteen soldiers have been killed in Afghanistan, as well as 10 Marines and six sailors.