| | |
| --- | --- |
| | Newswatch |
---
A permit and pyrotechnics, please
Fireworks permits can be sold through vendors authorized by county governments under a bill signed into law yesterday by Gov. Linda Lingle. The procedures make it easier for people to obtain permits and fireworks at the same location. The law will relieve the administrative burden placed on the counties, lawmakers say, and help the fire departments in accounting for fireworks retailers' inventories and sales.
LIZARD VISITOR
An Australian alien turns up in Palolo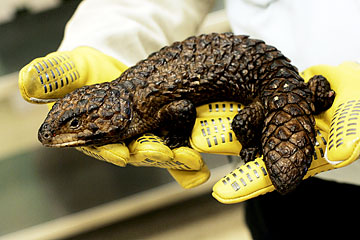 ---
TAKING NOTICE
Dance team gets awards in Dallas
Dance Junction Hawaii's senior and junior teams won several first-place awards in the recent American Dance/Drill Team Nationals in Dallas, according to Charlie Gima, a parent-team supporter.
The competition, held March 24 and 25, included national and international categories.
On the national level, the senior team was named the overall best for a private studio, and also won the championships in the private studio lyrical, jazz and pompom categories.
On the international level, the senior team was ranked first out of the 26 teams that competed, and lived up to expectations by winning the overall best prize.
They also won first place in the senior private studio lyrical and jazz categories, and first runner-up in the pompom category.
The junior team, in national competition, won the championship in the junior private studio lyrical category and placed fourth in jazz.
Members of the senior team areAshley Gima, Janell Nohara, Kim Kamitaki, Codi Nishimoto, Heather Miki, Lyndsey Arakawa andMarisa Takiguchi.
Members of the junior team areErin Manago, Lauren Weiss, Stacie Kamitaki, Lace Yamamoto, Tia Okemura, Kellye Oishi andMilena Naitoh.
Arakawa was the national champion as a senior soloist, and teammate Nohara was a third runner-up. Takiguchi was a first runner-up in the junior division.
Because of the teams' outstanding performance, they were invited to participate in an international competition next summer in Tokyo.
Dance Junction Hawaii is coached by Jill Tanioka, who opened her studio last summer.
---
"Taking Notice" runs on Tuesdays, Thursdays and Saturdays. Please send items to City Desk, Star-Bulletin, 500 Ala Moana, Suite 7-210, Honolulu, HI 96813.
| | |
| --- | --- |
| | Police, Fire, Courts |
---
EAST OAHU
Jet Ski accident kills man from Las Vegas
A 31-year-old Las Vegas man died yesterday after he was critically injured falling off a Jet Ski in Maunalua Bay.
The man was taken in extremely critical condition to Straub Clinic & Hospital at 2:18 p.m. after being brought to shore by a private boat, said an Emergency Medical Services spokesman.
Details of the incident were not immediately available, but police said the man had fallen off the watercraft.