---
FAST FACTS HAWAII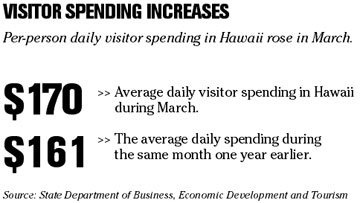 ---
HAWAII
$39 interisland fare war will last another week
Mesa Air Group
's new interisland airline, go!, has extended its $39 one-way interisland fare sale for another week. Tickets must now be purchased by Sunday for travel to Hilo and Kona on the Big Island; Lihue, Kauai; and Kahului, Maui.
Both Aloha Airlines and Hawaiian Airlines matched the $39 fare.
The fare, which does not include applicable taxes and fees, is for travel from June 9 through Sept. 30.
Maui Land promotes executive
Maui Land & Pineapple Co. Inc.
has promoted Robert M. McNatt to president of its community development division.
McNatt joined the company in 1996 as vice president/planning and development for Kapalua Land Co. Ltd. This is his fourth promotion since joining.
NATION
Now up: cell phones for blogging
NEW YORK » U.S. mobile phones are pretty staid affairs compared to what's available in Asia and Europe, but a phone service launching today aims to bring cutting-edge features from South Korea to a U.S. audience.
Helio Inc. is a joint venture of Internet service provider EarthLink Inc. and Korea's SK Telecom. It will start selling two phones today that it's positioning primarily as blogging tools for a mobile generation and only secondarily as phones.
"We start out with data, and voice is just another application," said Sky Dayton, founder of EarthLink and chief executive of Helio.
The Helio phone will be tightly connected to MySpace, the social networking site that has become hugely popular among teenagers and twenty-somethings.
Microsoft wins Amazon.com deal
SEATTLE »
Microsoft Corp.
's online unit has reached an agreement to provide underlying technology for
Amazon.com Inc.
's A9.com and Alexa search services, filling a role previously held by
Google
, the Redmond company's rival.
Web and news-related queries made from A9.com, Alexa and a search box on the Amazon.com home page now bring back results "powered by Windows Live Search," the new name for Microsoft's MSN Search service. Windows Live Search also is selected by default on A9.com, a site that lets users query multiple search services.
A9.com Chief Executive David Tennenhouse said the Amazon subsidiary's contract with Google has expired, but he said the decision to add Windows Live Search to its offerings was separate from that development.
Toyota cannot build Prius fast enough
Toyota Motor Corp.
, the world's largest seller of gasoline-electric autos, said U.S. sales of its Prius hybrid sedan have been hurt by a shortage of the cars as fuel prices approach record levels.
Prius sales fell again in April, after a 3.3 percent first- quarter decline, Jim Lentz, a group vice president and Toyota brand manager, said in an interview last week from the company's Torrance, Calif., U.S. headquarters. He said the car's sales dropped to about 7,500 last month, from 11,345 in April 2005.
U.S. sales of fuel-efficient hybrid cars and light trucks rose 37 percent to 48,685 last quarter, after more than doubling in the same period of 2005.
Toyota now makes all its hybrids in Japan, and Prius production has slowed as the company builds up inventory of the gasoline-electric version of the Camry sedan, which began arriving at U.S. dealerships last week, Lentz said.
Napster starts offering free songs, with catch
LOS ANGELES »
Napster Inc.
launched a revamped music Web site yesterday that allows limited free, on- demand access to more than two million songs.
Visitors to the site can listen to many songs five times before having to buy a copy for 99 cents or subscribe to Napster's premium service.
The free service is supported by advertising on the Napster player. Songs purchased individually or as part of a subscription can be downloaded and transferred to portable devices.
As part of the move, Napster will add two new services.
NapsterLinks will allow users to attach song links to e-mails, instant messages, blogs and Web sites.
WORLD
Asia's growth pegged at 7 percent
HONG KONG » Economic growth in Asia this year should hit 7 percent -- the same as in 2005 -- but the region could be threatened by high oil prices, tighter financial markets and bird flu, the International Monetary Fund said in a forecast today.
The Asian economy will be boosted by the continuing recovery in Japan, where domestic demand is strengthening, corporate investment remains robust and the labor market is still firm, the IMF said in its 84-page report.
Economies are benefiting from surging demand for the region's products, especially electronics, and this should continue, the IMF said. "While domestic demand had long been tepid -- China and India excepted -- it has been gaining traction since early 2005," the forecast said.