| | |
| --- | --- |
| | Island Mele |
---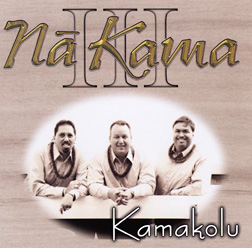 "Kamakolu"
Na Kama
(Makani)
Na Kama's third album is their first as a trio, and with Danny Naipo on acoustic bass, the group now has the musical heft to stand along heavy hitters like the Brothers Cazimero, the Makaha Sons, Ho'okena, 'Ale'a and Holunape as being the best in contemporary Hawaiian music. Guitarists Brian Mersberg and Eric Lee have hit on a winning formula by making Naipo an integral part of the group.
Purists will applaud the trio's commitment to clean acoustic arrangements, tight harmonies and precise pronunciation. Na Kama honors tradition with beautiful renditions of classics while also adding to the modern songbook with new compositions. One of the instant standouts is Lee's "Pahea La?" -- a comic look at relationships from a female perspective.
The trio embellishes their arrangement of "E Maliu Mai" by opening with a sound bite from a vintage interview with its composer, Irmgard Farden Aluli, and then having Aluli's daughter I. Mihana Aluli Souza provide the English translation during the bridge.
Lee, Mersberg and Naipo cut no corners as producers. They use REAL strings (the Galliard String Quartet) rather than synth tracks, and include the Hawaiian lyrics, English translations and cultural information in the liner notes. There's even mention of how the spelling of Mersberg's family name has changed since Wilhelm Mersebergh arrived here from Germany in 1848.
---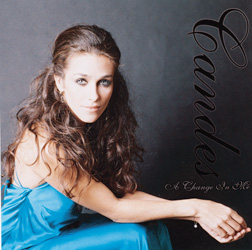 "A Change In Me"
Candes
(CMG Records)
Candes (she uses her family name, Meijide Gentry, only in the production credits) has never sounded better. Laurence Paxton and Pierre Grill share credit for the music that enhances the delicate beauty of her voice. Paxton, known around town until now as an award-winning actor, played piano and did most of the arrangements, and Grill provided most of the additional instrumentation.
Most of the songs are Broadway hits that work beautifully as material for solo voice and piano. Candes illuminates the emotion in "Once Upon a Dream" and "A Change in Me," and demonstrates her range in "A Call from the Vatican" without overwhelming the song's story. "Bali Hai," potentially a riskier choice given Juanita Hall's definitive interpretation in "South Pacific," pays off as well.
Candes pairs up nicely with Joey Caldarone on "Take Me as I Am," the sole duet on the album. "Popular" adds a touch of light comedy to an exquisite collection.
CMG Records
P.O. Box 10749
Honolulu, HI 96816
---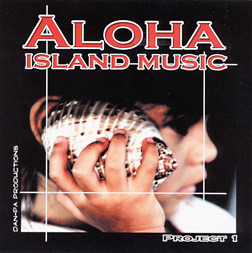 "Aloha Island Music Project 1"
Various Artists
(Dan-Pa Productions)
The mysteries behind this low-budget release are: Are the 15 songs collected here new recordings, or were they culled from whatever back catalogs the producers had access to? Did any of the artists write their own material? Oldies fans will recognize two songs as vintage pop hits, but the producers show no aloha to the composers by omitting composers' credits.
The biggest mystery is who some of the acts are. Several are unknowns, and Dan-Pa Productions blew a valuable opportunity by failing to provide information on them.
Several songs rise above clichéd imitation-Jamaican stuff. Fiji is always solid and soulful, and Sistah Robi and Tierra Kekaula do an appealing job representing feminine perspectives. Kani Makou's contribution, "Feel Good Lovin'," is a catchy attention-getter, but why not help the brothers out and look for it on their CD? As for who Next G, Bruddah Dan, the Papa'a Bay Boys, Bamboo and Malia might be, Dan-Pa isn't saying.
John Berger
, who has covered the local entertainment scene since 1972, writes reviews of recordings produced by Hawaii artists. See the Star-Bulletin's Today section on Fridays for the latest reviews. Reach John Berger at
jberger@starbulletin.com
.