MUSIC
Go girlas!
All six women in the Girlas have deep roots in isle music
It's often said that there's strength in numbers. But spend some time with the Girlas, and it's quickly apparent these ladies aren't just a hui of talented musicians. Sit them down, and they're also a budding comedy troupe.
'Local Vocal'
With the Girlas, All Natro and One Drop:

Place: Pipeline Cafe

Time: 9 p.m. Saturday

Tickets: $10 to $12

Call: 589-1999
Within the first 10 minutes of our lunchtime interview at Kapiolani Community College last week, it was decided that my last name would be changed to "Bust-A-Guinness."
We also discussed the morality of eating jackrabbits, how the Dixie Chicks were giving up country for rock, which band member rocked the "Asian Mullet" in high school and which one calls herself the "Married Big-Mouth Booty."
THE GIRLAS are six solo musicians with deep roots in both the Hawaii and California music scenes.
Sisters Connie and Tiffa Cruz require no introduction for island residents who recognize their father, Ernie Cruz Sr. Younger generations will know their brother, Ernie Cruz Jr., as one half of the wildly popular Ka'au Crater Boys from the 1990s, while brothers Guy and John have also enjoyed successful solo careers.
Carly Smith is a cousin of the Cruz family, moving first to the Big Island in 2004 from Northern California before coming to Oahu last year. The daughter of renowned bluegrass musician Ty Smith, she played her first instrument at age 4 and toured California extensively throughout her teenage years.
Anela Choy and Candy Rae Diaz Yasuda were classmates at Roosevelt High School. Choy's father was part-owner of Island Guitars, while Diaz is the daughter of local musician Omar Diaz.
Sixth Girla Kelli Heath is credited as the band's catalyst. She laid the groundwork in 2004 while working at Hale Noa, a kava bar on Kapahulu Avenue that served as the band's home base until it closed last month.
At first, their name was an impromptu moniker associated with an e-mail address Tiffa used. After a few gigs, it stuck.
"Everyone called us the Girlas before we were even a band," Smith said. "It's grown on us, so it's more than just an e-mail address."
As it turns out, nobody really liked the name. But not a single one of the girls spoke up.
"None of us liked it, but we just shut up and figured everyone else (did)," Diaz laughed. "We've grown to love it."
OVER THE course of the last year, the Girlas have worked hard to build a wide fan base for their style of acoustic folk.
They don't play Jawaiian, yet a number of local bands have asked them to open shows, as well as bigger acts such as Don Carlos and Prezident Brown.
At the other end of the spectrum are bluegrass bands, including the Squirrel Hunters and Full Steppers, who also welcomed the Girlas with open arms. They've played gigs at college campuses, church services, the Hawaii State Art Museum and even a weekly lesbian club night.
"We've been completely blessed to fit in so well within the different genres and communities," Diaz said. "A lot of people who are booking us say we're so open to everything, and we truly are. We want people to hear our music."
Saturday's performance at Pipeline Cafe will serve as the official CD release party for the Girlas' debut, "Now or Never."
While Heath and Connie Cruz have since moved to the mainland (Heath is attending recording engineering school in Arizona, while Cruz lives with her husband in North Carolina), the remaining band members hope to gain enough fans to justify another record.
"Without the support, there isn't going to be a band," Smith said. "We can do it by ourselves, but it's so much better when it's not just one girl and one guitar.
"It's so much better to see us all jamming up there ... and there are people who like the idea of six young girls (playing original music), and are drawn to that."
All six Girlas have songwriting credits on "Now or Never," a decision made before recording even started. Because the album also serves as a calling card for them as solo artists, it was important that they all got equal time.
As a result, Connie Cruz donated three songs to the effort, even though her move meant she wouldn't get to record them herself. Heath wrote two songs, sharing songwriting duties with Diaz on a third.
Smith and Diaz also contributed two tracks each, while Tiffa Cruz wrote and recorded "Never Leave You," an ode to now-husband Imua Garza that's one of album's overall highlights.
Even Choy, the self-described rookie of the group, got into the swing of things by writing a song ("Ghost")* .
"It's definitely fun, but it's also been challenging," she said. "These girls have been singing in front of audiences since they were kids, and I've been doing it for a couple of months. I've been pushed to grow in a short amount of time, but it's good."
Besides a second album, the Girlas are looking forward to increasing their mainland fan base. But full-time jobs and Choy's looming return to the academic world could be a problem.
"All of us are very much rooted island girls," said Diaz. "We would like to tour, though. If we can find a way to feed and support ourselves and our families, we would totally love the opportunity."
---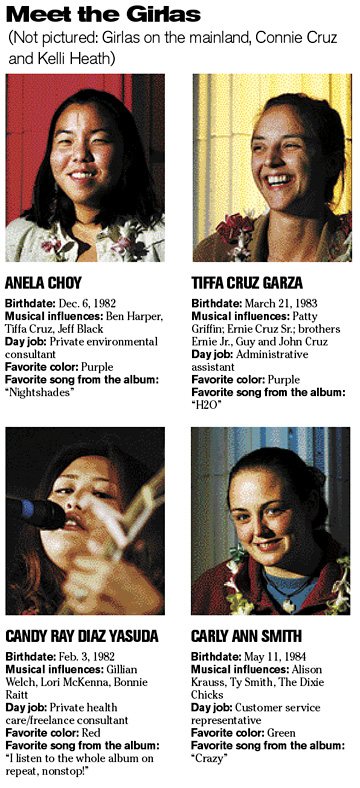 ---
CORRECTION
Monday, May 1, 2006
» Candy Rae Diaz Yasuda's name was misspelled in an article about the Girlas on Page 22 of last week's Weekend section. Also, Anela Choy wrote the song "Ghost" on the band's debut album. An incorrect title was listed.