| | |
| --- | --- |
| | Newswatch |
---
GETTING DOWN TO CLEAN UP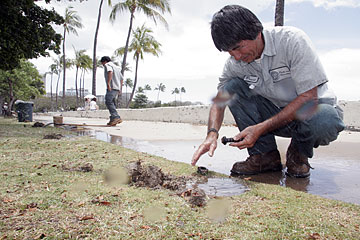 ---
New road barriers going up in Kailua
Workers are scheduled to install additional concrete barriers today along the hillside of Kailua Road after state transportation officials observed more debris slide down to the sidewalk.
Kailua-bound traffic was to be contra-flowed from 8:30 a.m. to 3 p.m. as workers install 20 more concrete barriers between St. John Lutheran Church and Hamakua Drive, said Scott Ishikawa, spokesman of the Department of Transportation.
Fifty concrete barriers have already been placed. Workers are also replacing water-filled barriers with concrete barriers.
A few landslides occurred in the area during the recent six-week period of heavy rain. The lane closest to the hillside remains closed as a precaution.
State transportation officials, meanwhile, are trying to come up with a long-term solution to the problem, Ishikawa said.
'Lost' star could face more time in prison
"Lost" actress Michelle Rodriguez might finish her jail time in Hawaii only to be put behind bars in California next week.
Rodriguez is scheduled for a probation revocation hearing on Wednesday in Los Angeles County, at which she could face up to 18 months in prison for violating her probation by driving while intoxicated in Hawaii.
Officials for the L.A. District Attorney's office said she will probably be sentenced at the end of the hearing.
In 2004, Rodriguez pleaded no contest in Los Angeles to three traffic violations, including drunken driving. She completed a three-month alcohol program and is serving a three-year probation term.
On Oahu Tuesday, Rodriguez pleaded guilty to drunken-driving charges after being arrested on Dec. 1 in Kailua. She opted to spend four days in jail rather than do 240 hours of community service. She is scheduled to be released on Saturday.
239 of 255 isle schools pass fire inspection
Ninety-four percent of Hawaii's public schools -- or 239 of the state's 255 campuses -- have passed comprehensive fire safety inspections, Department of Education officials said yesterday.
Although just 16 schools were given a failing grade, 36 others were found to have fire safety violations but earned a passing grade by correcting the problem within 10 days of the annual inspection.
The 16 failing schools also must correct their violations.
Inspections are carried out late in each year by county fire inspectors or area fire companies. Last year, 252 schools passed.
Kalalau Valley open for camping again
LIHUE » State workers are again releasing camping permits for Kalalau Valley in the Na Pali Coast State Park now that the park's trail has been repaired.
The rugged, remote park, accessible only by an 11-mile trail most of the year, had been closed following heavy rain and mudslides along the trail during the recent six weeks of bad weather.
A state parks crew and a volunteer completed repairs to damaged portions of the trail and cleanup of the Kalalau Valley camping area on Friday, state officials said yesterday.
A Department of Land and Natural Resources press release also announced the reopening at Milolii Beach. Milolii, a remote valley only accessible by the ocean during the summer and during periods of no northerly swells, had been closed for a number of years due to a problem with portable facilities.
Information about Kauai state parks is available online at www.state.hi.us/dlnr/dsp. To obtain permits for day-use hiking or camping on Kauai, contact the DLNR Kauai office at 808-274-3444.
---
TAKING NOTICE
» Wayne K. Cullen Jr. has been promoted to the rank of Eagle Scout by the Aloha Council of the Boy Scouts of America. He is a member of Unit T125, chartered by the Church of Jesus Christ of Latter-day Saints of Waianae.
» Loretta Fuddy of the state Department of Health has been elected to the board of directors for the national Association of Maternal and Child Health Programs. Fuddy is division chief for Family Health Services and has worked in the department for more than 30 years.
» Howard S. Garval has been selected as the new president and chief executive officer of Child and Family Service. He comes from West Hartford, Conn., where he was president and CEO of the Village for Families and Children.
» Sam Spengler, a sixth-grader at Aikahi Elementary School, was recognized as the grand-prize winner of the Seventh Annual Dr. Martin Luther King Jr. Peace Poetry Contest.
» The American Lung Association of Hawaii has received the 2006 Bernard Gregory Award for Cultural Diversity. The association was commended for gearing its programs to reach intended audiences. For example, native Hawaiians have the highest asthma rates in the state, and ALAH involves community representatives and uses culturally sensitive messages when delivering programs to this community.
» Barbara W.K. Yee, professor and chairwoman of the family and consumer sciences department at the University of Hawaii, is one of the five newest members of the National Institute of Health's Advisory Committee on Research on Women's Health.
---
"Taking Notice" also runs on Tuesdays and Saturdays.
| | |
| --- | --- |
| | Police, Fire, Courts |
---
NEIGHBOR ISLANDS
Autopsy indicates Big Isle man, 61, died from fall
Preliminary autopsy results show the 61-year-old Big Island man whose body was found on Waipio Valley Road died from multiple traumatic injuries consistent with a fall, police said.
Roger Lasko of Kukuihaele was found Saturday sometime before 9:24 p.m., when it was reported to police. He was unresponsive and taken to Hilo Medical Center, where he was pronounced dead at 3:18 a.m. Sunday.
A preliminary investigation by police showed Lasko fell from a cliff about 40 to 50 feet from a private property.
Police said that on the night of the fall, it was dark and rainy, and there were no signs of foul play.
A final autopsy report is on hold pending a toxicology examination.
Witnesses to the fall or anyone with information on this case is asked to call Detective Uwao Chartrand at 961-2382 or Hamakua police at 775-7533.
WEST OAHU
Medical waste closes lane on H-1 freeway
Medical waste littered the H-1 freeway yesterday near Pearl City, forcing a shutdown of the right westbound lane from the Pearl City/Waimalu exit to the Waipahu exit.
The debris included intravenous and blood transfusion bags and bloody gauze, said Scott Ishikawa, state Department of Transportation spokesman.
"Fortunately, we didn't find any needles, which was a big concern," he said. "We were afraid they might get lodged in tires."
Some of the bags have been linked to the Queen's Medical Center, Ishikawa said. Transportation officials are trying to link the companies that dispose medical waste to Queen's and then trace the truck that lost debris, he said.
Ishikawa said someone who spotted the medical waste reported it at about 12:30 p.m. yesterday.
Highway work crews and a private contractor cleared the debris, and the lane was reopened by 3:30 p.m.
Police search for clues in 2 Oahu bank heists
Police are investigating two bank robberies on Oahu Tuesday. The first robbery happened at 2:45 p.m.
A man armed with a knife demanded money from a teller at the First Hawaiian Bank in the Eaton Square Shopping Center in Waikiki, 438 Hobron Lane, police said. The man fled on foot. The second robbery happened at 5:16 p.m. at the Hickam Federal Credit Union, 590 Farrington Highway in Kapolei.
A man with a knife demanded money from a teller and then fled on foot with an undisclosed amount of cash. Police have not said whether the same suspect was involved in both robberies.
Anyone with information is asked to call 911 or CrimeStoppers at 955-8300.
LEEWARD OAHU
Witness says suspect ran on top of cars
Police arrested an 18-year-old man for allegedly damaging two cars by running on top of them last month.
The incident took place at 2:30 a.m. March 1 near Namahoe and Lipo streets in Kapolei.
A witness reported seeing the suspect running on top of two cars, breaking the vehicles' windows, police said.
Police arrested the man yesterday for investigation of second-degree criminal property damage and two counts of third-degree criminal property damage and then released him pending an investigation.
HONOLULU
Victim says driver tried to run him over
Police arrested a 34-year-old man after he allegedly hit another man with his car early yesterday.
Police said the victim, 39, was walking along Kauila Street in lower Nuuanu at about 12:05 a.m. when he noticed a green Lincoln Mercury stopping next to him.
The victim recognized the driver as the same person who assaulted him and threatened him on April 8, so he walked away, police said.
As he was walking, he said, he heard the Mercury's tires squeal and turned around to see it reversing toward him. Police said the victim could not get out of the way and was hit by the car.
The suspect then drove away onto Nuuanu Avenue, police said.
Police later arrested him for investigation of second-degree attempted murder when he returned to his Kauila Street home. Police said the victim suffered minor injures and refused treatment.
Fight leads to arrest after broken jaw
Police arrested a 20-year-old man Tuesday for allegedly using a wooden bat to break the jaw of another man last month.
Police said the incident happened at 1:30 a.m. March 17 in the 500 block of Krauss Street in Papakolea. The suspect and the victim, 42, got into an argument, and then the suspect allegedly grabbed the bat and struck the victim in his face.
The victim, 42, suffered a broken jaw and lost several teeth, police said. Police arrested the suspect for investigation of second-degree assault.