---
FAST FACTS HAWAII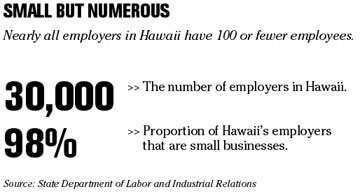 ---
HAWAII
Hawaiian to take charge for conversion of debt
Hawaiian Airlines
said yesterday it will take an undisclosed second-quarter charge after completing the redemption of all of its outstanding subordinated convertible notes due in 2010.
Had the notes not been redeemed, they would have been convertible on June 2 into approximately 12 millions shares of Hawaiian's stock at a price of $4.35 a share.
"With the support of our lenders, we have redeemed the notes and avoided significant dilution to our shareholders had the notes been converted," said Hawaiian's chief financial officer, Peter Ingram.
Under terms of the financing, redemption of the notes required payment of 105 percent of the $52.3 million principal amount outstanding, plus accrued interest, for a total of $55.9 million. The one-time charge is a result of writing off the remaining unamortized debt discount recorded upon issuance of the notes.
Analyst's upgrades boost 2 isle bank stocks
Shares of
Central Pacific Financial Corp.
and
Bank of Hawaii Corp.
both jumped yesterday after analyst Frederick Cannon of San Francisco-based
Keefe, Bruyette & Woods
raised his ratings on both banks to "outperform" from "market perform."
Central Pacific, which on Tuesday reported a 12 percent increase in first-quarter earnings, saw its shares surge 7.6 percent, or $2.61, to $36.82, in trading yesterday Cannon's price target is $41. Five other analysts who cover the company left their ratings unchanged at the equivalent of "hold."
Bank of Hawaii, which reported a flat first quarter on Monday with net income of $45.4 million, had its shares gain 2.3 percent, or $1.21, to $53.52 in trading yesterday. Cannon's price target is $61.
Of the seven other analysts who cover the company, four of them reiterated their "hold" ratings this week. Altogether, two analysts rate the stock as "buy" and six as "hold."
Business jet sets up in Honolulu
Executive Jet Management, a provider of aircraft management and charter services worldwide, has based a Challenger 601 at Honolulu Airport.
The aircraft, which can fly anywhere in North America, features seating for up to 12 passengers, is equipped with a DVD player with two video monitors, and has a flight phone and a fax machine.
Executive Jet Management, headquartered in Cincinnati, is a wholly owned subsidiary of NetJets Inc., a Berkshire Hathaway company.
NATION
Comair can't reject attendants' contract
CINCINNATI » A U.S. Bank-ruptcy Court judge yesterday denied
Delta Air Lines Inc.
subsidiary Comair's request to reject its contract with its 970 flight attendants so it can impose pay cuts the regional carrier says it needs to stay in business.
Judge Adlai Hardin in U.S. Bankruptcy Court in New York said requirements of the law that would allow rejection of a collective bargaining agreement were not met.
Hardin said Comair failed to meet the good faith standard in its negotiations to change the contract because it has said its demand for $8.9 million in concessions from the flight attendants wasn't negotiable.
Comair said it needs the concessions as part of a plan to cut $42 million in annual costs. Without that cut, the carrier has said it will have to cease operations.
Comair filed for bankruptcy protection along with Delta last year.
Spanked woman seeks $1.2M
FRESNO, Calif. » Lawyers for a woman who was spanked in front of her co-workers as part of what her employer said was a camaraderie-building exercise asked a jury yesterday for at least $1.2 million for the humiliation she claimed to have suffered.
Janet Orlando, 53, quit her job at the home security company Alarm One Inc. in Fresno and sued, alleging discrimination, assault, battery and infliction of emotional distress.
Employees were paddled with rival companies' yard signs as part of a contest that pitted sales teams against each other, according to court documents. The winners poked fun at the losers, throwing pies at them, feeding them baby food, making them wear diapers and swatting their buttocks.
Congress to review oil tax breaks
WASHINGTON » As anxiety spread in Congress yesterday over soaring oil prices, lawmakers in both parties said they were ready to take a tough look at oil and gas incentives they passed as recently as eight months ago.
Citing record industry profits and huge executive pay packages, the top Republican and Democrat on the Senate Finance Committee asked the Internal Revenue Service to turn over tax returns for the nation's 15 biggest oil and gas companies.
Money isn't only reason to retire
NEW YORK » Many people around the globe want to work in retirement, but money isn't necessarily the most important reason, according to a study released yesterday.
"The Future of Retirement" survey, conducted on behalf of the London-based HSBC banking group, found that 25 percent of those surveyed in 20 countries and territories said that money would be their main objective for working in retirement.
But others sought different rewards, from giving them something meaningful to do with their time to keeping them physically active and providing mental stimulation.