| | |
| --- | --- |
| | Newswatch |
---
ISLAND BEAT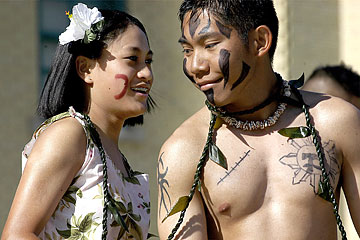 ---
UH nominee clears panel
The Senate Higher Education Committee has recommended that Big Island science professor Marlene Hapai be confirmed to the University of Hawaii Board of Regents.
During yesterday's confirmation hearing, Hapai received support from UH-Hilo Chancellor Rose Tseng as well as from members of the UH-Hilo student government and other faculty members from UH-Manoa and UH-Hilo.
Hapai was the former director of the new Mauna Kea Astronomy Education Center and is credited with coming up with the concept of a science center on the Big Island. She has also been an administrator and professor at both UH-Hilo and UH-Manoa and has been a public and private school teacher.
She attended both public and private school on the Big Island and received her masters and doctorate degrees in entomology from UH-Manoa.
If confirmed by the Senate, Hapai will fill the one year remaining on the East Hawaii regent position.
| | |
| --- | --- |
| | Police, Fire, Courts |
---
CENTRAL OAHU
Wahiawa man dies in head-on collision
An 81-year-old Wahiawa man died from injuries sustained in a crash yesterday on Kamehameha Highway after his truck was hit head-on by another pickup in the wrong lane.
Police said a brown 1990 Ford Ranger driven by a 30-year-old Haleiwa man was heading southbound on Kamehameha Highway when it veered into the opposite lane and struck a Toyota pickup head-on at 6:56 a.m. The crash occurred about 1.3 miles north of Paalaa Uka Pupukea Road.
The Ford truck driver was taken to Queen's Medical Center in critical condition.
The Toyota driver was taken to Wahiawa General Hospital in critical condition, and was later pronounced dead at 7:47 a.m.
Police said speed was a possible factor in the collision. Capt. Frank Fujii said the driver of the Ford pickup truck may have fallen asleep at the wheel.
The Ford was equipped with air bags, which deployed, while the Toyota was not equipped with air bags.
Police have opened a negligent homicide case.
This was the 36th traffic fatality compared to 27 the same time last year.
HONOLULU
2 teenagers arrested for alleged robberies
Police arrested two teenagers Monday after they allegedly robbed six younger boys in Kalihi.
Police said the suspects, ages 17 and 19, confronted the six boys on four separate occasions as they walked home from school and took money from them.
In one case the older suspect allegedly punched one of the victims. They were between 12 and 14 years old.
Police were notified and the suspects were arrested for investigation of six counts of second-degree robbery.