---
FAST FACTS HAWAII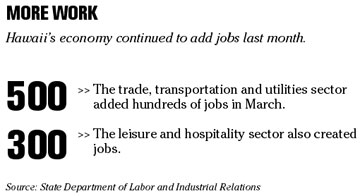 ---
HAWAII
Only 1 in 3,437 homes goes into foreclosure
Hawaii again had one of the lowest foreclosure rates in the country with only one of every 3,437 homes affected in the first quarter, according to a report released yesterday by foreclosure data service
RealtyTrac
.
Nationally, the foreclosure rate during the first three months was one for every 358 households, higher than any quarter of 2005, RealtyTrac said.
Hawaii had just 134 foreclosures, ranking it 42nd for the fewest out of the 50 states and the District of Columbia. Foreclosures in the islands were down 33 percent from the year-earlier period.
The state with the fewest foreclosures last quarter was Rhode Island, with nine.
Georgia had the highest foreclosure rate with one for every 127 households, followed by Colorado with one for every 138 and Indiana with one for every 165.
Aloha offers one-time deal on flight
Aloha Airlines
has offered a special one-time only one-way $60 fare for a flight from Sacramento, Calif., to Honolulu.
Nonstop Flight 673 will operate next Tuesday. The 112 tickets for the flight went on sale yesterday. After taxes and other fees, the price is actually $77.60. The normal one-way fare is $330.
The plane to be used, a Boeing 737, is undergoing maintenance in San Antonio. Instead of flying it back to Hawaii empty, Aloha decided to offer a special fare in conjunction with its upcoming 60th anniversary.
[HAWAII INC.]
NEW JOBS
>>
Helber Hastert & Fee Planners Inc.
has hired
Tomoko Naka
as a landscape architecture designer. She previously served as executive assistant to the president of
Takasho Co. Ltd.
» Securitas Security Services USA has appointed Sanj Sappal vice president of its Hawaiian operations. He will be responsible for providing strategic direction and leadership in Honolulu. He previously served as general manager, specialty division, for HBM/UNICCO.
PROMOTIONS
»
First Hawaiian Bank
has promoted six officers to vice presidents:
Edwin Char
, deposit products department;
Glen Hiramoto
, loan recovery center;
Mark Kobayashi
, product engineering department;
Lynn Takahashi
, private banking center;
Christy Yamada
, Kapahulu branch;
Janel Yamamoto
, also named deputy chief compliance officer.
>> SSFM International has appointed Eric Matsuda vice president in charge of its Maui office. He joined the company in 2004 as a senior project engineer in the Maui office. He received the 2003 Young Engineer of the Year award from the Hawaii Society of Professional Engineers, Maui chapter.
» Kahala Nui has promoted Marilyn Israel to executive director. She will be responsible for the day-to-day management and operations of the center. She previously served as assistant executive director.
---
NATION
Expenses eat into Amazon's profit
Amazon.com Inc.
, the world's largest online retailer, said first-quarter profit fell 35 percent after increasing spending. The shares rose as much as 6.4 percent after the company raised its sales and profit forecast for the year.
Net income declined to $51 million, or 12 cents a share, matching analyst estimates. A year earlier, earnings were $78 million, or 18 cents, lifted by a one-time gain. Sales rose 20 percent to $2.28 billion, Seattle-based Amazon.com said.
Amazon.com said expenses jumped 26 percent to $441 million, led by increases for technology and content. Sales of electronics and general merchandise rose faster than DVDs and CDs, driven by a $79 flat-rate shipping plan.
Count of unsold homes hits record
WASHINGTON » Sales of previously owned homes edged up in March, but the backlog of unsold homes still hit a record high, raising concerns that the once-booming housing market could be in for a rougher landing than expected.
The National Association of Realtors reported yesterday that sales of existing homes advanced by a tiny 0.3 percent in March compared with February, rising to a seasonally adjusted annual sales rate of 6.92 million units.
Oil profits expected to gush
WASHINGTON » The country's three largest oil and gas companies are expected to report combined first-quarter profits this week in excess of $16 billion, a 19 percent surge from last year that is sure to complicate life for the industry in Washington, where elected officials are scrambling for ways to assuage angry consumers and businesses.