---
FAST FACTS HAWAII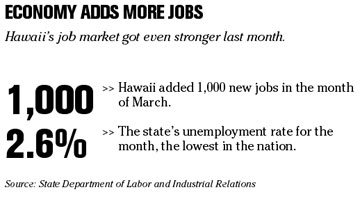 ---
HAWAII
Class-action settlement over Hilton mold OK'd
A state judge cleared the way yesterday for payments to former Hilton Hawaiian Village guests in a $1.8 million class-action settlement over mold infestation that closed one of the hotel towers.
The lawsuit alleged that Hilton did not disclose the presence of mold contamination in the hotel's Kalia Tower guest rooms between June 14 and July 23, 2002.
Hawaii Circuit Judge Eden Hifo approved an agreement that was reached in December, meaning that guests who submit claims can now begin receiving compensation, said attorney Thomas Grande.
About 2,900 guests from almost every state and many countries around the world are eligible for payments or credits, according to lawyers for the plaintiffs.
NATION
Onex, Black may bid for papers
A Canadian group including
Onex Corp.
, a Toronto-based investment company, and
Black Press
, a Victoria, British Columbia-based newspaper chain, may bid for the Philadelphia Inquirer and Philadelphia Daily News, the Inquirer said, citing people close to the investors.
In Hawaii, Black Press owns the Honolulu Star-Bulletin and MidWeek.
Avista Capital Holdings LP, a private equity firm in New York, is also considering a bid, the Inquirer said. Avista and the Canadian group were scheduled to visit the newspapers this week, the Inquirer said.
The Inquirer and Daily News are among the Knight-Ridder Inc. newspapers McClatchy Co. won't buy when it acquires most of the chain this summer.
Other likely bidders include the Yucaipa Cos. of Los Angeles, which is backed by the newspaper union, and a group of investors led by Brian P. Tierney and Bruce E. Toll, the newspaper said. MediaNews Group of Denver dropped out of the bidding over the price Knight-Ridder asked, the Inquirer said.
State assembly passes oil windfall profit tax
SACRAMENTO » A bill that would slap a windfall profits tax on California oil producers was approved yesterday by a state Assembly committee as gasoline prices surged past $3 a gallon.
Gov. Arnold Schwarzenegger, meanwhile, wrote a letter to the California Energy Commission asking it to investigate the price increases.
"Should you find instances of market manipulation, price gouging or unfair business practices, I instruct you to report this to me and turn over the evidence to the California attorney general without hesitation," Schwarzenegger said in a letter to Energy Commission Chairman Joe Desmond.
Schwarzenegger refused to take a position on the windfall-profits tax when asked about it during a news conference. He said the only way to cut gas prices was to reduce consumption.
The bill debated yesterday would levy a 2 percent tax on oil company income of more than $10 million and use the revenue to help low- and moderate-income senior citizens pay for prescription drugs.
China creates major glut of apartments
A surge in the number of vacant newly built apartments suggests China's real estate market may be facing a financial fallout, reports said today.
China had 1.3 billion square feet of unsold and unleased space in new buildings by the end of March, a rise of about 24 percent over a year earlier, the Shanghai Daily and other state-run newspapers reported.
That figure does not include property purchased for speculative reasons, much of which also remains unoccupied, the reports said, citing figures released by the National Bureau of Statistics.
"Last year's figures in Shanghai showed that up to half of the new housing sold was not used," the China Daily cited Yin Zhongli, a real estate expert with the Chinese Academy of Social Sciences, as saying.
Venture capital bouncing back
SAN FRANCISCO » The pace of venture capital investing is off to its fastest start in four years, propelled by a high-tech comeback that's again pumping cash into the Internet.
Venture capitalists committed $5.63 billion nationwide in 761 deals completed during the first three months of the year, a 12 percent increase from the same time last year, according to statistics to be released today by Thomson Financial, PricewaterhouseCoopers and the National Venture Capital Association.
It's the most that venture capitalists have invested during the first quarter since 2002 when the industry spread $6.7 billion across 688 deals.
At that time, venture capitalists were still trying to clean up a mess they helped create by investing nearly $160 billion in 1999 and 2000. That spree fed the dot-com mania that eventually turned the high-tech industry into a financial wasteland for several years.
Sun founder steps down as CEO
SAN FRANCISCO » Scott McNealy, the often outspoken co-founder of
Sun Microsystems Inc.
and one of
Microsoft Corp.
's most vocal critics, stepped down as CEO after 22 years yesterday as the pioneering maker of computer servers reported a wider quarterly loss.
Sun's shares surged nearly 9 percent after the announcement of McNealy's exit and the $217 million loss that met Wall Street expectations. McNealy was under increasing criticism from analysts and former executives, who said he wasn't doing enough to restore the company to its more profitable days.