---
FAST FACTS HAWAII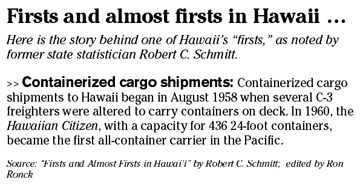 ---
NATION
Once-wary giants now embrace Internet ads
In their pursuit of advertising dollars, Internet companies are winning some important converts: the consumer packaged-goods companies.
After years of cautiously experimenting with Web marketing, powerhouse advertisers like General Mills Inc. and Kraft Foods Inc. are cranking up online spending and increasing the range of brands they promote on the Web.
General Mills, maker of Cheerios and Betty Crocker baking mixes, expects to nearly double online-ad spending in the current fiscal year. Kraft, home of Jell-O and Kool-Aid, plans to double its number of online-ad campaigns in 2006 and to increase the number of brands it advertises on the Internet by at least half.
The shift suggests that the boom in Internet advertising that already has fueled rapid revenue growth in recent years at Google Inc., Yahoo Inc. and other companies could continue as still other groups of more traditional advertisers step up online spending. The packaged-goods companies say their customers are spending more time online and using the Web in new ways.
Providers of consumer packaged goods accounted for more than 11 percent of the $145 billion in U.S. ad spending in 2005, according to research firm TNS Media Intelligence. But they spent just 1.6 percent of their ad dollars online last year, on average, compared with an overall average of 5.8 percent of total ad spending for U.S. advertisers, said TNS.