MUSIC

Sid and Susie handle the era's songs with sincerity and a spirit that brings out their strengths
Like the self-dubbed Sid and Susie, I'm a big fan of this bunch of '60s (and one '70s) memorable songs. The combination of astutely chosen covers and faultless execution practically leaves me giddy. All of the songs are lovingly rendered, and while most of them hew close to the originals, they're not slavish renditions. Sweet, Hoffs and their friends play these songs with a spirit that bring out their strengths, reminding listeners why these ARE great songs.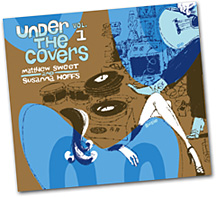 "Under the Covers, Vol. 1"
Matthew Sweet and
Susanna Hoffs
(Shout! Factory)
The duo brings out the pop elements of Bob Dylan's folksy "It's All Over Now, Baby Blue," and the more emotive ones of the Velvet Underground's "Sunday Morning," originally penned by Lou Reed. Neil Young is saluted twice with fine covers of songs from his Crazy Horse years, "Cinnamon Girl" and "Everybody Knows This Is Nowhere."
And you can't go wrong covering such pop-perfect material as the Beatles' "And Your Bird Can Sing" and the Who's "The Kids Are Alright." Vocal highlights include the luxurious harmonies on the Mamas and the Papas' "Monday Monday," Sweet's take on the Beach Boys' "Warmth of the Sun," and a Hoffs performance on the Stone Poneys' "Different Drum" that might even surpass the Linda Ronstadt original.
But what puts this collection over the top are the covers of relatively more obscure songs, like the psychedelic pop of "I See the Rain" (first done by the Marmalade), the solid vocal arrangements of "Care of Cell #44") (the Zombies), and "She May Call You Up Tonight" from the Left Banke, better known for such baroque pop classics as "Walk Away Renee" and "Pretty Ballerina."
Thanks, guys, and I'm eagerly looking forward to Vol. 2.