The Bloomberg /
Star-Bulletin Index
---
Hoku's gains top index
Hoku Scientific Inc.
was the best of seven gainers in the 11-stock Bloomberg Honolulu Star-Bulletin index this week.
Hoku gained nearly 6 percent to end at $6.33. Year to date, the fuel-cell technology developer is off more than 16 percent. It went public in August at $6.
Behind Hoku was Cyanotech Corp., up more than 4 percent to close at 75 cents. The microalgae-products company saw a spike this week based on rumors, which it denied, linking it to ethanol production.
Year to date, Cyanotech is up more than 15 percent, but it is still below the $1 level it needs for 10 days to remain on the Nasdaq SmallCap Market.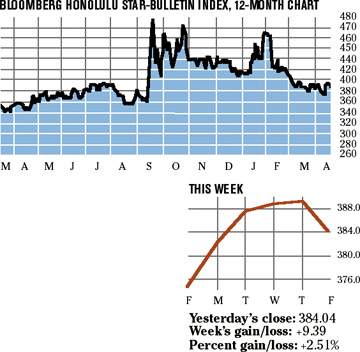 The Bloomberg / Star-Bulletin Index is a price-weighted index designed to measure the performance of Hawaii-based companies. The index was developed with a base value of 100 as of December 31, 1999. A chart of the index which shows the weekly performance of its members is published weekly in the Honolulu Star-Bulletin.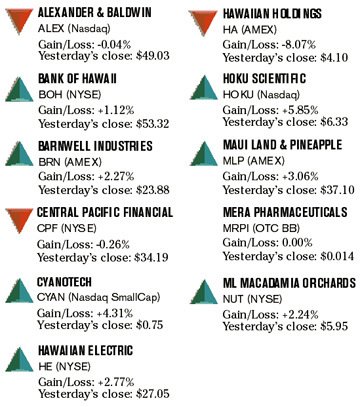 Source: Bloomberg News / Star-Bulletin Graphic