---
FAST FACTS HAWAII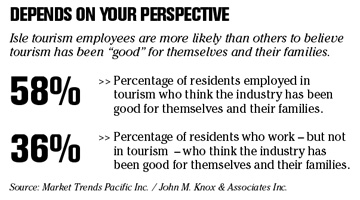 ---
HAWAII
N. Carolina firm plans to revive Hawaii tours
A North Carolina company plans to resurrect a tour business shut down earlier this year after nearly three decades of packaging trips from the West Coast to Hawaii.
Mobile Reach International Inc. said yesterday that it acquired Crystal Hospitality Holdings Inc., which in February acquired the tour operator SunTrips of San Jose, Calif.
SunTrips' owner before the acquisition by Crystal was FS SunTours, a tour operator which for years had served Northern California with trip packages to sunny climes, including Hawaii. FS SunTours had suspended SunTrips' tour operation in February, citing "a variety of operational issues."
Mobile Reach said yesterday that it "intends to launch similar tour products into this market as it believes that there is significant potential to recapture SunTrips historical business."
In exchange for the assets of Crystal, Mobile Reach issued Crystal shareholders about 7 million shares of Mobile Reach, which were valued at 70 cents yesterday, making the value of the purchase about $4.9 million. Crystal shareholders are entitled to an additional 2.5 million shares if Mobile Reach attains certain financial milestones within the next 26 months.
NATION
G-7 seeks stronger Asian currencies
WASHINGTON » The Group of Seven said the world economy is in "strong" shape and called on some Asian nations, especially China, to allow their currencies to appreciate.
Finance ministers and central bankers from the group said prospects for continued economic expansion are favorable, even as oil prices climb to a record.
Stronger Asian currencies and less reliance on exports for growth can help reduce the imbalances that jeopardize that encouraging outlook, the officials said.
"The global economy is in the best shape it's been in a long, long time with strong growth, high productivity, inflation well-contained," U.S. Treasury Secretary John Snow said after the G-7 meeting in Washington yesterday.
Lawsuit alleges race bias at Lilly
INDIANAPOLIS » A racial discrimination lawsuit alleges
Eli Lilly & Co.
paid black employees less than their white peers, passed them over for promotions and subjected them to harassment such as epithets.
The lawsuit filed in U.S. District Court also claims a Lilly human resources staffer told a complaining female employee that her managers on the manufacturing side considered her previous corporate supervisors to be too accepting of blacks and that they were no longer in a position to address her concerns.
"It's like the plantation, unfortunately, at the manufacturing site. It's blatant discrimination," Cassandra Welch said yesterday, the day after the lawsuit was filed.
Welch, two other former employees and a current one are named as plaintiffs in the complaint, which seeks class-action status on behalf of more than 1,000 black employees whom attorneys said might have faced the same kinds of discrimination since August 2003.
Hutchison to sell part of ports unit
HONG KONG » Hong Kong's
Hutchison Whampoa Holdings Ltd.
said it will sell a 20 percent stake in its ports unit to Singapore's
PSA International Pte Ltd.
in a deal worth $4.39 billion.
The conglomerate, controlled by Hong Kong tycoon Li Ka-shing, said it will record a profit of $3.14 billion after the deal closes "no later than the end of May." Proceeds from the deal will be used for Hutchison's general working capital.
For PSA, the deal represents its single biggest investment ever, coming just two months after the state-controlled firm withdrew from a $6.8 billion takeover battle for British ports group Peninsular & Oriental Steam Navigation Co.