WEEKEND: APRIL 21/22/23

Despite his privileged childhood, Damian Marley -- aka Jr. Gong -- continues to uphold the family legacy
The one they call "Jr. Gong" is all grown up. Now 27, Damian Marley has three albums and just as many Grammy Awards to his credit. With his legendary father's influence as ubiquitous as ever, the youngest son of 13 found international superstardom with one of Robert Nesta Marley's favorite topics -- poverty in their homeland of Jamaica.
Damian Marley
Place: Waikiki Shell

Time: 7:30 p.m. Sunday

Tickets: $25 to $35

Call: (877) 750-4400
The smash hit single of last summer "Welcome to Jamrock" paints an unflattering picture of areas few tourists get (or want) to see. It also helps illustrate the vast difference between father and son in terms of upbringing and the effects of outside musical influences.
OF ALL the Marley children, Damian has probably lived the most comfortably.
The product of his father's extra-marital relationship with Miss World 1976 Cindy Breakspeare, he was born in Jamaica and raised in upper-class Stoney Hill. It's a far cry from Trenchtown, the Kingston ghetto where his father grew up.
"I went to a good school and had a comfortable home," he said by phone from Australia last week. "At the same time, I was raised very level-headed, very down-to-earth in terms of being upper class but not really being spoiled."
Marley was just 2 when his father died in May 1981, and his mother went on to marry a prominent local politician. The couple provided his early musical influences, introducing him not only to his father's work but also genres such as R&B, jazz and soul.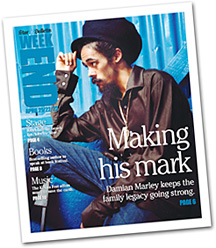 By his teens, Marley had discovered a love for dancehall reggae and began to play in a band with the children of other famous musicians. The Shepherds also provided a start for Shiah Coore, the son of Third World's Steven "Cat" Coore, and Freddie MacGregor's daughter Yeshemebeth. Coore still travels with Marley as bass player in his touring band.
"It was really, what you say, a cover band," he said. "We didn't have a lot of original material ... we (did) Mother's Day shows and, you know, private parties for teenage girls and stuff like that. Back in those days we were like 11, 12."
The Shepherds were talented enough, in fact, to perform at the 1992 Sunsplash Festival, although they broke up soon after. Marley continued to perform with his brothers and sisters during high school, and released his solo debut in 1996.
"When I started with 'Mr. Marley,' I didn't have any facial hair," he laughed. "You're talking about from when I was a little boy, really. I started (that album) when I was still in high school."
His immaturity as an artist was evident. Critics panned the album as a lackluster effort by a son trying to ride the coattails of his famous dad.
But it also got Marley the recording experience he needed, and the track "Me Name Junior Gong" garnered some credibility among dancehall fans. His sophomore release, "Halfway Tree," showed marked improvement, earning a Grammy for Best Reggae Album in 2002.
ONE OF the biggest differences between his first and second albums was an increasing use of hip-hop beats and guest artists. Marley had listened to that kind of music for years, and he wanted to find a way to blend it with his style of dancehall.
"I used to have cousins who come to Jamaica ... from America every summer, so they would bring down the latest hip-hop," he said. "So I was always familiar with hip-hop in terms of from Slick Rick coming up, that era coming up.
"When Snoop Dogg came out is when I really started buying hip-hop music for myself. And of course, since then my love for it has grown."
On "Jamrock," Marley uses samples of his father's music, reworking classic tracks like "Pimpa's Paradise" and "Exodus." He describes himself as a musical rebel, taking the traditional notion of what reggae is supposed to sound like and giving it a twist.
"For example, that shot now ('Pimpa's Paradise'), we picked that one because you hear how everybody has the pimp cup and pimp juice, pimp this and that," Marley said. "So it's kind of relevant to the hip-hop world, you know?"
He's also exhibited a shrewd sense of cross-promotion in the United States, tying his music in to popular television shows like "Being Bobby Brown" and "Extreme Makeover: Home Edition." His latest single, "Beautiful," is a collaboration with Brown that resulted from an appearance on the show brokered by a Marley family friend.
With more than a decade of musical experience to his credit, and the awards to back it up, Marley continues to uphold the family legacy.
Just don't try to pin him down when it comes to the future. While his style of patois flows seamlessly with his hip-hop contemporaries, he won't allow his mindset to remain fixed in one style for too long.
"We don't really premeditate too much, to tell you the truth," he said. "When it comes to making music, we kind of just do whatever is the vibe at the moment, you know?"