Bacteria delay beach project
Replacement sand excavated off Waikiki has too many germs
The state is again delaying the Kuhio Beach replenishment project because the replacement sand in waters off Waikiki shows elevated levels of bacteria.
The project was supposed to start this week.
There is no way to determine whether the high bacteria count is normal for the area or is connected with last month's sewage spill because there are no previous test results for comparison, said Dolan Eversole, a University of Hawaii Sea Grant coastal geologist who is managing the project.
Eversole said tests conducted last week showed the sand had bacterial levels higher than what is acceptable for water.
He said there is no standard for bacteria in sand and no state or federal requirement to test for it.
CANAL CLEANUP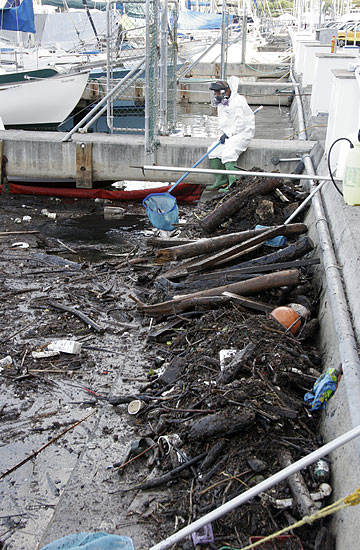 Tests showed more than 28 colony-forming units of enterococcus, an indicator of contamination that can lead to gastrointestinal illness, per 100 milliliters of water. The standard is 7 colony-forming units per 100 milliliters of water.
"It's just something that we wanted to do on our own," Eversole said. "We're trying to err on the side of caution."
More samples were taken yesterday and test results are expected tomorrow.
If data continues to show elevated levels of bacteria, the project could be postponed until the fall, Eversole said.
A decision will be made by the end of the week.
The project involves moving 10,000 cubic yards of sand from about 2,000 feet offshore.
Permit and equipment delays pushed the start date from fall 2004 to last spring and later to February, and again to last month -- at about the same time the city started pouring untreated sewage from a sewer main break into the Ala Wai Canal.
Meanwhile, falling bacterial levels prompted the state Health Department to remove contaminated-water warning signs at several locations that were closed over the Easter weekend.
The state removed warning signs at Bellows Field Beach, Waimanalo Beach Park and Kaelepulu Stream yesterday based on bacterial counts of water samples taken Sunday.
Warning signs remain posted at Ala Wai Canal, Ala Wai Boat Harbor, Ala Wai Channel, Kaneohe Beach Park and Kokokahi Beach.