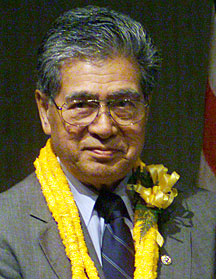 U.S. Sen. Daniel Akaka
Time calls Akaka 'master of the minor resolution'
The survey piece ranks the senator among the five worst who are falling short
U.S. SEN. Dan Akaka might be rethinking his subscription to Time magazine. The current issue lists the Hawaii Democrat as one of the five worst senators.
Akaka made the list of "five senators who are falling short" along with Sens. Wayne Allard, R-Colo., Jim Bunning, R-Ky., Conrad Burns, R-Mont., and Mark Dayton, D-Minn.
"I disagree with this tremendously," Akaka said yesterday in an interview.
The magazine listed the five worst and 10 best senators based on its own survey of "dozens of academics, political scientists and current and former senators."
Akaka was described by colleagues as "lovable" and ultra- liberal.
"After 16 years on the job, the junior senator from Hawaii is a master of the minor resolution and the bill that dies in committee," Time said.
Calling Akaka one of five "who don't make a difference in the U.S. Senate," Time called his work product "innocuous" and "unambitious."
The Time piece, saying Akaka's seniority "has placed him in a position of potential influence," quotes Jennifer Duffy of the Cook Political Report that Akaka's "interests seem more parochial."
"I didn't expect this. It is something that tells me I am going to have to get out there and tell people what I have done," Akaka said.
AKAKA, 81, SAID he figures the report will have some effect on his re-election campaign, as he is being challenged by U.S. Rep. Ed Case, 53.
"There is no question that people will read it and some people will disagree with it and some people will wonder about it -- they will wonder why I was placed in this category," Akaka said.
As the ranking Democrat on the Veterans Affairs Committee, Akaka said he does much of his best work in committee, handling amendments and preparing legislation before it hits the Senate floor.
"If they are looking at the number of bills that a senator passes, it would be true, but for them to cite me -- the public needs more information; that is not the only thing about being a senator," Akaka said.
Asked about the article, Case said he would let people make their own decision.
"What can I add to it? Nothing. Time came out with its opinion. It is a national magazine, it is their call and I think it is important information for voters to consider," Case said.
Asked if he thought his opponent's rating was deserved, Case declined to answer, saying, "I think I can do this job and I can do it well right from the beginning.
"I don't think I am going to be on that list," Case said.
Yesterday, Akaka spoke before a native Hawaiian leadership conference, and supporters were quick to come to his defense.
DANTE CARPENTER, Office of Hawaiian Affairs trustee and former Big Island mayor, said Akaka is one of the recognized leaders in veterans affairs.
"This guy does so darn much. When I visit in Washington, he has people standing in line to see him.
"The number of bills introduced and the number of bills passed doesn't amount to a hill of beans. It doesn't tell the whole story," Carpenter said.
Former state Rep. Annelle Amaral said the Time piece will hurt Akaka's campaign.
"I think it will shake up his campaign," said Amaral, an Akaka supporter.
"At a time when nobody trusts politicians, people here in Hawaii cling to him, love him and care about him," she said.
Last week, Akaka was honored by about 350 supporters at a "Women for Akaka Rally" at the Hilton Hawaiian Village and by about 500 at a rally at the Hilo Civic Auditorium.
Yesterday, Akaka's campaign announced that his re-election committee has received more than $350,000 this year, bringing cash on hand to a total of $868,146.
Case said he is still preparing his campaign report, but said he had about $270,000 in his campaign war chest.