| | |
| --- | --- |
| | Newswatch |
---
PEARL CITY WATER MAIN BREAKS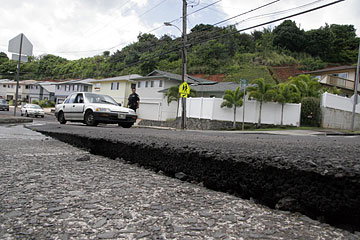 Humuhumu fish's bill awaits Lingle signing
The humuhumunukunukuapuaa officially lost its title as the state fish more than a decade ago but is set to reclaim the honor.
A bill reinstating the humuhumu passed the Legislature yesterday and heads to Gov. Linda Lingle's office for a signature.
The little fish with the long name was deposed in 1990 by a clause in the law that gave it its crown, which made the measure expire after five years.
But few in the state were aware of the change, and the fish, also known as the rectangular triggerfish, has continued to be touted as Hawaii's state fish.
The measure is credited by its introducer, state Rep. Blake Oshiro, to the 6-year-old son of a friend and constituent, Joel Itomura. It was Itomura who brought the lack of an official designation for the humuhumu to the attention of Oshiro (D, Aiea-Halawa).
Lingle has 10 days to potentially veto the bill.
College fair set for convention center
More than 120 local, mainland and international college representatives will be available for counseling at the Honolulu National College Fair tomorrow at the Hawai'i Convention Center.
The fair is free and will be open from 8:30 to 11:30 a.m. and from 5 to 8 p.m.
The Hawaii Association for College Admission Counseling is working with its national organization to sponsor the annual fair. Attendance is estimated to be more than 5,000.
Workshops also will be available on such topics as college athletics and essay writing. An advising center will help students and parents meet with a counselor to discuss fields of study, course preparation and other issues.
For information, e-mail Jean Fukuji, event chairwoman, at jfukuji@k12.hi.us, or call 421-4200, ext. 236; or Derrick Kang, at dkang@iolani.org or 943-2224.
---
TAKING NOTICE
» Cherry Cachero, a senior majoring in politics at Mount Holyoke College in Massachusetts, was recognized as a leader who has enriched the life of the college and community at the Celebration of Student Achievement ceremony.
» The Beta Beta Gamma Foundation has provided a $2,000 grant to the Hawaii Chapter of the American Red Cross in Kauai to fund several scholarships for underprivileged individuals for training as certified nurse's aides.
The foundation also awarded $5,500 for University of Hawaii student scholarships and $500 to the Roosevelt High School Project Graduation for a drug and alcohol-free celebration.
» The Hawaii Children's Trust Fund has awarded more than $1 million to nine nonprofit organizations statewide that will be distributed over three years. The awards began March 1. The recipients are:
Adult Friends for Youth, Oahu; Child and Family Service, Kauai; Easter Seals Hawaii, Oahu; Foster Family Programs of Hawaii, Oahu; Kauai Rural Health Association; Legal Aid Society of Hawaii; Maui Family Support Services; Neighborhood Place, Wailuku; the Island of Hawaii YMCA, Puna, Big Island; Boys & Girls Club of Hawaii; Good Beginnings Alliance; the Institute for Human Services Inc.; Maui Economic Opportunity; Mediation Center of Molokai; Parents and Children Together; and Sisters Offering Support.
| | |
| --- | --- |
| | Police, Fire, Courts |
---
HONOLULU
Help needed to find diabetic woman
Police are asking for the public's help in finding a 41-year-old mentally challenged diabetic woman who was spotted Sunday at Sand Island State Recreation Area.
Park users at Sand Island reported seeing Lily Puipui, who was reported missing from her Farrington Highway home in Waianae on April 10.
Puipui is Samoan, 5 feet 4 inches tall, 200 pounds, with black shoulder-length hair and brown eyes, and was last wearing a white T-shirt and blue jeans.
Anyone with information concerning Puipui is asked to call CrimeStoppers at 955-8300 or *CRIME on a cell phone.
Witnesses sought to April 9 fatal crash
Police are looking for anyone who witnessed a crash off the Airport Viaduct at 7:20 a.m. April 9 involving a white Jeep Cherokee that killed a 24-year-old passenger.
Police have opened a negligent-homicide case.
The Jeep was traveling east approaching the Dillingham offramp when it went off the viaduct and landed on Nimitz Highway, police said.
Anyone with information about the crash is asked to call CrimeStoppers at 955-8300 or *CRIME on a cell phone.
WEST OAHU
Man, 21, is accused of assaulting 2 people
Police arrested a 21-year-old man after he allegedly assaulted two people and endangered a toddler Sunday night in Waipahu.
The man allegedly reached through the open driver's-side window of a 40-year-old woman's vehicle and attempted to pull her out by her hair at 6:17 p.m.
He then released her hair and punched the window, shattering the glass, which flew onto the rear seat area where a 23-month-old girl was sitting.
The man also allegedly assaulted another man, 27.
Police later found the suspect near Awanei Street and arrested him for investigation of first-degree criminal property damage, unauthorized entry into a motor vehicle, first-degree terroristic threatening, two counts of third-degree assault and driving without a valid license.