---
FAST FACTS HAWAII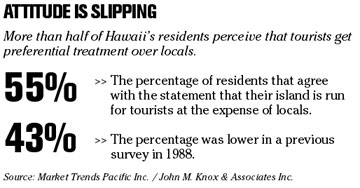 ---
HAWAII
State tries low-key approach to counter bad-weather news
State tourism officials are taking a relatively low-key approach in their response to stories about the inclement weather and sewage spills in the state.
In a news release sent out yesterday to national media outlets, the Hawaii Visitors and Convention Bureau proclaimed "Sunshine returns to Hawaii" and said that the weather system that brought heavy rain, flooding and wastewater spills to the islands has dissipated.
Marsha Wienert, tourism liaison for the state, said officials plan no advertising campaign to help the industry recover.
"We haven't seen business fall off at the level we would need to see to do something like that," she said.
Hotels are reporting "a bit of softness" in advance bookings, but not a large drop, she said.
Kahului to hire TSA workers itself
Maui's Kahului Airport has become one of the first airports in the nation to switch to local recruiting from a national system, and it is looking to hire part- and full-time security screeners.
The new federal Transportation Security Administration initiative will replace the current Washington, D.C.-based hiring system that was started to hire government security screeners for U.S. airports after the Sept. 11 attacks.
The agency did not specify how many people it is looking to hire at Kahului Airport, where it has 175 transportation security officers.
Wages range from $11.30 to $16.96 depending on experience, plus a 23.75 percent cost of living allowance.
For more information, visit www.tsa.gov or www.usajobs.gov, or call (800) 887-189.
NATION
Schwab earnings at 6-year high
SAN FRANCISCO »
Charles Schwab Corp.
's quarterly profit surged to its highest level in six years as the stock brokerage continued to win over customers with lower prices and an advertising campaign highlighting the Main Street appeal of the company's namesake founder.
The San Francisco-based company said yesterday that it earned $243 million, or 19 cents per share, for the first quarter ending in March. That represented a 68 percent increase from net income of $145 million, or 11 cents per share, for the same period last year.
Revenue totaled $1.28 billion, a 21 percent increase from $1.06 billion last year.
It marked the second highest quarterly profit in Schwab's 31-year history, ranking behind net income of $284 million during the first three months of 2000.
Wendy's replaces retiring CEO
COLUMBUS, Ohio »
Wendy's International Inc.
named Kerrii B. Anderson temporarily to head a company rattled by shareholder and franchisee complaints and falling sales as it searches for a permanent chief executive officer.
Anderson, the 48-year-old chief financial officer who replaced retiring Chief Executive Officer John T. "Jack" Schuessler at the third-largest U.S. hamburger chain, may have to boost comparable sales, satisfy shareholders and store owners, and spin off lagging units such as Baja Fresh.
Wendy's this month reported same-store sales fell for a sixth straight quarter. A group of store owners and investors, including Nelson Peltz, called for the company to improve earnings, cut costs and consider selling the Baja Fresh chain.
The former CEO faced months of pressure from investors, including hedge fund manager William Ackman, to improve results. Last month, Wendy's sold shares in its Tim Hortons Inc. doughnut chain to satisfy demands to boost shareholder value.
Boeing to cut staff at Witchita plant by 25%
WICHITA, Kan. »
Boeing Co.
announced yesterday it would restructure its Wichita operations and lay off about 900 workers or about 25 percent of its work force at the plant.
The company said the plant will focus on military 747 and wide-body aircraft modifications and upgrades. It also plans to continue its engineering center, focusing its engineering work here on the B-52 Stratofortress and other aviation-related businesses.
WORLD
Shanghai Media Group to broadcast over AOL
SHANGHAI »
AOL
this week will begin broadcasting news programs supplied by
Shanghai Media Group
's broadband unit, the companies said yesterday.
Shows will be broadcast on AOL's Chinese language Web site and will focus on Chinese social, business, sports and entertainment topics, said Wang Xiaotang, a spokeswoman for SMG Broadband Co.