---
FAST FACTS HAWAII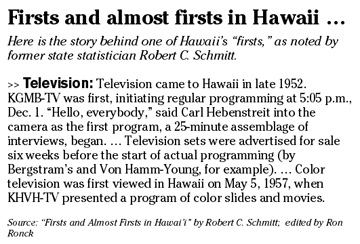 ---
HAWAII
'Da Bomb' debuts new morning show
KDDB-FM 102.7 introduced its new morning show today with the familiar voices of "Sam the Man" Ambrose and the unimonikered "Taka."
Ambrose left "Da Bomb," as the station is branded, late last year, along with Program Director Leo Baldwin and "Hawaiian Ryan" Matsumoto for WRDW-FM 96.5 in Philadelphia.
Morning co-host Paul Ogata also left, but to pursue a standup comedy career in California.
Ambrose recently returned from Philadelphia.
The new morning team did afternoons together "for most of the five years" before Ambrose left, said Sean Lynch, program director.
Lynch and radio veteran Lisa D. have been hosting the morning show on an interim basis, pending location of permanent talent.
"I'm really excited to have Sam back on the air with Taka," Lynch said. Lynch will also be part of the new morning show while Lisa D. migrates to mid-days at KQMQ-FM 93.1 "The Zone."
Visionary Related Entertainment LLC, which owns KDDB, has also appointed Jay Park promotions director for all of its Honolulu stations -- KDDB, KQMQ, KUMU-AM/FM 1500/94.7 and KPOI-FM 105.9.
Park served as production director at KHON-TV until he and seven other managers resigned rather than serve the station's new ownership.
NATION
Company pensions not caught up
NEW YORK » Pension funds at large U.S. companies are still trying to recover from the 2000 stock market crash, even after posting better-than-expected returns last year, according to a study by consultant
Milliman USA Inc.
The firm's annual review of 100 companies with large pension funds found they earned an average of 4.8 percent on their assets since the end of 1999, about half what they projected, Seattle- based Milliman said.
On average, the pension plans were 92.2 percent funded in 2005, compared with 130.8 percent in 1999. With interest rates already up this year, the funded level of pension plans may improve as their liabilities shrink, said John Ehrhardt, a principal at Milliman.
More people filing taxes online
The deadline draws near: You and Uncle Sam, tax form to furrowed brow.
More than 17 million Americans filed their tax statements electronically last year. A query of more than 2,400 people about their filing experiences found that electronic filers remain skewed toward younger, more affluent, college-educated males.
Sixty percent of the computer filers were 35-44, while only 36 percent were 55 and older. Fifty-eight percent had a four-year college degree or higher, while only a third of non-filers said they had done no time in college.
The survey was conducted in February for San Diego-based Iomega Corp.
Summer-jobs pay likely to be flat
Plenty of jobs, but flat pay. That's the word from a survey of 50 national companies that hire an abundant load of summer workers.
Of 50 employers, including outfits such as pizza chains and movie theaters, 84 percent indicated that they'll have either the same number or more jobs this summer than last. But only about a quarter, 28 percent, said they expect they'll need to pay more than a year ago.
According to the survey, 16 percent said they see a decline in teenage applicants, and 36 percent said they plan to target older applicants this summer.