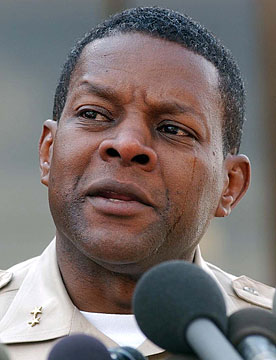 Charles Moose:
West Oahu resident serves in Air Guard
Chief who pursued D.C. sniper eyes HPD
The Maryland and Oregon veteran weighs a fresh start
The former Maryland police chief who led the chase for the Washington, D.C.-area sniper in 2002 may become Honolulu's most well-known rookie cop next month.
A police official confirmed Charles Moose, a former police chief in Montgomery County, Md., and Portland, Ore., had signed up for the Honolulu Police Department's Training Academy, which starts May 1. But HPD Maj. Susan Ballard also said that Moose has been having second thoughts.
"He's been going back and forth on his decision," she said.
Sandy Herman Moose, the former chief's wife, told the Oregonian newspaper in a story yesterday that her husband does intend to become a patrol officer again.
"You know him, when he was riding in a patrol car as a street cop, he loved it," Sandy Herman Moose told the newspaper on Friday. "We both thrive on excitement and change."
Before leaving the Portland Police Department in 1999 to go to Maryland, Moose started recruiting Honolulu police officers to come to Portland, offering a lower cost of living and higher salaries.
The Mooses now live in West Oahu. They could not be reached for comment yesterday.
Sandy Herman Moose also told the Oregonian that her husband recently was promoted to lieutenant colonel in the Hawaii Air National Guard.
Moose, 52, gained national attention during the sniper shootings as the chief law enforcement spokesman during the investigation. He resigned from his job in 2003 because he was not allowed to accept an advance for a book he wrote about the case.
Moose also made headlines in 2003 when he threatened to sue the Ihilani resort at Ko Olina over an alleged incident of racial discrimination. He settled for an undisclosed amount.
Over the last three years, Moose has crossed the nation on book-signing tours. He is also a popular speaker.
Moose started his career in law enforcement as a patrol officer in Portland in 1975, and rose through the ranks to become chief in 1993.
The Oregonian said Moose has been collecting a Portland pension of $5,938 a month for two years.
Meanwhile, Sandy Moose said she's not sure what her husband's assignment will be once he's finished at the police academy.
"The people at the bottom don't get to choose," she said.
---
Star-Bulletin reporters Mary Vorsino and Rod Antone contributed to this report.