---
FAST FACTS HAWAII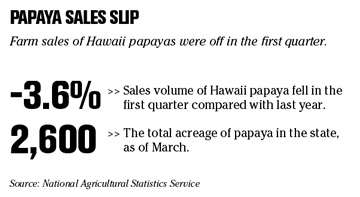 ---
HAWAII
Interisland carriers extend fare sale for 2 more weeks
Mesa Air Group
's new interisland airline, go!, has extended its $39 one-way fares for two additional weeks.
Passengers now have until April 30 to purchase the discounted fares for travel starting when the airline begins flights June 9 and running through Sept. 30.
Hawaiian and Aloha airlines said yesterday they would match the extension with their own $39 fares. None of the $39 fares include taxes and fees, and the special prices are all subject to seat availability.
Go! is beginning service by offering 32 flights a day from Honolulu to Kona on the Big Island; Lihue, Kauai; and Kahului, Maui. The airline will increase its number of flights to 62 on June 30 when it adds flights to Hilo on the Big Island from Honolulu. Hawaiian and Aloha's $39 fares to Hilo will begin on June 9.
NATION
Networks appeal indecency rulings
NEW YORK » Major television networks and their affiliates have issued a wave of challenges to government rulings that they violated indecency regulations with fleeting broadcasts of coarse language.
Calling the Federal Communications Commission decisions last month "unconstitutional and inconsistent," four networks -- ABC, CBS, Fox and NBC -- filed notices with federal appeals courts in New York and Washington on Thursday and yesterday. The filings also came from the networks' affiliate groups and the Hearst-Argyle Television Inc. station group.
The networks and stations said they opposed the notion that isolated and sometimes unintentional language, often on live broadcasts, can make a program indecent. They said the FCC acted "arbitrarily" and failed to give broadcasters a clear and consistent understanding of what is appropriate.
Wal-Mart cuts back on gun sales
Wal-Mart Stores Inc.
has decided to stop selling guns in about a third of its U.S. stores in what it calls a marketing decision based on lack of demand in some places, a company spokeswoman said yesterday.
The world's largest retailer decided last month to remove firearms from about 1,000 stores in favor of stocking other sporting goods, in line with a "Store of the Community" strategy for boosting sales by paying closer attention to local differences in demand.
Contact-information overload
NEW YORK » Reaching out and touching someone used to be as simple as dialing a string of numbers.
But now there are home, cell and work phone numbers, and sometimes work extensions to remember. There are also e-mail addresses -- at home and at work -- and instant messaging handles, perhaps separate ones for the various services, some of which now do voice and video besides text. And some people have Web pages.
To help people manage all their contact information online, the Internet's key oversight agency is considering a ".tel" domain name. If approved, the domain could be available this year.
Female bartender's makeup must stay on, court rules
RENO, Nev. » A casino company's requirement for female bartenders to wear makeup does not amount to sexual discrimination, a federal appeals court ruled yesterday.
Lawyers for Harrah's Entertainment Inc. said the 7-4 ruling against Darlene Jespersen -- who was fired in 2000 for refusing to wear makeup after 21 years as a bartender at Harrah's in Reno -- affirms the right of employers to adopt reasonable dress and grooming standards.
But Jespersen's lawyers said the 9th U.S. Circuit Court of Appeals has opened the door for more anti-discrimination suits by outlining what must be proven to establish sex stereotyping through dress codes.
The court ruled that Harrah's policy burdened women no more than men, partly because men were required to cut their hair while women were not, and women had to wear makeup but men were prohibited from doing so.
Wal-Mart cuts chief's pay after smaller gain
Wal-Mart Stores Inc.
, the world's largest retailer, cut Chief Executive H. Lee Scott's pay 11 percent to $15.7 million last year after the world's largest retailer posted its smallest net income gain in five years.
Scott's compensation included salary of $1.29 million, a bonus of $3.94 million, long-term stock plan payments of $4.4 million and other compensation of $977,911, according to a Securities and Exchange Commission filing yesterday. He also received stock options worth $5.07 million.
Wal-Mart's earnings rose 9.4 percent last year, the slowest growth since 2001. The company posted sluggish comparable-store sales gains as less-profitable food outsold clothing and home goods.
U.S. industrial production rose last month
Production at U.S. factories, mines and utilities grew at a faster pace last month and manufacturers were the busiest in more than five years, a Federal Reserve report showed.
The 0.6 percent increase in production followed a 0.5 percent gain in February, the Fed said in Washington. The share of industrial capacity in use rose to 81.3 percent, the highest since September 2000, from 81 percent.
Companies such as Boeing Co. are receiving more overseas orders as growth in Europe and Japan increases. Manufacturers are also building new factories and expanding existing ones, and updating equipment. Their ability to keep up with demand poses a risk of faster inflation that may cause Fed policy makers to continue raising interest rates.
WORLD
Rail company will test fuel cells
TOKYO » Japan's biggest rail company will soon test using fuel cells to help power a train, following the lead of automakers in rolling out cleaner, more efficient transportation.
East Japan Railways Co., which serves the congested Tokyo area and carries 16 million passengers a day, will start test runs of the NE Train, or New Energy Train, in July with the aim of operating it on regular tracks by the middle of next year.
Beijing bans sales of 'naked computers'
BEIJING » Sales of personal computers without software -- known as "naked computers" -- will be banned in the Chinese capital to reduce software piracy, the city government said yesterday. The announcement came days before Chinese President Hu Jintao leaves for the United States, which is pressing Beijing to crack down on rampant illegal copying of software, music and other goods.
The ban will take effect by the end of the year, the Beijing Copyright Bureau announced.