---
STYLE FILE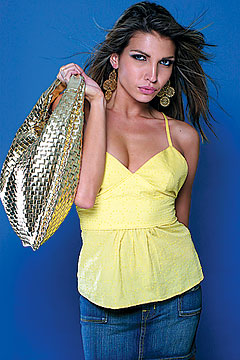 Spring clothing and accesories will be up for grabs at Fashionista's Market's clearance sale Saturday.
Spring cleaning
Fashionista's Market hosts its spring clearance sale from 10 a.m. to 1 p.m. Saturday in the first-floor meeting room at the Gentry Pacific Design Center, 560 N. Nimitz Highway, across from Sam Choy's Breakfast, Lunch & Crab. Admission is free.
It's your chance to snag discounted designer clothing and accessories as the Style Sisters Emi Hart and Alyssa Fung clear the decks for summer merch and their big event May 20 and 21 at Ocean Club.
Stay tuned for details.
---
Win sparkler for mom
Kahala Mall is giving keikis the opportunity to tell the world how great their moms are, and a chance to brighten Mother's Day with a gold-and-diamond pendant from Reflections of the Heart.
The kids are asked to write essays in 300 words or less beginning, "My Mom deserves a diamond because ..."
The contest is for kids in kindergarten through grade 6, and three first prizes will be awarded, one for each age group: grades K to one, two to three and four to six. There will also be 50 second prizes of African garnets.
Essays must be postmarked by April 21, and prizes will be awarded in the store on May 13. Entry forms are available at Reflections of the Heart, in the Macy's wing of Kahala Mall.
Call Kulani Fernandez, 924-9190.
Events at Neiman
Neiman Marcus is playing host to several makeup and fashion events through the week:
Yves Saint Laurent Beaute national makeup artist event: Pick up pointers from Tracy Davis, 10 a.m. to 7 p.m. Tuesday and Wednesday in Cosmetics, Level One.
Taryn Rose trunk show: Dora Fricke will show the latest footwear from the orthopedic surgeon-turned-designer, 10 a.m. to 5 p.m. Wednesday and April 20 in the Shoe Salon, Level One.
The Dress Event: View the latest collections during an informal show, 6 p.m. April 20 in Galleria Collections, Level Two.
Bobbi Brown national makeup artist event: Isidra will show the line's latest colors and skincare products from 10 a.m. to 6 p.m. April 21, and 10 a.m. to 2 p.m. April 22, in Cosmetics, Level One.
Laura Mercier spring color event: Discover the newest colors for the season and Mercier's new skincare line, 10 a.m. to 6 p.m. April 21 and 10 a.m. to 3 p.m. April 22, in Cosmetics, Level One.
---
Easter Brunch offers fresh, healthy dishes
A few slots remain available for Easter Brunch at the Dining Pavilion at Waianae Comprehensive Health Center.
Chef Daniel Kahalioumi specializes in low-sodium, low-sugar meals that showcase fresh vegetables from Waianae Coast farms.
The buffet will feature entertainment by the Makaha Sons, Raiatea Helm, Barry Kimokeo and comedian Kaleo Pilanca.
The only seating times left are from 2 to 4 p.m. Cost is $25.95; $12.95 for children. Call 696-1489.